Top of Mind
06.08.20
#BuyBlack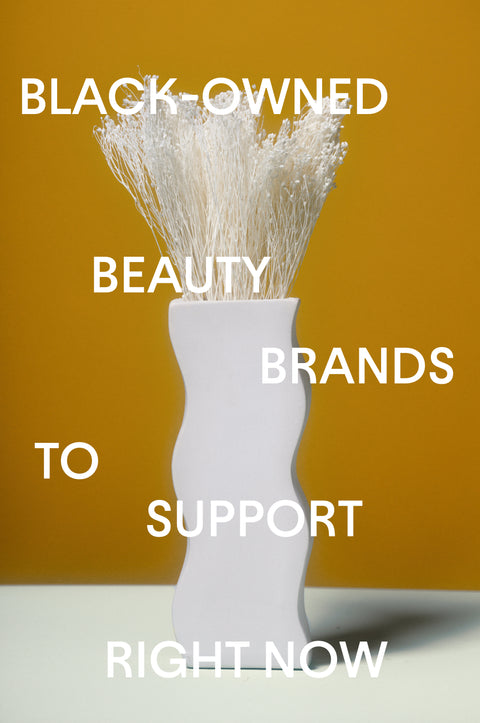 By Crown Affair
As a small business that launched in January, we know the challenges already facing companies due to the COVID crisis, and want to use the platform we have to support those who need it most. ⠀⠀⠀⠀⠀⠀⠀⠀⠀⠀⠀⠀
According to the 15 Percent Pledge, 21% of Black-owned businesses don't think they'll survive the pandemic (versus 5% of white-owned businesses). Below, find 10 of our favorite Black-owned beauty brands to shop now and forever. 
Gilded
This luxury bodycare brand takes everything we love about skin and haircare and applies it to the body. Founded by Dermatology Physician Assistant, Blair Armstrong, Gilded specializes in body balms, candles in stunning reusable vessels, and the chicest body brush you've ever seen.
Sunday II Sunday
According to Sunday II Sunday, 40% of African American women don't work out because of their hair. This brand focuses on haircare and maintenance in between washes with extra attention devoted to scalp health.
Nectrous
Canada-based Nectrous creates handcrafted bath and body products with a minimalist vibe. We hear the Glow Bar is everything, but you'll have to wait until the in demand item is back in stock.
La Botica
You can never have too many candles, especially when they're as addicting as La Botica. Founded by Dawn Marie West, the brand sustainably sources palo santo and uses 100% vegan ingredients for their cult favorite products like candles and balms.
Oui the People
We're all about having beautiful objects in your bathroom that remind you to take care, so naturally we're longtime fans of Oui the People. The brand is known for its sensitive skin razors in shades like rose and matte gold, but its Shave Gel-To-Milk and Featherweight body products are equally as covetable.
Klur
Founded by Lesley Thornton, Klur does the very tricky thing of creating products that look and perform pretty much perfectly. With minimal packaging and maximally effective ingredients, Klur proves you can have it all.
Epara Skincare
Self-described as "bespoke skincare for women of color," Epara uses organic African ingredients to create products that solve the skincare needs other companies don't provide. Epara carefully and thoughtfully sources their ingredients, like Moringa oil from Kenya, Marula oil from South Africa, and Argan oil from Morocco, to name just a few.
Beneath Your Mask
Skincare, bodycare, haircare—California-based Beneath Your Mask does it all, and does it well. We hear particularly good things about the Illuminate Clarifying Face Mask and love the idea of integrating their stunning Mask Treatment Bowl into our evening ritual.
Redoux
All natural skincare line Redoux uses vegan ingredients and minimalist packaging for its effective skincare serums, candles, and fan favorite Turmeric Botanical Bars. Though the soap bars are currently backordered, the Borage Ginseng Active Serum looks excellent for anyone experiencing dull or dry skin.
Skimdo
Founded by Kim Cowans, Skimdo is known for its cream that creates control, gleam, and just the right amount of weight for up to seven days without parabens, formaldehyde, or sulfates.