Top of Mind
06.25.20
Rituals with... Dianna Cohen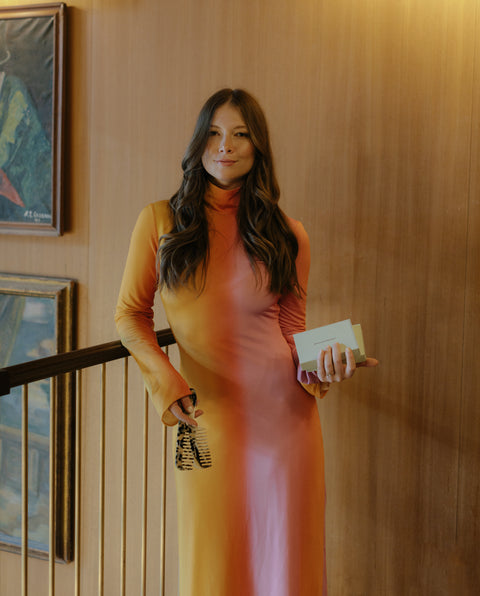 By Crown Affair
Introducing our new series Rituals with… Our brand was founded on the idea of rituals—those little daily practices that help you feel calm, centered, and whole. Aside from their obvious benefits, what intrigues us most about rituals is that they are unique to each and every one of us. Join us as we explore the daily practices of people in our universe, from their AM routines to the way they care for their hair, beginning naturally, with our Founder and CEO. 
Long before launching Crown Affair in January, Dianna was that friend with great hair. She would get into long conversations with friends, friends of friends, and strangers about her hair, so much so that she finally decided to put her entire routine into an ever-evolving, ever-shareable Google doc. Over time, the doc not only served those who read it, but also Dianna as she started planting the seeds for her new brand. Below, Dianna shares the most up-to-date tips from The doc, as well as her philosophy on haircare, and her legendary post-wash ritual.
- What is your philosophy on haircare?
How you take care of your hair every day, and especially before going to bed, is key for how it looks when you wake up. Your hair is a fiber just like silk—be kind and gentle to it, be patient with it, hydrate and nourish it. Let it do its thing.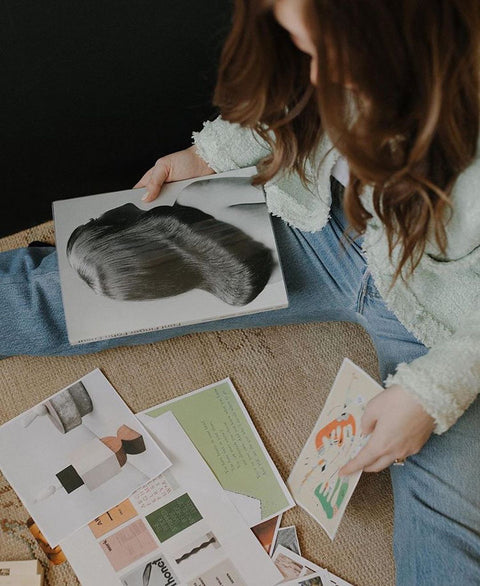 - How would you describe your hair?
My hair is naturally wavy, dry on the ends, and can get oily at the roots. I wash it every 3 or so days, depending on if I'm traveling or working out. For me, the magic happens in the post-wash ritual.
- Speaking of that post-wash ritual... tell us everything.
Okay, so if I'm about to wash my hair... First, I'll brush it with The Brush, a boar bristle and nylon mixture brush. Then, I'll give myself a quick 10-second scalp massage—I know it's silly, but I'm a believer in bringing some blood circulation towards the top of my head. Bonus that it creates nice volume in the crown.
After that, I'll step into the shower and wet my hair completely with warmish water to let it fully absorb the water before applying any product. Hair is most vulnerable when it's wet, so giving it a second to rest in this state is important before I move onto the next process. Then, I'll cleanse with shampoo. For my baseline shampoo, I use Oribe Signature shampoo. The product isn't natural by any means, but the chemicals work to cleanse and soften my undyed hair. If you're looking for a completely clean product, Rahua is the best I've found out there, but I find when I use completely natural products, my hair looks weighed down and greasy in less than a day. I'm all about finding balance with luxury ingredients and efficacy. Every other or third wash day, I use Christophe Robin's Purifying Scalp Scrub as a shampoo alternative. A scalp scrub is the equivalent to a exfoliator for your skin—it cleanses and removes build up and oil from your scalp. After that, I'll rinse with lukewarm water, giving myself a little head massage love here too. Our mantra at Crown Affair is "Take your time" and, in my opinion, there's no better place to do that than in-shower.

I then moisturize with conditioner. My baseline conditioner is Oribe Signature Conditioner. I start at the bottom of my hair and work my way up the strand using a comb. I find a wide-tooth comb better distributes the product, feels amazing, and allows just the right amount of conditioner at the top of my head without over conditioning the scalp. I don't rinse just yet—for every other wash, I'll layer on top of my conditioner with a deep conditioner. I have a few favorites, like the Biolage Hydrasource Balm, Christophe Robin Regenerating Mask with Prickly Pear Seed Oil, and Sisley Regenerating Hair Mask. I find mixing up ingredients and switching up deep conditioners is helpful, it changes how my hair responds to the chemicals over time. Finally, I rinse with cold water! A cold rinse helps close the follicle at the root, giving my hair strength and shine. I highly recommend it.
Post-shower, I comb my hair with The Comb No. 002, starting at the bottom and working upwards towards the crown. I designed our combs with wide teeth and rounded edges so they would be extra gentle and prevent breakage. To dry my hair, I always use a microfiber towel instead of a normal cotton towel since cotton towels can cause breakage and frizz to vulnerable wet hair. I had tried every hair towel on the market and wasn't satisfied, so I decided to make my own and I am honestly not sure how I ever lived without it. I start with my hair down and wrap The Towel around my strands to squeeze out excess water. From there, I wrap the towel fully around my head, secure it in the elastic, and keep it wrapped for 8-15 minutes.
Once my hair is almost dry, I comb it out with The Comb No. 002 and take my natural part down the middle. Then I let it air dry for a few minutes. After that, I'll apply an oil. I used to swear by Oribe Gold Lust, but our Oil has officially taken over my routine. It's hydrating, protects from heat, and smells incredible. It's completely changed the way my hair air dries, for the better of course. Finally, I style it sans heat. For my hair type (type 2B), the magic is in the hair twists: when it's damp / almost dry, I twist it into two sections as if I'm going to braid, and then I clip in place for 30 minutes or so. When I take it out, it has the same effect of using a curling iron but without any heat at all. And voila, my post-shower ritual!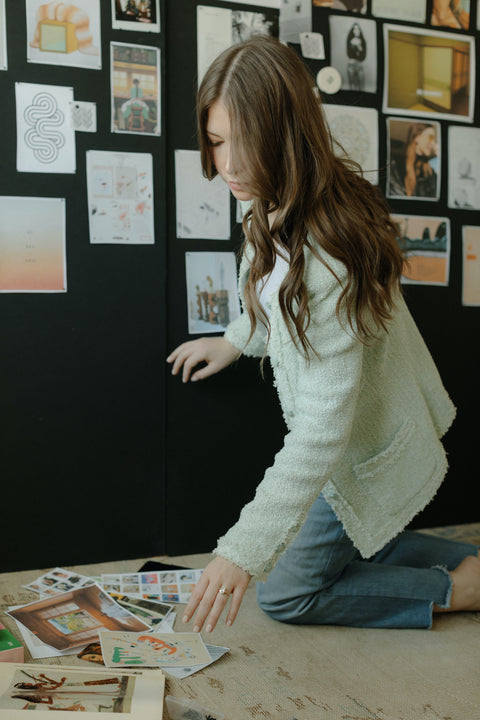 - You're the poster child for strong, healthy hair. What secret weapons can you share with us?
When it's time for bed, I recommend sleeping on a 22 momme, 100% pure silk Mulberry pillow. I really like the ones by Slip and have been sleeping on one for years, but we may have something special coming from CA soon, so stay tuned.
Also, Teddi Cranford has been my hair inspiration and stylist for almost 10 years. She shifted the way I connect with my hair and understand that 'hair is a vibe' and a part of how you move through the world, daily. I come in with my natural texture and she always cuts my hair dry. With her I've learned the 'no makeup makeup' version of hair.
- What's your take on supplements? Love 'em or leave 'em?
I've been taking seed since they launched a few years ago and love it. I've seen an improvement in my overall health, which impacts my hair. I've also taken biotin supplements on and off but have never found a great, clean option.
- You turned your ritual into a brand. What was most important to you when creating CA?
For me, hair health is all about balance, knowing you might use hot tools here or there, but making up for that in other ways. Crown Affair was made for all the moments in between salon visits, to help you really focus on creating rituals and ways of caring for yourself that help you feel whole. It's a part of my personal mission to only put things into the world that I really believe in, things that are improved upon versions of what I was using for my ritual, in order to help you transform your hair and routine.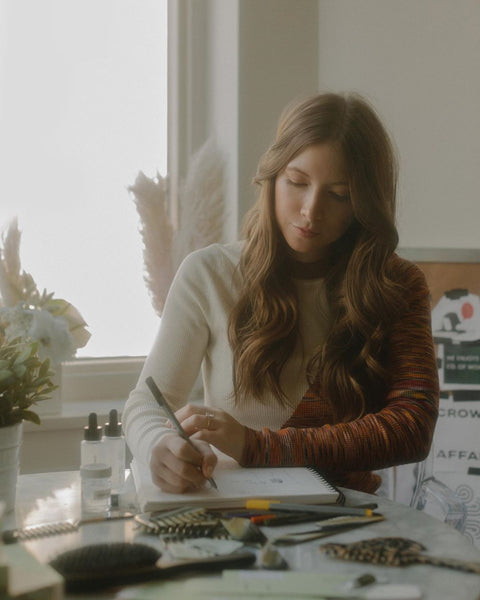 - Finally, what products would you recommend to someone looking to upgrade their haircare ritual?
I love all of our products, but my personal faves are The Oil, The Towel, The Comb No. 002 in horn and then The Brush is amazing. If you already have a Mason Pearson you're good, but this is by far the best thing and closest to it for a fraction of the price.