Top of Mind
08.25.21
Good People: Carrie Barber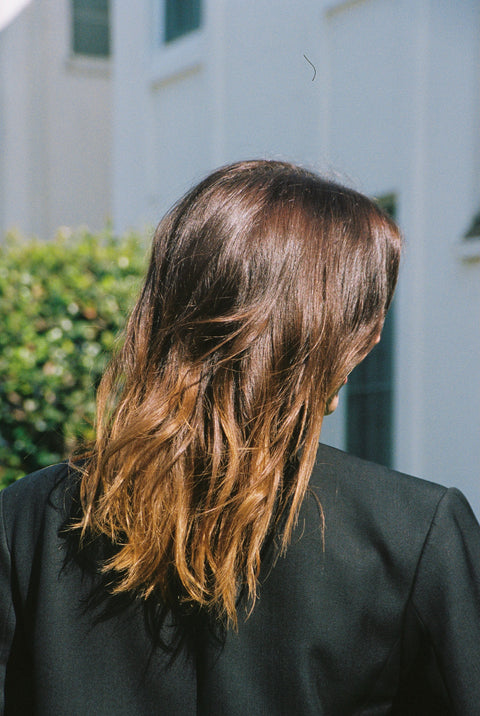 By Crown Affair
Meet Carrie Barber, the wildly talented Creative Director of MAKE Beauty. Not only does Carrie have a stacked resume with creative positions at Sephora, Glossier, and Violet Grey to name a few, but she's also passionate about pushing "beyond the concept of clean" as she approaches sustainable brand building. Together we discussed how she practices forward looking as she navigates the re-launch of MAKE, where she draws inspiration from, her early morning rituals that ground her each day, and her favorite hair care tools. We left our conversation with Carrie feeling refreshed and inspired, and we know you will too.
- Where are you based? Where do you feel the most at home?
I currently live in Los Angeles and I feel the most at home when I am actually at home or with close friends.
- As someone with a resume that speaks for itself, how would you choose to best introduce yourself?
Just Carrie! Or if we are being formal "Hi, I'm Carrie, the owner and creative director of MAKE Beauty. 
- Where are you drawing inspiration from lately?
My biggest inspiration comes from the people I work with. The way we work as a small team forces me to be creative in different ways and it's a very fun challenge. I also love learning the business side of a brand, it's fascinating and works a different part of my brain.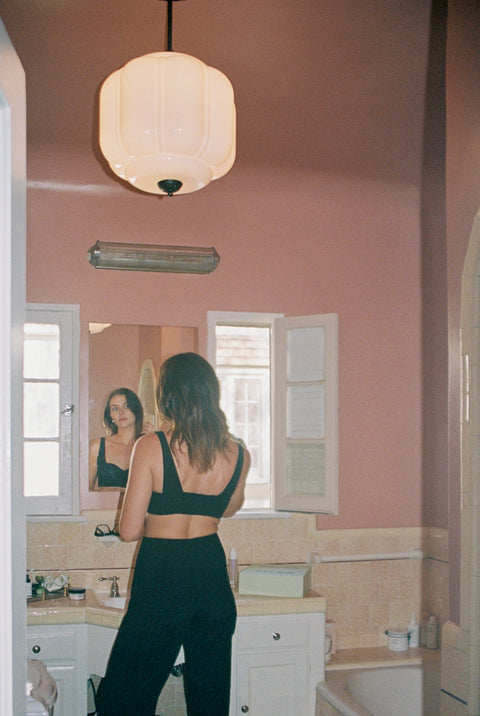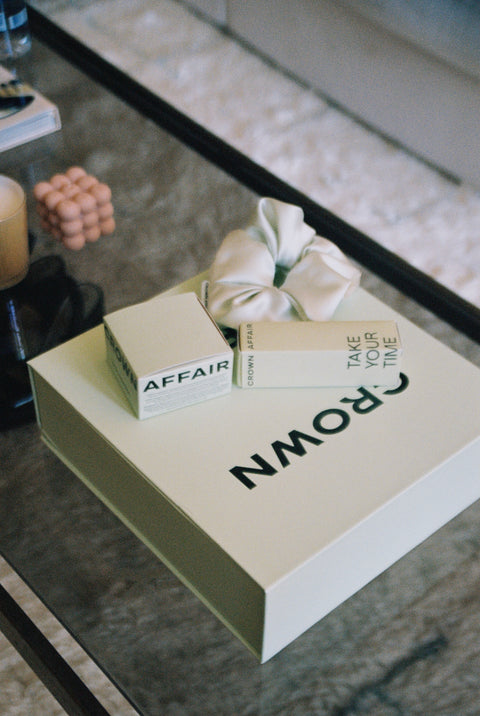 - For aspiring creatives, your career experience is the ultimate journey. Looking back, what do you attribute your success to early on?
Honestly, I think I had a certain naivety as a young person that gave me the confidence to go after things I was not 'qualified' for.  I remember when I first started as a production designer at Sephora,, Into The Gloss had just launched and I wanted to find a way to get in and be a part of it. I could see how content and commerce were starting to integrate, so I put together a pitch for Sephora x ITG that I thought would be mutually beneficial for both. My creative director encouraged me to keep thinking about it but nothing came of it...but I still found my way to the ITG/Glossier family.
- What's it like to take a pre-existing brand and re-make it? (pun intended)
Of all the brands to re-launch, I feel very grateful that I have the opportunity to work on MAKE. MAKE was a brand I loved when I was starting out in beauty and has always been a brand ahead of its time. When it launched in 2013, it was one of the first beauty brands to communicate in a voice that felt human, celebrating community and individuality with unique self-expression. I believe MAKE paved the way for so many brands we know and love today.
It was a fun challenge to think about how MAKE 2.0 should live in this world. It was important to bring forward those aspects of the original brand DNA while also creating a brand that pushes us forward into the next phase of beauty. This idea of 'forward looking' is the through line for everything we do: it's our tagline 'Look Forward', it informs the labs we partner with, formulas we develop and also visually informs the brands look and feel. We are just getting started and already it is so exciting to see how the brand has been received and how it's starting to evolve.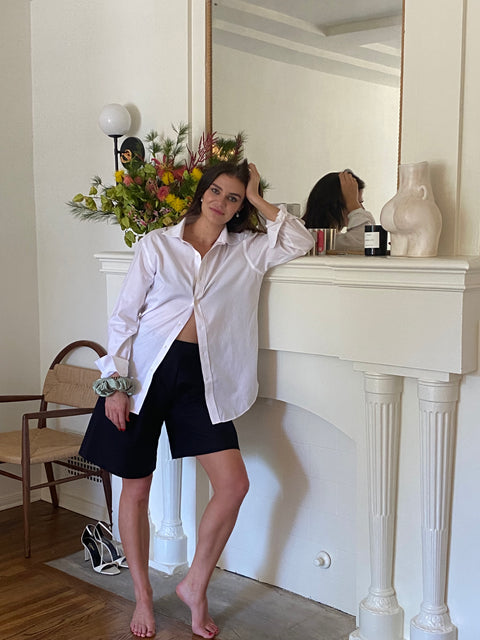 - As an Art and Creative Director for six plus years, what was it like applying those skills to the re-creation of MAKE?
Ironically, I find that part of my job the hardest because I feel too close to it. We re-launched a brand but we essentially started over and I had never built a brand from the ground up. At the beginning it was like I had a 'creative block' because there were so many directions it could go, but once we leaned into 'Look Forward' we had a focal point and it made my decision making much easier. 
When we re-launched, it was important that we had a clear point of view that felt new and interesting but also the slightest bit familiar, and I believe we achieved that. 
- You wrote about pushing "beyond the concept of clean", what do you mean by that? How would you describe your approach to sustainable brand-building?
To me, 'beyond the concept of clean' is two things; it's redefining the idea of clean and finding sustainable ways to create clean products. 
Traditionally, I think consumers thought of clean as all natural or organic ingredients, made for a certain type of person who lives a clean namaste lifestyle. But that is not the case any more. For MAKE, it's not about being 100% clean, it's about using technology like L.E.N.I. (Lab Engineered Natural Ingredients) to create formulas that combine skin safe synthetics and natural ingredients.
Clean can be problematic because it means something different to everyone and there can be a bit of fear mongering baked into the messaging: synthetics/chemicals are bad and naturals are good. Harvesting natural ingredients can be very taxing on the earth's biodiversity and uses a lot of resources to grow and harvest. With technology like L.E.N.I., we can  harvest stem cells from one orchid, clone that molecule and make it on an as needed basis instead of harvesting an entire field for one batch.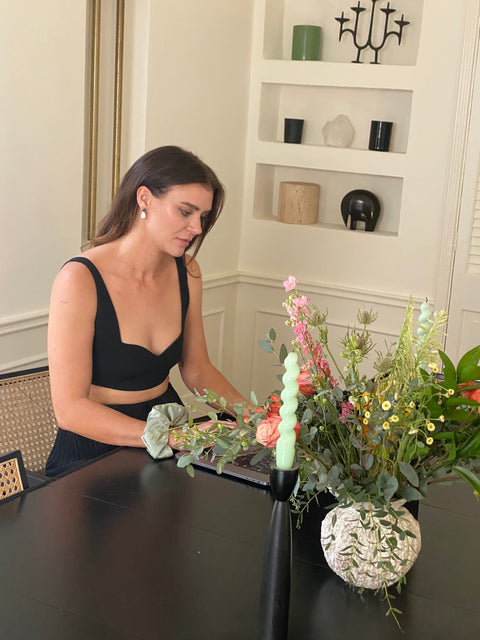 - Here at Crown Affair, we resonate with your skincare-first stance. How do you reconcile between skincare and makeup as you develop more products?
Skincare and makeup go hand in hand,  so when I started to think about skincare for MAKE I knew I wanted it to be 1) undeniably great skincare and 2) play well with makeup.  Our skincare formulations do a really good job of telling the story of L.E.N.I., which is very important to myself and the brand, so it felt like the right place to start.
- What does ritual mean to you?
Ritual means consistency and dependability. I know exactly what I will get out of my rituals and how they will make me feel.
- What are some of the rituals that you practice and that ground you?
I wake up at 6am, hit snooze once, make coffee and give myself one hour to do whatever. Whether it's finish an episode of a show I watched the night before, scroll instagram, check email...then at 7am I workout for 30 mins and get on with my day.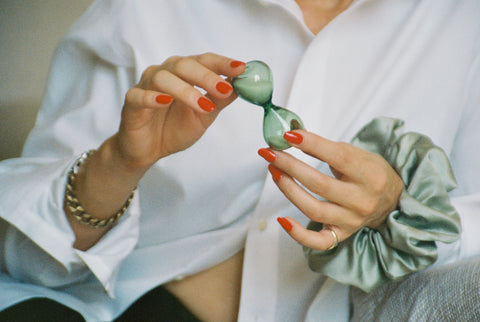 - Where do you get your rituals from?
A lot of trial and error. When I was younger I had a lot of angst and anxiety so I tried everything you can think of to 'fix' it. I needed to try different things to know that what I need is just permission to do whatever for one or two hours a day, and I am grounded and less angsty.
- How would you describe your hair?
Currently my hair is brunette, slightly damaged from being blonde and the longest it's been in maybe my entire life.
- How do you take care of your hair?
I wash my hair once or twice a week using Virtue Shampoo and Conditioner. Once a week I will use the Christophe Robin Salt Scrub to detox product from my scalp and Prickly Pear mask to give the ends a little extra love and moisture. When I get out of the shower I dry my hair with the Crown Affair towel, add Crown Affair hair Oil and Olaplex No 6 and blow dry with the Revlon Blow Dry Brush and finish with the Ouai Dry Texture spray. In between washes I used the Crown Affair dry shampoo to keep it fresh.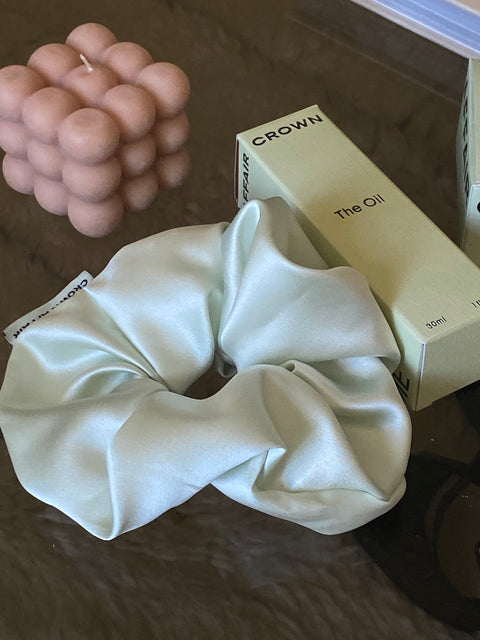 - Have you had a major hair moment or do you have a major hair memory?
I have had many major hair moments: I have had a pixie twice (both not by choice), I have had every kind of bang you can imagine, awkward grow out phases, black, blonde, orange, lavender and many shades of brunette. Hair is something I am impulsive with because I know it will grow back ;)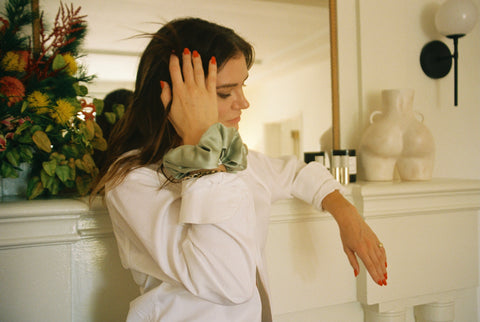 - What would you tell your 18-year old self knowing what you know today?
Spend more time with your Dad and have fun knowing everything is going to work out in the end.