Top of Mind
02.27.22
Good People: Djuna Bel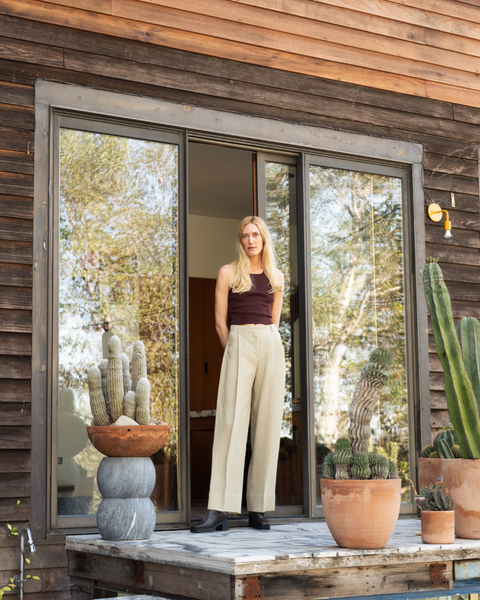 By Crown Affair
Welcome to Good People, an interview series featuring those who inspire us and keep us forever excited for the future. This month that person is stylist Djuna Bel. We spent a sunny day with Djuna at her Los Angeles home snapping photos and chatting about her prolific career, motherhood, and finding balance in the day-to-day. Read on for the interview—we hope you'll enjoy it as much as we did: 
- Tell us a little about yourself and what you do?
My name is Djuna Bel. I'm a stylist, a mom, a skincare junkie.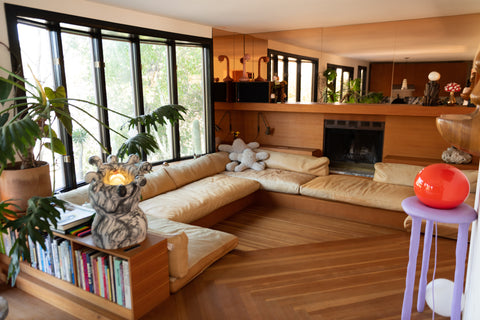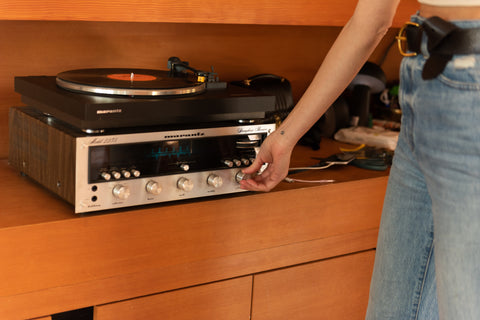 - What does your day-to-day typically look like?
I wish I had a typical day. When I am on set, I basically rush out the door before daybreak and come home with just enough time to hang with my family and put my son to bed.
When I am not on set I'm usually woken up by my 4-year-old alarm clock around 6:30AM. Sometimes I can convince him to snuggle for a few minutes before heading downstairs for breakfast. My husband and I pack his lunch, and I usually make a ginger oat matcha or a coffee packed with adaptogens—and then one of us takes him to school.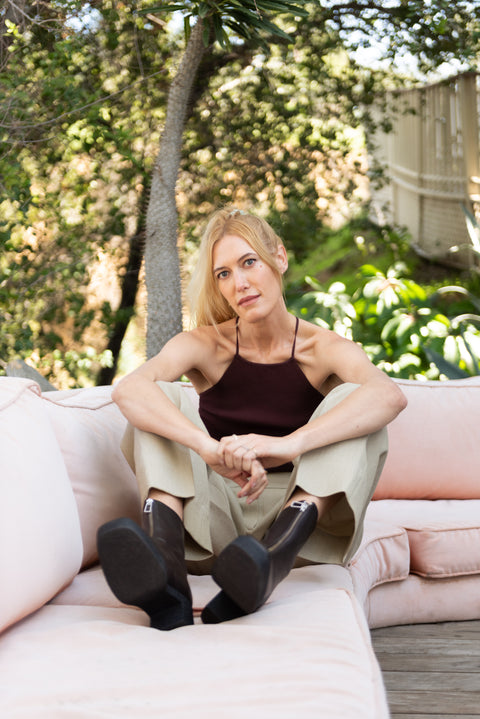 - How do you take time for yourself on a given day? 
In a pre-Covid world, I used to try to sneak in a pilates class. That hasn't happened in a while!
I usually spend the morning catching up on emails. Once I get a little break, I usually do some stretches, take a shower, and sometimes sneak in a ZIIP session or a face mask, or try to get a quick meditation in—I would say I'm 10% successful. The rest of my day is spent shopping and prepping, running errands and taking Zoom calls before I pick my son up from school.  
We try to have family time from 4-8pm. Usually a bike ride or a walk, making dinner together, dance party, drawing, park... and then once he's in bed, I wrap up emails and my husband and I get to hang—usually, I can convince him to indulge in some beauty routine with me.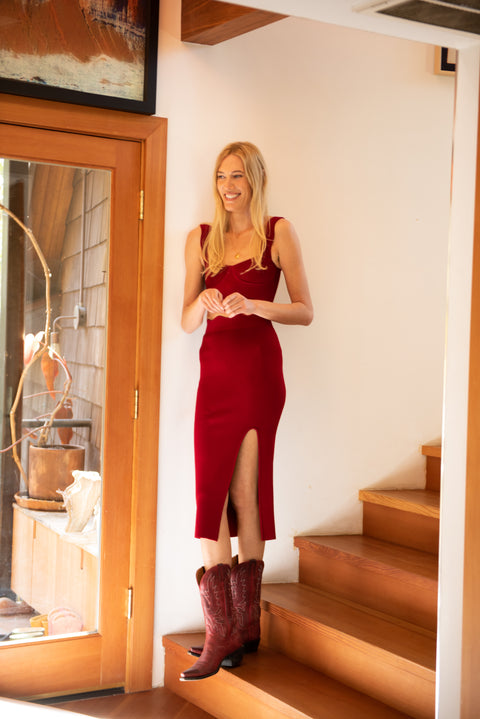 - How do you define ritual and do you have any that you follow? Why do you do them, and how do you feel they benefit you? 
I think a "ritual" is a routine that you put love and care into. 
I'm not much of a creature of habit. I rarely order the same thing at a restaurant. But when it comes to skincare, I always put on SPF before leaving the house and I always take time to wash my face. I never skip the little bit of time for skin love. 
- What has your relationship to your hair been? Past, present? Has it changed or evolved over time?
I don't think I ever used conditioner as a child. My mom would just cut out the tangles which is sort of brutal to think back on. I self-bleached my hair often. I was so awful to my hair, but it somehow always stayed fairly healthy. I knew my luck would run out at some point, so I decided to turn things around and give my hair the love and care it deserves. 
I also really care about what I put on my skin and scalp now—I never really thought about that when I was younger.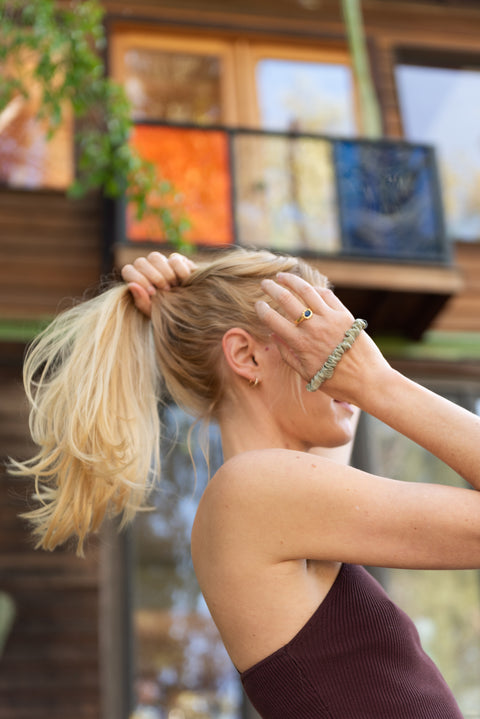 - Any advice you'd give others with a similar hair type to yours? 
Hair masks! LA has been so brutally dry and I have been obsessed with The Renewal Mask.
- What is your current haircare ritual/routine?
I wash my hair every 2-3 days. I used to wash every day, but I feel like my hair is so much happier with a little dry shampoo in between and fewer washes.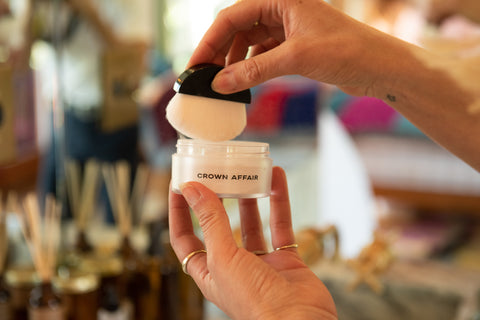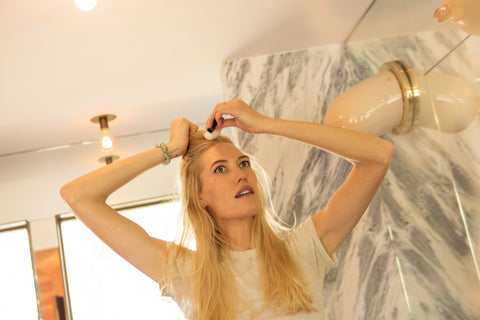 - Are there any supplements or things you include in your diet that benefit your hair? What are they and what do you like about them? 
Oh totally. I think diet is a huge part of skin and hair health!
I try to make sure I get enough fish oil and just lipids in general. I love the Flamingo Farm Box because I'm introduced to so many different fruits and veggies, which I think is so good for your body.  
I also take the Nue Co. Growth Phase which has been keeping my hair super healthy. 
- Do you have a personal philosophy about hair or beauty in general? 
It's just hair! [Laughs] True beauty is confidence. Although no one is ever mad at a great hair day.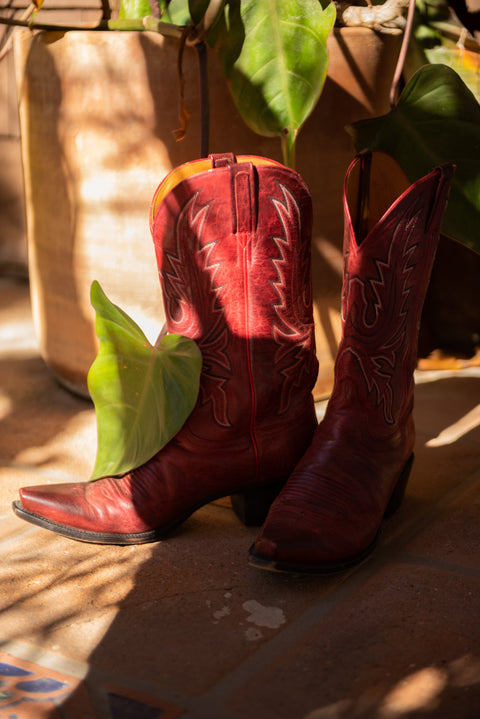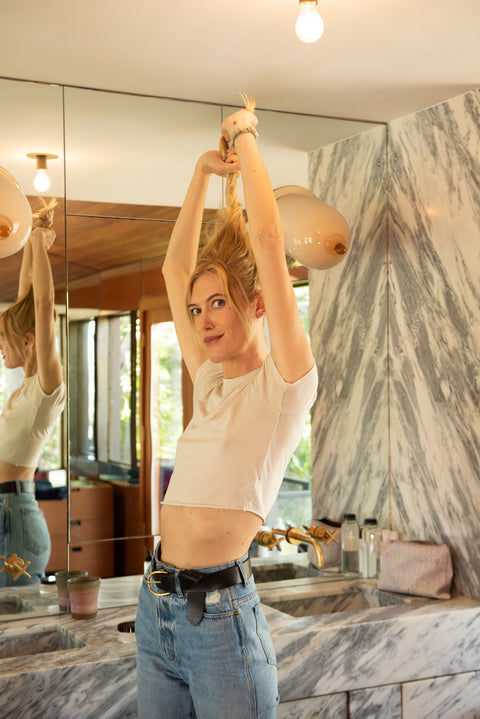 - What things make you happy? 
My son, my family, my friends. Times when I find balance. Good food, laughing really hard, moving my body, learning something new, the sun, vacation, and pretty clothes.