Top of Mind
05.19.23
How To Take Care Of Wavy Hair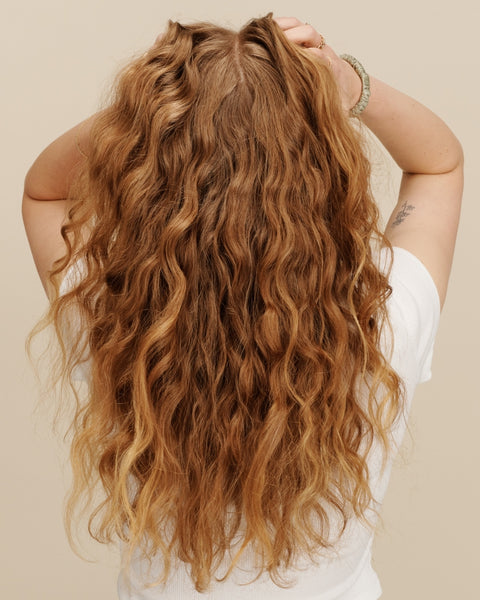 By Crown Affair
How to take care of wavy hair


Here are our tips for caring for wavy hair, and perfecting your wavy hair routine. From battling frizz to defining your waves, here's what's been missing from your haircare routine.
Conditioner the right way


A lightweight conditioner can be great for wavy hair care. Your waves need hydration, but they can also be easily weighed down. Choose a conditioner that will add moisture without weight, like our Ritual Conditioner. Make sure you rinse thoroughly, so that all of the conditioner is out to prevent leftover residue that may hold down your waves.
 
Keep moisturizing


However, conditioning is only half the battle—for truly healthy hair, you're going to need even more moisture. If you have frizzy, thick, or wavy hair, incorporate a moisturizing hair mask into your routine. Start by using once a week and increasing or decreasing the frequency as necessary.


Detangle in the shower

Detangling wavy hair is a much different process than detangling straight hair. You may want to use a comb, instead of a brush, to be gentle on strands and keep your waves in tact. Detangle primarily in the shower, using liberal amounts of conditioner. While your hair is wet, use either your fingers or a wide-tooth comb to slowly work out any knots and tangles. Be gentle with your hair, as it's most vulnerable when wet, and you don't want to cause breakage.

 
Opt for air drying


If possible, try not to use heat on your hair when drying. Instead, let it dry naturally. The heat from a hair dryer can cause damage over time. If you shower at night, try sleeping in braids to set your waves into a more defined curl pattern. Start with a lightweight hydrator, like our Leave-In Conditioner, from roots to tips. Then, divide your hair into two sections and braid each side, securing with a Silk Scrunchie. In the morning, release the braids and tousle your hair, combing through if needed.
Keep the heat low


If you are using a heat tool, make sure to apply a product that has natural heat protectant, like our hair Oil to your hair beforehand, and put the dryer on a low heat setting. A diffuser will reduce the force of air coming through your blow dryer so that your hair isn't experiencing as much harsh friction. The result: curls remain intact and frizz stays minimal, as to avoid frizzy wavy hair. Whichever way you choose to dry your hair, make sure you're using a gentle, microfiber towel on your strands to prevent breakage and frizz—you can try plopping or scrunching with the towel to create even more defined waves.
Deep condition


Use a deep conditioner once a week to give your hair extra moisture and protection, this is one of the best products to enhance naturally wavy hair. Deep conditioning gives your hair more moisture than your usual, everyday conditioner, and it can repair damage, add shine, and protect your hair from pollutants and harsh UV Rays. Apply the product from the mid-length to the end of your hair, leave in for 5-10 minutes, and rinse thoroughly. The more damaged your hair is, the longer you'll want to leave it on, and the more often you'll want to use it.
Finish styling with hair oils


Complete your hair routine for wavy hair with an oil to style, seal in moisture and add shine. Use a lightweight oil that won't weigh your hair down. A little goes a long way, so start with a small amount. A couple drops should be enough, depending on the length of your hair. Apply the product from mid-length through the ends of your hair.
Leave your hair alone


Once it's been styled, try to avoid touching your hair. Too much movement, along with excessive brushing and manipulating, can cause extra frizz.
Sleep in a style


If you don't plan to style your hair after washing it, it can help to put it up in a bun or braid before bed to help maintain waves. Towel dry your hair, apply a styling product, and then put your hair in four twisted buns using small silk scrunchies. This will help you maintain soft curls for when you wake up in the morning.