Top of Mind
04.12.21
Approaching Dry Shampoo
with Mitzi Harris, Product Development Manager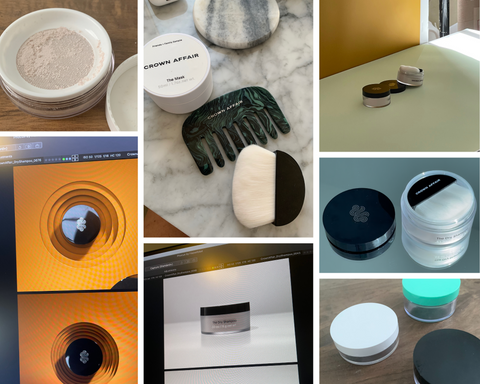 By Crown Affair
We recently sat down with our product manager, Mitzi Harris, to discuss her journey to Crown Affair, get a peek into the thoughtful development process behind our new dry shampoo, and discover what makes our latest product so special.  Let's dive in...
I'm Mitzi! I grew up in Saint Louis, graduated from Stanford in June with a degree in art history and an obsession with CPG, and I currently work in product development at Crown Affair. When I'm not thinking about surfactant systems, ingredients, and packaging, I love cooking (I'm sharpening my knife skills and I can poach a perfect egg), interior design, The Artist's Way, and lastly, little makes me happier than running on the Hudson at sunset or going to a museum with friends. 
- How did you get into product development?
I've always been interested in product development, which I didn't realize growing up, but now of course everything makes sense looking back. I have collected products from different startups, making long lists of all the things I think could be better or products I wish they'd make next. Product development is magic to me. Solving new problems every single day, innovating what already exists or inventing something new entirely, inspiring people to redefine their relationships with themselves, talking to people, and directly incorporating their feedback into a design. It's amazing to uncover all of the capabilities of any given product.
My journey to Crown Affair starts with my being a customer - I absolutely fell in love with the brand. Throughout high school and college, my hair was thin, my ends were dry, and no matter what I did, growth halted just below my shoulders. I constantly had it up in a ponytail or tightly tied back in a low bun. Until Crown Affair, I didn't realize how much my low self-confidence was tied to my relationship with my hair. I purchased The Set in March 2020, when I was quarantined on my sister's couch in LA. I started using the products — after one use, my hair looked and felt healthier; after a few months of using the products, I realized I stopped wearing a hair tie on my wrist because I wasn't putting it up out of self-consciousness anymore. I then participated in Seedling, our mentorship program, and was obsessed with my mentor Hannah, had a product development customer interview with Crown Affair's President, Elaine, (which I do with customers now!), interviewed formally for the role, and feel so lucky to have this job!
- Describe why the Dry Shampoo made it to the product roadmap and what elements you considered.
To date, we've launched The Oil and The Renewal Mask — both moisturizing products. The Oil is a light serum designed for everyday use on your strands post-shower, and The Renewal Mask is a deep treatment designed for weekly use (the CA team uses a small amount as conditioner each time we wash while we work on something else launching soon!). The products are easily added to any hair care ritual you already have — the same is the goal of The Dry Shampoo, our first cleansing product. It's a gentle deodorizer and oil minimizer that increases the health of your hair. It's so gentle that you could literally use it every day if you wanted to, and it's the first of many cleansing products we're working on. 
- Most Dry Shampoos are aerosol. What was it like taking on a dry shampoo that required a different application?
The Dry Shampoo has been in development for over a year because we really wanted to get it right. It was exciting — and so important during the pandemic when we are spending so much more time than usual indoors. Aerosols cloud our rooms and our lungs, and to me have felt like they are too cleansing (or the wrong kind of cleansing).
Our goal was to make a clean, effective dry shampoo with a gentle and luxurious application that can be easily used in any space, private or public. You can use it when you need a refresh or you're craving that part of your ritual. It extends the time between your washes, but even more than that it calms you down. 
- What's it like determining the components and ingredients of a product like this?
Functionally, we needed the sifter to perform with the powder, and the brush to feel like heaven on your scalp. It needed to be beautiful, luxurious, intentional — every single part of the powder and application inspired by your ritual. 
The ingredients needed to be like those in our other products: as clean as possible, but still effective. The base is tapioca starch, an oil-absorbing powder that is completely talc-free. In addition to cleansing, we wanted this product to improve overall hair health. Persimmon Powder is naturally deodorizing and promotes hair growth by stimulating blood flow to the scalp, and Tsubaki Seed Oil, which is also in The Oil and The Renewal Mask, moisturizes your hair while it cleans. And it smells like the rest of our products, gentle, calming, amazing. 
- You do a lot of customer interviews. How did you approach customers in developing The Dry Shampoo?
I took the approach of wanting to know everything. Hair Care is about so much more than just taking care of your hair, and for the most part, I try to let the interviewees guide our interviews. I want to go wherever they want to take me because that's what's important to them. Of course, I want to learn about what dry shampoos they've loved and hated, how dry shampoo fits into their ritual, about other products they use. But I also want to know what they eat for breakfast, their favorite items of clothing, whether they meditate or do a morning page, how they get ready for a date. Every tiny detail matters to me and the insights really guide my design. I wanted to take a more integrated, intentional approach. 
- Talk to us about Persimmons. Where do they come from and why are they beneficial?
Simply put, I love persimmons. One of my best friends from college grows the most amazing persimmons in her backyard,  they're one of my favorite fruits to eat, and they offer tons of benefits. Persimmons contain a ton of vitamins, minerals, antioxidants, and fiber. The powder, which comes from Japan, is a natural deodorizer that stimulates blood flow to the scalp, promoting hair growth.
- What's your favorite thing about The Dry Shampoo?
Oh my gosh, that's so hard!! I am so proud of this product. I've never used anything like it before. The jar is beautiful sitting next to The Oil in your bathroom (or if you're like me, on your desk!). It is so easy to throw in your purse and reapply on the go. The kabuki brush is incredibly soft, and really works the product into my scalp without leaving any remnants of powder… the only trace of the product is the scent! This year for me was a lot about growing up — every time I use this product, I really feel like I have.