Top of Mind
05.17.21
Celebrating Texture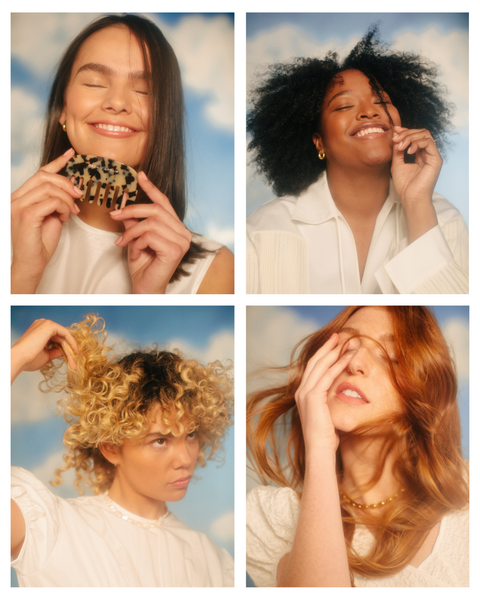 By Crown Affair
Our hair has the unique ability to transform the way we feel. Hair of all kinds - color, length, thickness, and textures - should be honored and celebrated because our hair can make us feel strong, confident, at ease, powerful, joyful, and proud. To celebrate all of the hair that exists, we often ask our beautiful community, "how does your hair make you feel?" Here are some of your responses:
"Stress free, now! I used to get frustrated when I was younger that I couldn't curl my hair or really do anything besides let it be, but as I've gotten older, I like keeping it simple. I've embraced how it air dries, and love how low maintenance it is." - Juliana Salazar 
"I've always played with my hair, meaning I've dyed it, bleached it, chopped it off, etc—but since I've been growing it out and not highlighting it to get it healthy again, I've never felt more like myself. My long, curly hair makes me feel like a goddess, or a princess. When I brush it out it reminds me of all of the royal women of court I read about in my books and how they'd treat their hair. It is the part of me that makes me feel the most beautiful." - Maddie Sensible
"When I was younger and relaxing my hair, I was known as the Black girl with "good hair", which isn't as enjoyable of a title as it may sound ... When I decided to stop relaxing my hair I had no idea what my natural hair texture looked like because I'd never seen it... After years of frustration, trying hundreds of products and techniques, getting different types of haircuts and following the tips of dozens of natural hair blogs, Youtubers, etc., I'm finally feeling like I understand my unique relationship with this head of hair of mine." - Morgan Lily
We have learned that the journey of learning how to not only care for your hair, but truly love and honor  the hair you have, takes time, reflection, and practice. How do you celebrate your hair?