Top of Mind
05.10.21
Creating The Set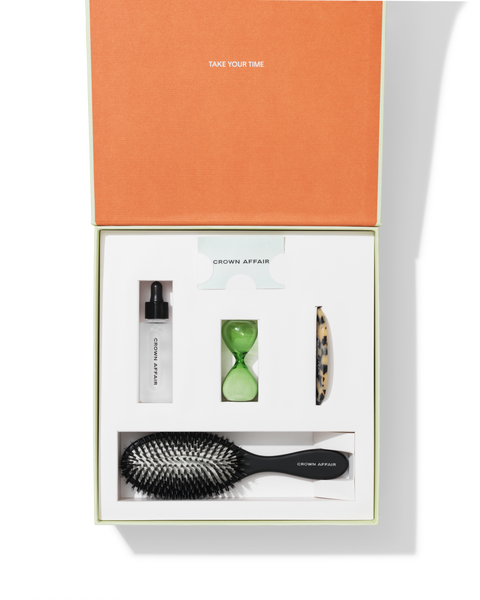 By Crown Affair
Within the world of haircare, there are endless options and complex products that often contain harsh chemicals or ingredients that we can't pronounce. Crown Affair was created out of a deep desire to simplify the overwhelming category of haircare. And The Set is the perfect embodiment of that mission, serving as your essential foundation for a healthy hair routine.
Each product was intentionally selected and serves a clear purpose to support your journey. Whether you are just getting started or you already have a daily practice, The Set is made up of only the foundational tools you need to enhance your hair's health. The Brush is your cornerstone to building a routine as brushing keeps your hair healthy and clean. The Towel is perfect for absorbing water post-wash, as your hair is most vulnerable when it's wet and prone to breakage. The Comb helps you gently detangle, and The Oil gives your hair that little extra boost of hydration. The 3-minute hourglass is a beautiful reminder for you to take your time as you build a daily routine just for yourself. 
Taking ownership of your hair's health doesn't need to be a daunting undertaking. We don't believe in quick fixes. We believe in taking your time and creating space to build a ritual that serves both your hair's health and your personal evolution. We encourage you to experience the profound feeling that a daily practice can offer, through making mini-refinements with tools that are made with only the best materials.