Top of Mind
05.19.20
Good People: Maddie Sensibile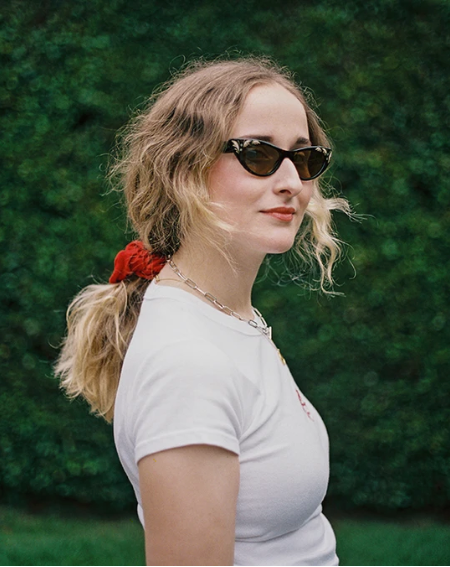 By Crown Affair
Meet Maddie, content strategist, brand consultant, and creator of many of our favorite accounts on the internet. Back in 2008, she founded Obsessee (which later sold to Clique Brands) and since then she's been telling stories, sharing inspiration via @hashtag_saved, and making us all feel a little something more about the beautiful things in our world.
Gearing up for our launch, we spent a beautiful afternoon with Maddie at home in Hollywood, chatting all things hair, music, books, and perfectly random sources of inspiration. If a blend of Timmy Chalamet, Sofia Coppola, Kermit the Frog, and Matisse is your thing (it's ours, and it probably should be yours too), then Maddie is your girl. 
Shot by Ben Biondo in Los Angeles, California.
- Where did you grow up and where do you live now?
I grew up in The San Fernando Valley in Los Angeles and I currently live in the Fairfax District in Hollywood.
- Who do you get your hair from?
My mom! She's a curly girl like me, but her texture is a little thicker than mine. My hair is very fine with waves and sometimes ringlets. I think the fine hair comes from my dad's side, which is the Italian side. Ironically, you'd think I get my natural dirty blonde hair from my eastern European side, but most of my Italian relatives have pretty light hair, even blonde!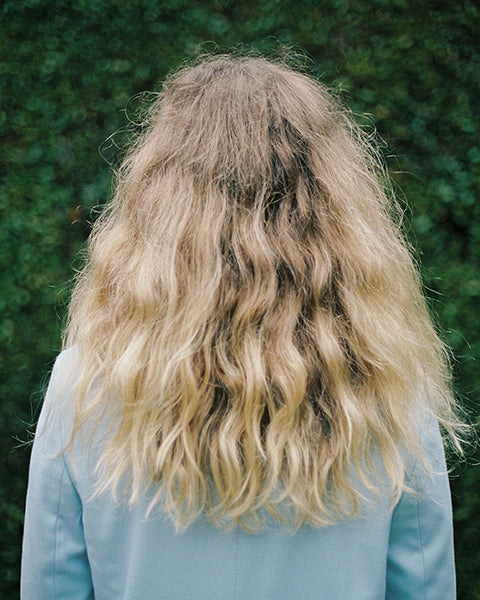 - What does ritual mean to you?
Rituals are very important for me, they keep me rooted even in times I feel very busy with work, the state of the world, etc. We can all feel busy in many forms, whether it is physically or mentally. I typically feel busy mentally; I deal with general anxiety so rituals are something that help wind down those thoughts and let me just be in the moment.
- What personal rituals are important to you?
One I do on my own is find images to post to my inspiration/curation account, @hashtag_saved. Even if I've had a long day, I try to sit down for a few minutes at night, organize the photos, graphics, works of art, film stills, etc, that I've saved that day, and put them up on my account in a way that makes sense to me. Just having that small creative output each day gives me a little brain massage.
With my boyfriend, we make sure to spend every Friday night at home together, watch our favorite shows, order our favorite food (usually pasta!) and have a yummy dessert. On Sunday afternoons, we like to put a record on and read whatever we're each reading with a glass of a new wine I want to try. In the summer, I really like to hang out on my bed and read in the evenings with the windows open and classical music on. It's literally the best.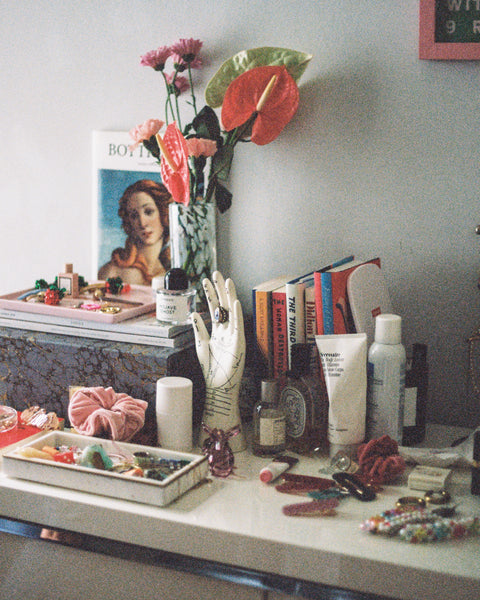 - Where do you find inspiration?
That is a big one for me, because I feel like I'm always looking for inspiration, or sometimes I'll just see one image and it sparks something within me. At heart, I am a curator. Perhaps not a professional one, but there is something within me that wants to put images, paintings, objects, things together in a way to make sense, or to evoke a feeling. When I was younger and had my own fashion blog, I would spend hours searching on the internet, forums, and blogs for scanned fashion images from old magazines, books, and such. I'm still the same way now, and instead of being posted on a blog, those images get saved to my Pinterest, Tumblr, and Instagram saved folder, or go on @hashtag_saved.
Fashion will always be my biggest inspiration, no matter what. There's nothing better to me than getting lost in an internet hole looking at photographs. Music has also been there for me in terms of inspiration. The music I'm listening to typically dictates how I dress, whether that's David Bowie inspiring me to wear a blue suit or David Byrne making me want to dress like a late 70s art school kid.
In the last year I've also become interested in art history and world history. I'm no art historian or museum curator, but my ultimate dream is to go back to school and potentially become an archivist and study curation and art history. I recently came across an Artsy article on a painting of St. Lucy from the Renaissance, and it reminded me of Lana Del Rey's Met Gala Gucci look from 2018. LDR was holding this decorative eye sceptre accessory that was clearly made to portray the story of St. Lucy, who lost her eyes due to her belief in God. (2018 was the year of the 'Heavenly Bodies' Exhibit, for reference.) Anyway, the article I read served as an inspiration for me to then search for other examples of this story in art, and even modern portrayals of it, which led me to Lana's look she collaborated on with Alessandro Michele. Making those connections between actual history, art history, and modern fashion or other art forms is what truly brings me joy because it's something I learned and feel fulfillment from.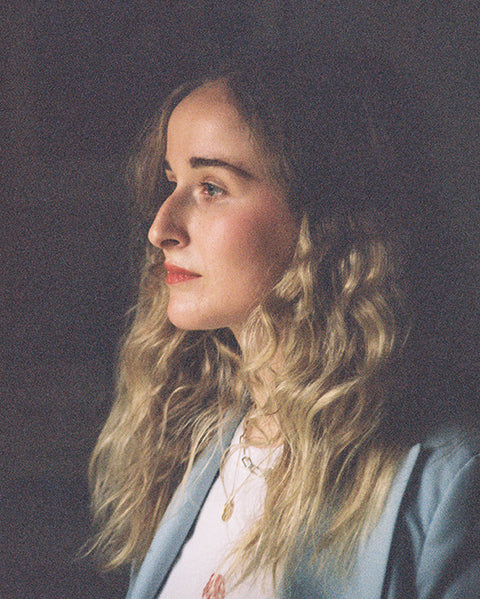 - What's your current hair routine?
I wash my hair pretty much every day—now that most of it is virgin hair, it has a tendency to get oily. I'm pretty low-maintenance with the products I use. Before I wash, I use The Brush. It doesn't pull on my tangles at all, it just gently brushes them out. Now that my hair is nearly down to my waist, the brush is especially helpful. To wash, I'll use a basic Pantene shampoo and conditioner, or Pantene's micellar rinse they came out with semi-recently. I like that because it rinses my hair without stripping it and makes it super soft. I also love Aussie's 3 Minute Miracle Mask for a quick reset to bring down the frizz. Then I wrap my hair in the The Towel, which really wrings out any extra water. The towel has honestly been a game-changer for me due to my thick hair. Sometimes it would stay wet for hours, now the drying process is much faster. To finish things off I use The Oil on the ends and I scrunch in some to set up my curls. Then, that's it! I let my hair air-dry and we're done.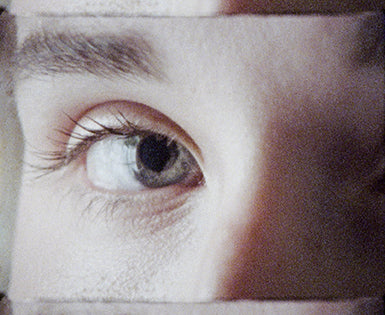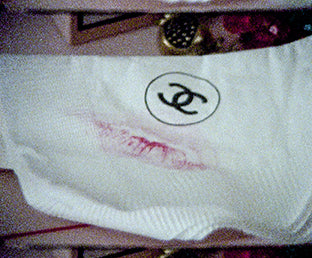 - How does your hair make you feel?
I've always played with my hair, meaning I've dyed it, bleached it, chopped it off, etc—but since I've been growing it out and not highlighting it to get it healthy again, I've never felt more like myself. My long, curly hair makes me feel like a goddess, or a princess. When I brush it out it reminds me of all of the royal women of court I read about in my books and how they'd treat their hair. It is the part of me that makes me feel the most beautiful.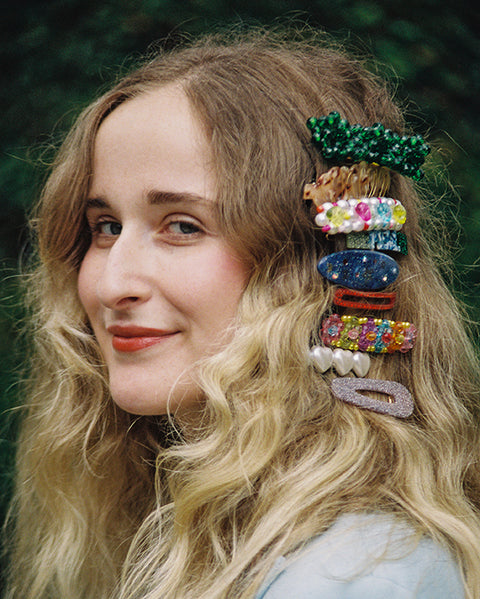 - Any major hair moments or memories in your life?
In 10th grade, I really wanted some change for my school photo, so my mom let me get my first box dye… (Perhaps it was all downhill from there.) In high school, I highlighted it a lot, and then had this ridiculous ombré that was terrible looking back! At one point I did a full bleach blonde look, which was fun but so much upkeep and absolutely wrecked my hair. And then in 2018, I dyed my hair a temporary pink, which was a lot of fun. I blame Saoirse Ronan in Lady Bird for that inspiration.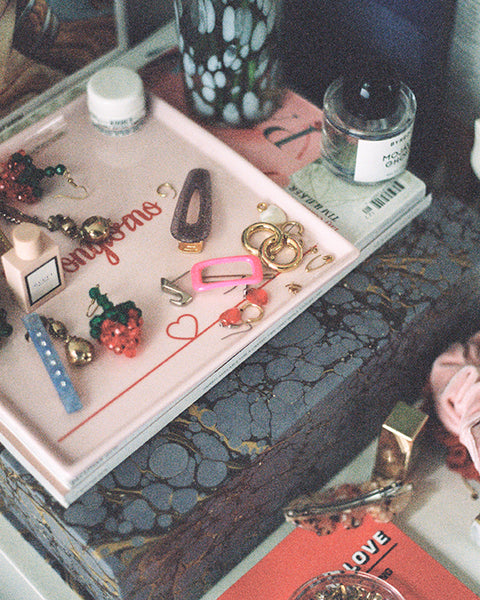 - What does a typical weekday morning look like for you?
My boyfriend is a teacher, so I get up pretty early, usually by 7...okay, maybe 7:30. I admit the first thing I do is go to my phone *eek!* and scroll through things. I do like to do that, though, because I find a lot of lovely images to save for my @hashtag_saved project. Then I get up (difficult thanks to my Buffy comforter) and do some stretches and a few ballet exercises to move my muscles—key for me as I pretty much sit at a desk all day!
If I'm washing my hair I'll brush through it, dry brush my body, and hop in the shower. It's key for me to apply any moisturizers or serums onto damp skin right after I shower. For skincare, I typically do a small pump of Klur's Immersion Serum Concentrate with a shake of Versed's Vitamin C powder and a moisturizer with SPF for daytime. For body, I love Necessaire, especially their Body Serum. When I'm still in my towel, I'll turn on the news or power up some music in my room. Talking Heads are my most favorite band, so you'll find me listening to something from their discography almost every morning to get myself going.
Lately I've been wearing these really good Levi's Ribcage jeans, a favorite blouse or t-shirt, a cardigan or pullover sweater, and an oversized coat with sneakers, a simple black block-heel boot, or one of my favorite pairs of Chanel flats. My makeup situation is very quick and takes me no more than 2-3 minutes. I don't like to do a lot of makeup, so lately I've been using Chanel's Le Water Teint and a bit of Glossier's Stretch Concealer, brushing up my brows, putting on a powdered or cream blush, and calling it a day! The last step is this new Gucci lip balm I'm obsessed with, then perfume. My favorites are Do Son by Diptyque, Mojave Ghost by Byredo, Another 13 and Bergamot 22 from Le Labo, and Little Flower by Chloe Sevigny. I like to try and do something for myself before I head into work, which usually involves me choosing a few photos to post to @hashtag_saved, or stopping for a coffee or grabbing a magazine at the newsstand on Larchmont. I always need something in the morning to get me inspired for the day creatively. Then I'm off on my commute to Downtown LA.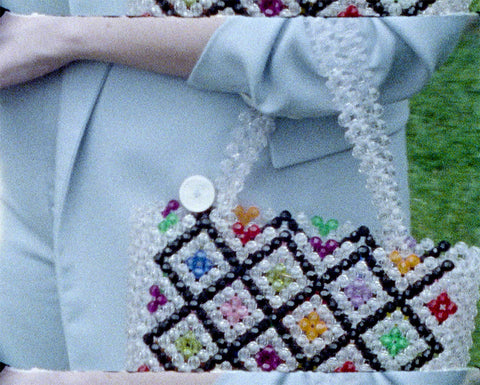 - How have your days changed since stay-at-home began? 
It's been a big change not driving downtown everyday where I work. I definitely miss my drive and having my time to listen to favorite podcasts or blast music to and from work. My company is currently working from home, though, so most of my day is prioritizing which tasks need to get done with my team over video calls, executing those, and making sure I create time away from the computer for myself. Now my days include a lot more reading, which I'm super happy about, as I can just switch from working to reading. Getting lost in a book has really relaxed my mind through this whole thing. My boyfriend is also home from work too, so now that we're both at home, it's really nice to spend this time with him that we've both been wanting for ages and I am grateful for that.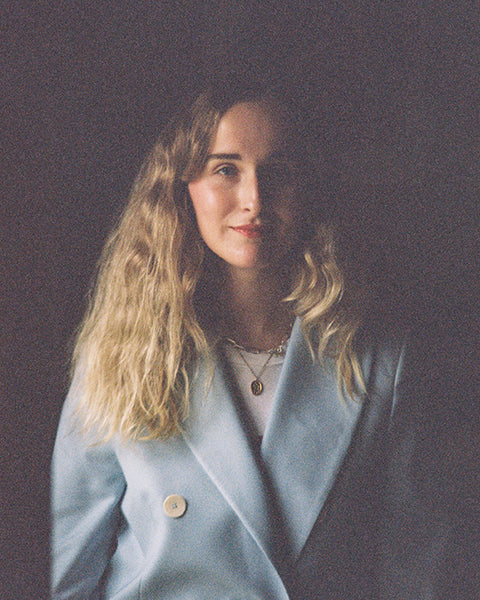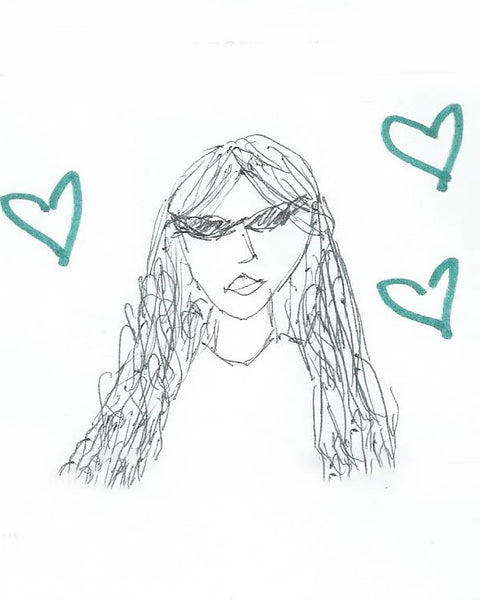 - How have you kept up your creativity during this time?
I have really been diving into reading. I've challenged myself to read two books on this line of medieval English kings and queens I really care a lot about, and see where it leads me. I like reading history books because I feel most creative when my mind is constantly learning, because from there I can then research other things I may not have known about before. I love to put on a favorite record and sit and read for hours.
I've also been trying to keep @hashtag_saved more updated as I've had a lot more time to research images. Putting up images on my digital board allows me to stimulate my mind and similar to my reading, research creatives, fashion designers, photographers, and artists I may not have known of, or want to learn more about.
- What would you tell your 18-year old self?
Don't worry so much. You'll get where you need to be and get through the things you thought would be the hardest. I promise. It's okay to be a work in progress.