Top of Mind
12.06.21
Meet Your Brush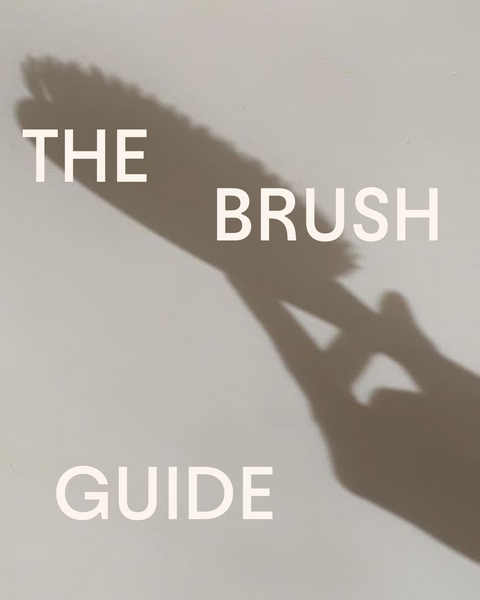 By Crown Affair
A well-made brush is a tool for life. Essential for scalp health and maintaining your strands, great for styling and upkeep, and a timelessly beautiful object, each Crown Affair brush is crafted by hand from the finest materials that can last you forever. To help you find the brush of your dreams, we created this little guide, with tips for maintenance to keep your tools—and your hair—healthy along the way.  
A traditional combination of boar and nylon bristles, The Brush No. 001 is our go-to for scalp health and overall crown upkeep. Hand-carved in Italy from natural beechwood, the nylon and boar duo works well for any medium to thicker hair types, reaching the scalp to stimulate blood flow and distribute natural oils, promoting hair growth and overall health. With a breathing hole for flexibility, the brush pad conforms to your scalp over time, softening and tailoring itself to your stroke patterns—making it completely your own.
With its classic wooden pins, The Brush No. 002 is our go-to for gentle, everyday detangling and scalp massages for more sensitive types. It still distributes your hair's oils and stimulates blood flow, but with a softer touch. And it's great for detangling curly or coiled hair, as it works a little bit like a wide toothed comb to work through knots without separating curls or undoing natural textures. The brush pad is the same as The Brush No. 001—softening and tailoring itself to your crown over time.
Similar to The Brush No. 001 in its ability to promote true health for your scalp and strands, The Brush No. 003 is crafted using pure, natural boar bristles—perfect for finer and less-than-medium thick hair types. It's also a great styler, smoothing strands, adding shine as you pulling it back or put it up, and leaving it feeling lighter and softer than before. And again, the pneumatic pad cushions to protect your scalp and customizes itself to your crown.
Not a brush person? The Comb No. 002 is our wide-toothed, handled comb for everyday detangling. It's great for curls and coiled hair types, and also ideal for combing out wet strands, as it's gentler than any brush can be while your hair is in its most vulnerable state. As a best practice: thoroughly brush dry hair using any one of our brushes pre-shower, and gently detangling post-shower using The Comb.
These are designed to be lifelong tools, as long as you care for them properly. Make sure you…
Store your brush or comb in its cotton pouch, especially when traveling

Clean regularly using The Brush Cleaner (we recommend doing this at least once a week to prevent buildup)

Avoid using your brush on wet hair—for the sake of your hair and your brush—and be sure to keep the handle and bristles dry.