Top of Mind
05.03.21
Our Love Language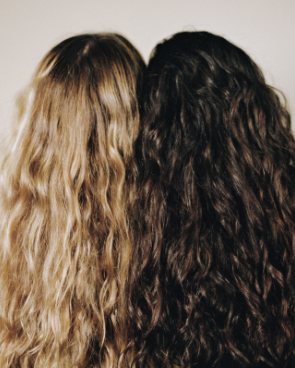 By Crown Affair
We all experience love differently. So it's not surprising that everyone may not communicate, express, or want to receive love in the same way. The specific type of communication- style we each prefer around receiving and giving love (both verbal and non-verbal) is what's known as our love language. Your love language can help guide you, and others, on how to best communicate and take action. 
What if your hair could be your love language? Think about it. Your hair holds so many memories, and even shared traditions that have been passed down from generation to generation. The most vivid memories are typically linked to an emotion, and how you express yourself, through your hair, can be deeply emotional. Your hair is made up of specific memories that are tied to the different phases in your life. Everything from your very first haircut, to learning how to french braid, to that time you bleached your hair in middle school, to learning how to appreciate your hair's natural texture to building in the daily haircare rituals that you love.
Your hair is an incredibly powerful tool. Not only can it bring you a greater sense of self confidence and joy, but your hair is a collection of your personal experiences, your personal journey. That's why we believe your hair can even represent how you choose to express love to yourself and those around you.