Top of Mind
11.19.20
Rituals With... Sarah Solinger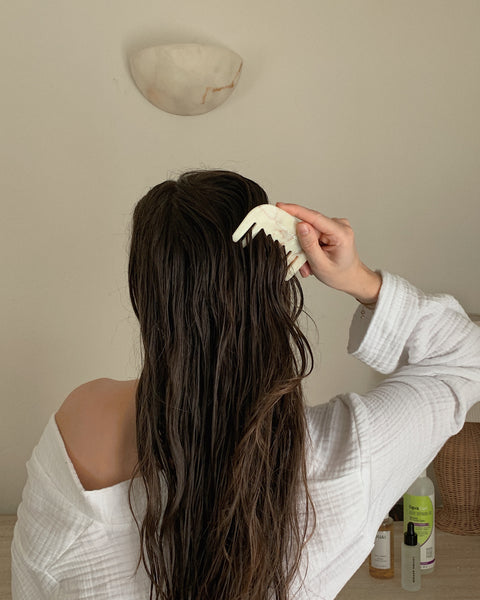 By Crown Affair
For LA-based interior designer Sarah Solinger, inspiration comes in many forms: monochromatic ensembles, thoughtful product packaging, and pastel bouquets for days. We love following her for her dreamy interior shots and stunning personal style, but the more we explored her photos the more we wanted to learn more about the rituals and routines behind them. We recently got the answers to all of our questions and more when we chatted with Sarah; get to know the inspiring designer below.  
- Where do you live and what do you do?
I live in New York City, and I'm a freelance writer and brand consultant.
- What does ritual mean to you?
Rituals are one of my most effective means for coping with anxiety -- which is something I've always struggled with. At their best, my rituals are soothing, easy to maintain, and most importantly things I look forward to doing that also happen to provide a semblance of routine or structure. That being said, I try to hold onto rituals lightly. If I can do them, great! But if I can't for whatever reason, that's okay too. If I'm too attached, it tends to backfire.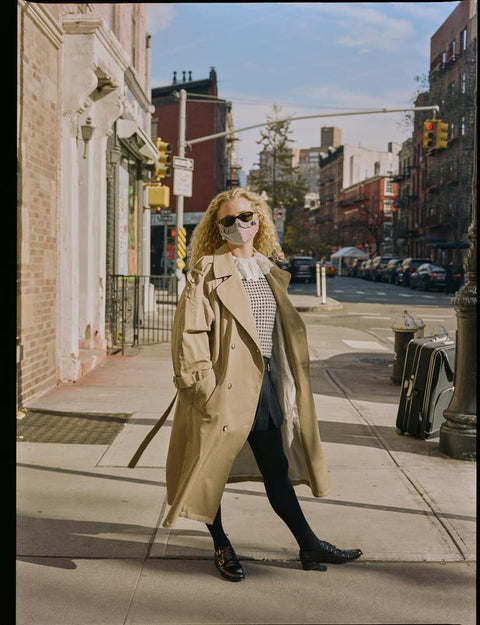 - WHAT ARE SOME OF YOUR FAVORITE RITUALS?
Making matcha every morning, taking baths at night, and ordering green curry from Lovely day on Sundays.
- What is your morning routine?
Before the pandemic, my morning routine was less "routine" than it was a time crunch. I would wake up at the last possible second, eat a banana, head to the gym, shower, slap on some moisturizer, get dressed, and rush to the office. Working from home has introduced slowness to my mornings, which I'm conscious of and grateful for. I start every day with a huge glass of water and some supplements (oil of oregano and elderberry syrup for immunity, a probiotic for gut health, and D-Mannose for UTI prevention since I used to get them chronically), then I'll make myself a matcha latte with oat milk and sit down at my kitchen table to take care of any urgent work and life to-dos. I'm not usually super hungry for breakfast right when I wake up, so I'll wait an hour or so to make something to eat. I'm a big fan of sourdough toast with peanut butter.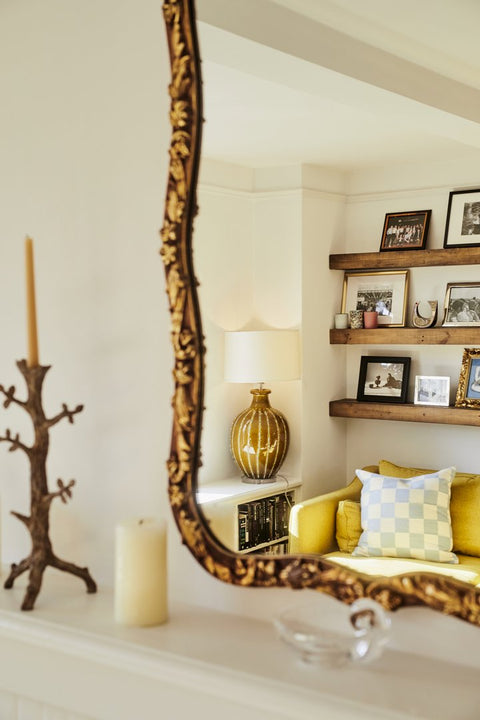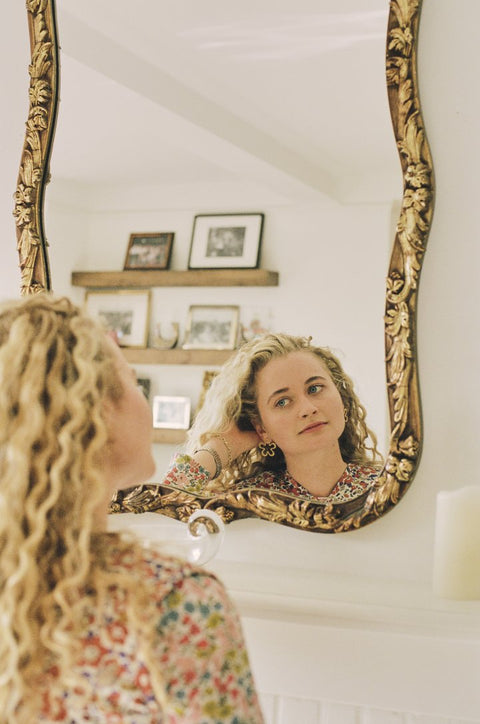 - HOW WOULD YOU DESCRIBE YOUR HAIR? AND FROM WHOM DO YOU GET YOUR HAIR?
My hair is long and thick with type 2C waves (which basically means it teeters on the edge between tight waves and loose curls, with a really clearly defined "S-bend" shape and a propensity for frizz). I get my hair from my mom and my dad, who both had thick wavy hair when they were younger. The texture of their hair has definitely changed as they've aged, so it will be interesting to see what happens with mine.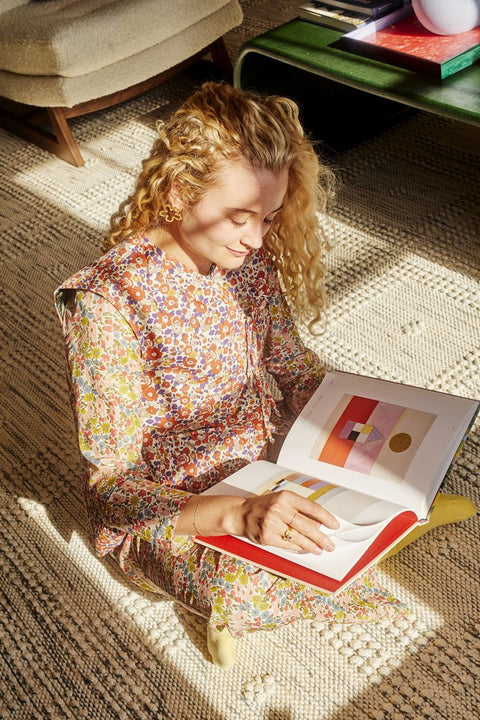 - What is your current haircare ritual?
There is a huge spectrum in terms of how my hair can look, with flat, dry, knotty, and shapeless on one end and shiny, defined, and voluminous on the other. I've learned that with my texture, making it look the way I want it to look is all about time and effort, which is where my haircare ritual comes in. I'll be honest: I love what this ritual does for my hair, but I don't love that wash days can feel like such a chore -- not to mention the upkeep afterward if I want the results to last. Sometimes I don't feel like doing my full hair routine, so I don't! And I'll just wear my hair in a bun all week. I try to internalize the reality that there is no such thing as bad hair or good hair, there's just the hair I have and the choices I make about what to do with it -- which can and will evolve depending on the day, the season, or even my mood. 
Here's what my full routine looks like when I decide to do it:

1. I wash my hair with low-suds, sulfate-free shampoo and a super creamy, hydrating conditioner (I'm not picky about shampoo and conditioner brand as long as they meet these criteria, but I love the ones from Davines's CURL LOVE product line, and I also like the ones from IGK's Thirsty Girl collection). Once a month, I'll do a hydrating hair mask. I've been using Crown Affair's Renewal Mask lately, which is fantastic. 
2. While the conditioner is still in, I detangle my hair with my fingers. This always takes a long time because my hair gets matted very easily. 
3. After rinsing out the conditioner and getting out of the shower, I apply IGK Mistress Hydrating Balm and Davines This Is a Curl Builder Serum to wet hair while scrunching to encourage curls.
4. I wet plop my hair with a cotton T-shirt. The amount of time I leave it plopped for is inexact and varies depending on my schedule, but if I can I'll leave it up for an hour. 
5. After unwinding my hair from the T-shirt, I let it air dry the rest of the way.
6. To protect my curls and maintain them for as long as possible after washing, I sleep on a silk pillowcase. I'm also careful with how I wear my hair during the day to preserve the curl pattern -- I'll either tie it back with a silk scarf or twist it with a clamp if I'm working out. I avoid elastic hair ties. 
- What are your favorite holiday rituals? And how will you keep them alive this year? 
I know it's a weird year, but the holidays are truly my favorite time of year. This year will be a bit different for me and my family as it's the first year we'll be spending the holidays up in Portland instead of the Bay Area where I'm from. My favorite Holiday ritual is going to cut down our christmas tree from the forest the day after Thanksgiving. We're definitely planning on still doing this this year and I'm excited to find a new place in the Portland area to go to! We typically go in the morning and then spend the afternoon decorating the tree and watching A Charlie Brown Christmas to get in the spirit. The Charlie Brown films are a staple in my family, we watch them every year and they bring me so much nostalgic joy.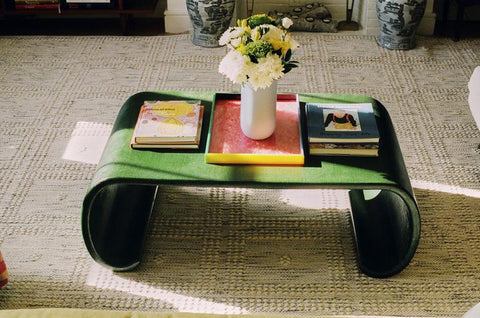 - WHAT WOULD YOU SAY HAS BEEN YOUR MOST MAJOR HAIR MOMENT OR MEMORY THUS FAR?
Oh gosh, I have so many funny hair memories just from learning how to deal with it over the years. When I was a teenager I used to get my hair chemically relaxed every six months or so, but at one point I decided I wanted to grow it out, so for my entire junior year of high school the top half of my hair was super curly and the bottom half was STICK straight. I'm not exaggerating. DM me and I will send photographic evidence. 
In terms of my biggest hair moment though, I would have to say it's coming to love this part of myself as an adult that I really, truly despised growing up. The current texture of my hair was a product of puberty, springing to life at around age 13, and as an adolescent it felt like one of many surprising and unwelcome changes to my body. I also had no idea how to take care of it, so I did everything I could to beat it into submission, whether that meant blow-drying and straightening it weekly or getting it professionally relaxed. I didn't start embracing my natural curls until after college, and it took a lot of trial and error to figure out what products to use and how to use them. I wear my hair curly 99% of the time now, but sometimes I crave a super sleek blowout so I'll indulge in that occasionally, too. It's fun to mix it up! I'm learning to appreciate my hair in all its forms, which is incredibly freeing. And I mean that literally -- I'm free to jump in the ocean or go for a sweaty run whenever I want without worrying because I know how to take care of it now, which believe me has not always been the case.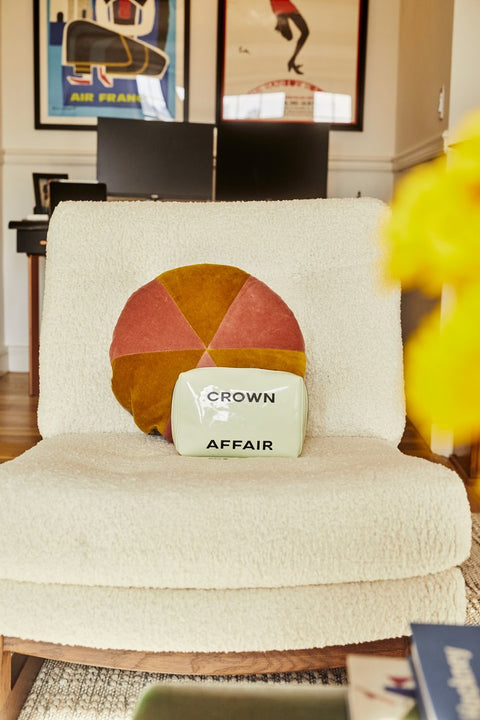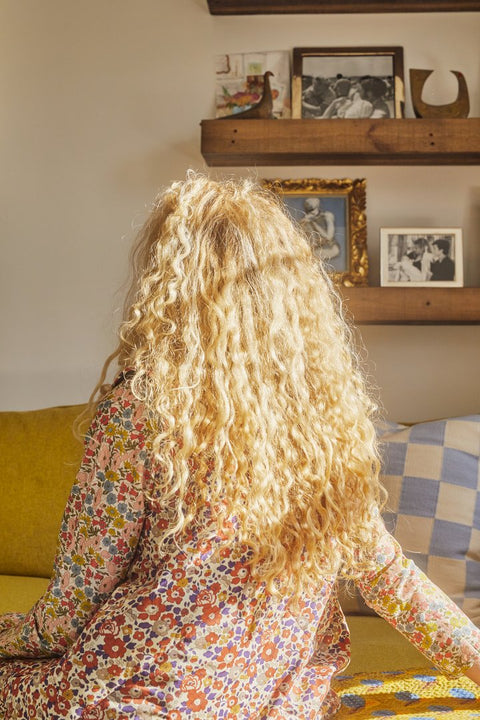 - WHERE DO YOU FIND INSPIRATION?
I know this answer is corny, but I get so much inspiration just from living in New York. Street style, architecture, iconic typography… it's all there. My access to it has been more limited lately since I'm staying inside more these days, but I go for long walks as often as I can, and there's so much to take in every time. Otherwise, for better or for worse, I find tons of inspiration on the internet. I'm a sucker for going down super deep rabbit holes to find out as much as I can about the most random "inspo" obsessions, like mochaware pottery, or vintage French bistro match strikes. Google is such an enabler. 
- FAVORITE QUOTE OR WORDS YOU LIVE BY?
I reread this poem "What Is Now Will Soon Be Past" by Yrsa Daley-Ward often:

"Just because you do it
doesn't mean you always will.
Whether you're dancing dust
or breathing light
you're never exactly the same,
twice."

It reminds me how change and uncertainty, while often uncomfortable at first, can transform the stories I tell myself about who I am in positive ways. Just because I hated my hair didn't mean I always would -- a small example of an enormous human truth. If at age 29, I marvel at the thought of what my 13-year-old self would say if she knew how I felt about my hair now, I wonder what I might marvel about in hindsight when I'm 80. It's a pretty thrilling thought.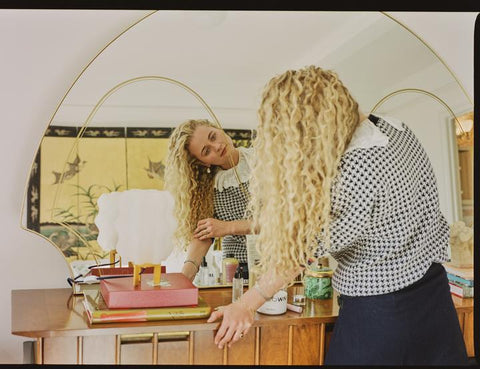 - Favorite Artists?
Etel Adnan, David Hockney, Cassi Namoda, Luke Edward Hall, Toyin Ojih Odutola, Happy Menocal, Helen Frankenthaler, Alexander Calder, June Beer.
- FAVORITE WRITERS OR BOOKS?
Jane Eyre, Homegoing, When Breath Becomes Air, Just Kids, A Little Life, Middlesex, Pachinko, Americanah, Little Women, Atonement, The Secret History, A Tree Grows in Brooklyn, The Good Earth, Normal People, East of Eden, An American Marriage.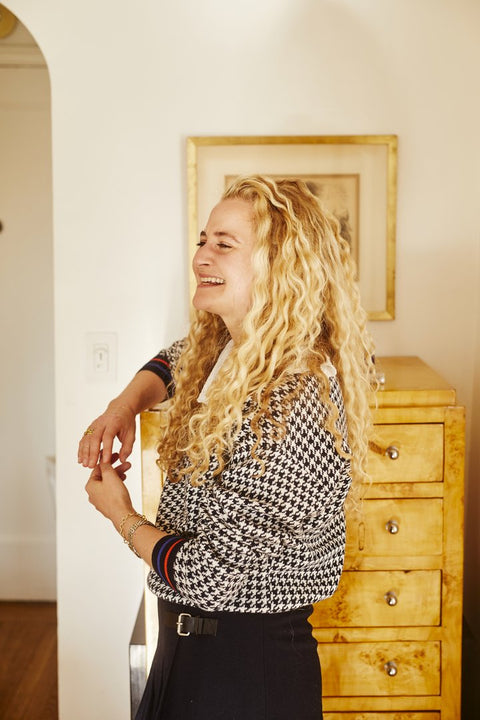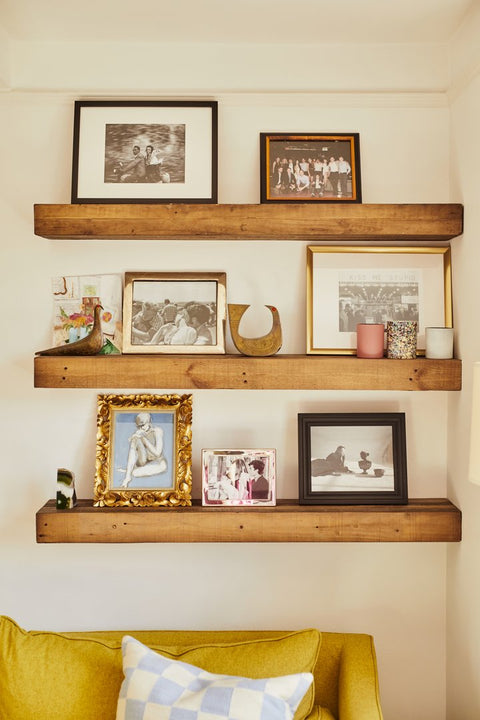 - ACTIVITIES OR HOBBIES?
Scrolling through endless pages of vintage home stuff on Etsy and eBay, reading and writing for pleasure (the latter is rarer, but so nice when it happens), and defending Grey's Anatomy!!! 
- WHAT WOULD YOU TELL YOUR 18-YEAR OLD SELF, KNOWING WHAT YOU KNOW TODAY?
Don't worry you're going to marry Austin. Haha. Also -- the terrible grade you got in chemistry -- you know, the one that made you shut yourself in the bathroom and cry? It ultimately could not matter less.
- GIVEN THIS VERY UNIQUE YEAR AND HOLIDAY SEASON, HOW HAVE YOUR TRADITIONS CHANGED? WHAT ARE TRADITIONS THAT ARE GROUNDING YOU THIS YEAR?
Holiday giving has taken on extra importance for me this year. It's typical for food banks to see an increase in visitors over the holiday season, but right now demand is up 145%. This month I doubled my recurring donation to World Central Kitchen, a great org that is working across America to help get people fed while employing restaurant workers who were laid off at the beginning of the pandemic. I'm also participating in USPS Operation Santa, a program where you can "adopt" a letter that a kid addressed to Santa and mail them what they've wished for (sometimes it's actual necessities like a warm coat). This is the first year that the program is being executed virtually because of the pandemic, but on the plus side that makes it easier for more people across the country to get involved.