Top of Mind
07.26.22
Cool Off Easy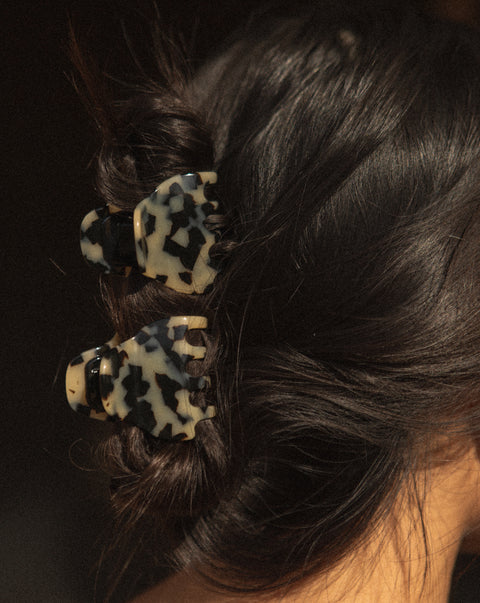 By Crown Affair
Humidity, heat, and dryness can make a good hair day harder to come by. If nothing else, it makes the ritual a little less predictable, besides the fact that keeping your hair down gets uncomfortably warm this time of year. So we made a list of ways to cool off and take a more intentional approach to your air dry all in one go. Here's how to use The Clips to get your hair off your neck right now:
The Bunhead
The ultimate classic approach: a ballet knot. Pull hair back, twist and wrap into a bun (high or low depending on how you like it) then clip into place. You can use one or both of The Clips here depending how the hold feels.
The Double Space Knot
A little nineties—use The Comb No. 002 to part hair down the middle all the way. Then, using The Brush No. 003 to pull each side up smoothly, brush from the nape of your neck up and smooth into a high pony on each side. Then twist each section of hair into a tight-ish knot, and clip into place.
The Double-Clip Single Bun
Smooth hair back into a low ponytail. Then twist it into an oblong-shaped, loose knot. Holding the knot with one hand, use the other to clip the top half with one of The Clips. Finish it with the second clip, securing the bottom half of the knot in place.
The Braided Twist
Use The Brush No. 003 to smooth hair into a ponytail—you can high or low, whichever you prefer. Secure the pony with The Scrunchie No. 001. Then split the ponytail into three equal sections and braid it. Wrap the braid around the scrunchie, and secure into place with a clip.
The Twist & Clip
Dianna's go-to. It involves twisting sections of damp hair intentionally and clipping them into place while they dry for a final result of heat-free, subtle waves. Keep it up all day if you feel like it—or let it down once it's dried for effortless, natural texture. Watch here.