Top of Mind
03.13.22
Wrap it Up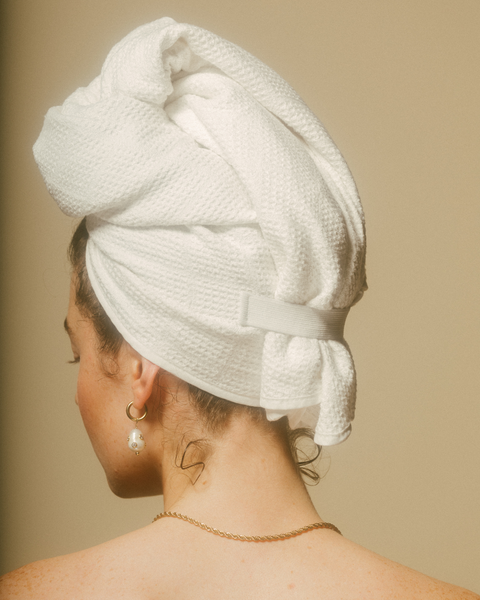 By Crown Affair
Gone are the days of wrapping up your hair in a cotton bath towel, because what's good for your skin isn't always good for your hair. At its core, hair is a delicate fiber that's most vulnerable when wet, and the drying process is essential. We made The Towel especially for your strands, so you don't have to compromise when it comes to function, quality, and overall hair health.
A few key factors make The Towel uniquely ideal for your hair. Cotton towels are coarser in texture, and create friction by rubbing against your hair fibers when drying. This friction causes breakage, split ends, frizz, and can leave your hair feeling limp, dry and brittle overall. The Towel is made with a custom, high-quality microfiber waffle weave: a smooth, gentle fabric that seamlessly absorbs moisture from your strands. You won't need to forcefully squeeze or wring out wet hair to accelerate the drying process; the microfibers in The Towel naturally extract excess moisture by blotting alone. This cuts drying time in half! All you have to do is wrap your hair up, make your morning coffee, and let the magic happen. 
By removing only the excess moisture and nothing more, your hair is able to maintain the ideal amount of hydration it needs to thrive. Your air dry will be free of excess frizz and dryness, while your natural texture remains intact.
Quality material isn't the only thing The Towel is capable of; it's also longer than an average hair towel to ensure even the longest or thickest strands are covered. It has a unique rounded shape at the top to mimic the shape of your head and eliminates any extra bulk fabric when you twist it up. Once twisted, you can then tuck the end into the elastic strap—it actually stays in place while you go about doing whatever you need to do. It's also the perfect balance of quality and luxury: it works, and is proudly displayed in the best bathrooms. While it does require some extra care (wash on cold, dry on low, and NEVER bleach), you can wash The Towel again and again, and it won't pill or snag like a cotton towel. The Towel will reframe the way you think about air drying your hair… and your post-shower ritual will never be the same.