Top of Mind
01.29.21
Your Hair's Canvas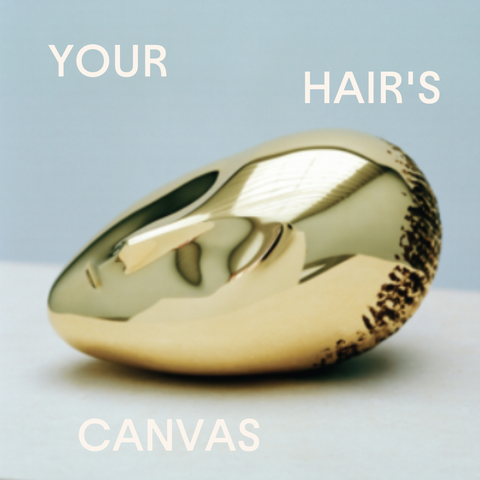 By Crown Affair
Did you know that there are two distinct (and very different) facets of hair care? Strand-care and scalp-care. This week we're going back to the basics of how we can give love to, and care for our scalps. 
It's important to note that your scalp is unique and unlike anywhere else on your body. You can think of your scalp as the foundation to strong strands as this is where your hair growth begins. In essence, your scalp is the canvas to healthy hair. It serves as the base of your relationship with your har. A healthy scalp has the power to give you fuller, shinier, nutrient-rich tresses. 
To nourish your scalp, first start by knowing that your natural oils are not the enemy but a beautiful blueprint for you to work with. Give yourself a relaxing scalp massage by applying pressure with your fingertips to get your natural oils moving around. Or gently run a brush along your scalp which stimulates your hair follicles, increases blood flow, and evenly distributes your healthy natural oils to balance your hair's canvas. This movement of oils can boost hair growth. These two simple practices allow us to connect with ourselves, and they remind us that our hair's health is within our hands (literally). We encourage you to approach your hair care rituals with a new perspective that's twofold, honoring both your strands and your scalp. 
𝘊𝘰𝘯𝘴𝘵𝘢𝘯𝘵𝘪𝘯 𝘉𝘳𝘢𝘯𝘤𝘶𝘴𝘪, '𝘓𝘢 𝘔𝘶𝘴𝘦 𝘌𝘯𝘥𝘰𝘳𝘮𝘪𝘦 𝘐𝘐' (1923)