Top of Mind
06.21.22
About The Cleansing Scrub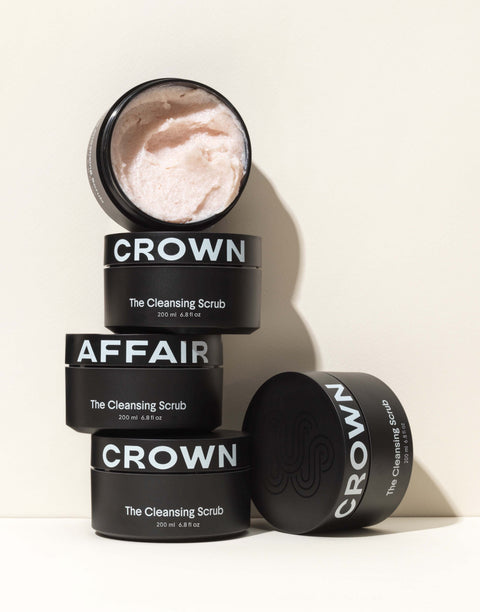 By Crown Affair
A healthy scalp means healthy hair. Moisture, exfoliation, and circulation are key, each working to maintain a careful balance across your crown: plenty of nourishing natural oils, proper absorption of nutrients, an ideal flow of blood and oxygen, plus hydration and efficient skin cell turnover. At your scalp's most optimal, itchiness and flakiness are nonexistent, while your strands look their best and grow faster and stronger, too. 
This is why we made The Cleansing Scrub. It is a purifying treatment that meets all the essential criteria for scalp health (and then some). It's the clean formula you won't be able to live without, because it does what your everyday shampoo can't, but doesn't overcompensate like most existing scalp exfoliators on the market. The Cleansing Scrub is a clean formula that goes deep; it's both purifying and hydrating; it's exhilarating and strengthening and moisturizing all at once. Here's what to know:
The Cleansing Scrub is a shampoo. It lathers like one and cleanses strands—but is targeted to benefit the scalp first. Its delicately grainy texture and whipped lather remove impurities and polish skin for a comfortable, balanced feeling. With each cleanse, skin becomes clean and hydrated, giving your roots room to breathe—and in turn adding volume—so your strands come away feeling cleaner than ever. Nothing is stripped or left dry, but no leftover residue remains either: just a well-hydrated, silky-soft sensation, all the way from deep in the root to the end of each strand.
Combining fine grain Bolivian sea salt and hydrating tsubaki seed oil—plus a coconut-based surfactant system—into one balanced, sulfate-free, color-safe formula, The Cleansing Scrub is never drying. Instead, thanks to our hero hydrator, it eliminates buildup while infusing the scalp and your roots with moisture. Pink Bolivian sea salt is a crystal rock salt, harvested from ancient volcanic rock in the Andes Mountains. Highly nourishing and mineral rich, it's full of Calcium, Potassium, Magnesium, Iron and an array of other essential minerals. Our formula is made using extra fine granules for a gentle, non-abrasive exfoliation that penetrates through to the scalp and rinses away completely with no effort at all.
Replace your shampoo once a week or as needed with The Cleansing Scrub for a deeper, more thorough cleanse focused on your scalp. You can do this more often during the summer months or when you've been more active than usual, as it's great for eliminating and preventing buildup of sweat, salt, and other impurities. Alternately, since you know your hair best, you can use it less frequently than once a week. It'll be there when you need it. Follow with The Renewal Mask or The Ritual Conditioner for ultimate hydration and nourishment.