Top of Mind
10.20.23
Dianna's Favorite Things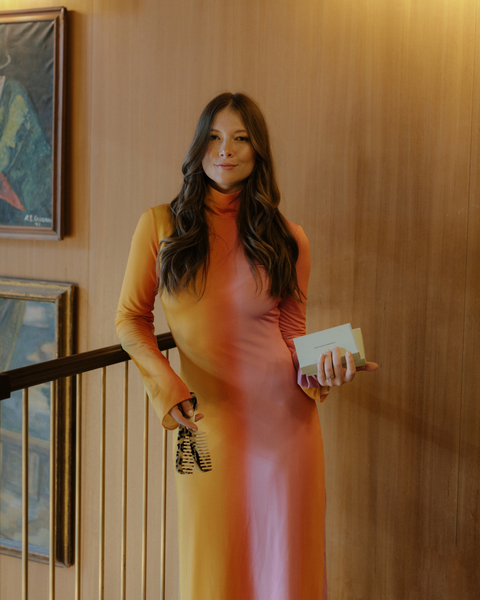 By Crown Affair
Our founder and CEO shares everything she's loving (and gifting) this holiday season—from headbands to gua sha to drizzling olive oils, take it from the queen of ritual:
Which products are you gifting this year?


1. The Healthy Hair Set 

If you don't know where to start with Crown Affair products, this is it. The Towel and The Leave-In Conditioner are my holy grail products to enhance my hair so it feels like the best version of itself. Added bonus that it's a value of $93 for $65 (!).
2. The Clips
These handmade clips are the dreamiest treat to open up as a present. They're made by hand in France from plant-based cellulose acetate, so they feel much more luxe than a standard hair clip.
This is the perfect travel companion or, if you're new to our in-shower goodies, the best entry point. Plus, our minis are adorable.



4. DS&Durga Fragrance gift set
Opening this is like opening up a magical box of chocolates. They're all TOO cute (everything is better in mini) and it includes a few of my favorite scents, as well as some I've been wanting to try. 10/10 gifting experience.
Everything Brightland touches turns to gold. A nice bottle of olive oil (and their honey and pizza oil are delicious too) is perfect for anyone in your life who enjoys food or loves to cook. The perfect kitchen upgrade where you can truly taste the difference.
What is your ride or die product?


The Dry Shampoo! Even if I hadn't started Crown Affair this would be my ride-or-die product. I wash my hair 2-3 times a week max so this clean, non-aerosol dry shampoo is always by my side.



What is your go-to holiday hair look this year?


I always love heatless, air dried waves (I swear by the twist-and-clip method using The Clips) topped off with a polished headband pulling it all back. A statement accessory like a headband instantly dials a look—a bonus if paired with a dangly pearl or bow earring.
What's a beauty/haircare hack that always makes you feel good?

I use The Leave-In Conditioner on DRY hair. Most leave-ins are thicker in formulation, which can weigh down thin or fine strands. I love ours because it's lightweight, and is the perfect 'oomf' when you need to refresh your hair. It instantly makes my hair fuller and adds shine.



What's your favorite luxury routine?

I gua sha my face 2x a day—morning and night, 3 minutes each time, with a face oil (I use the Oak Essentials one) and this tool (Pause Well Aging). After my evening shower or bath I do a full body gua sha with the De La Heart body tool and favorite body lotion (Embrrolyise or Necessaire). I finish the ritual with a 2-minute scalp massage using The Calming Scalp Serum. I make sure to close my eyes and take a few deep breaths through my nose. It's hands down my favorite, luxurious ritual that I do every day.