Top of Mind
11.01.22
Everything Is Better In Mini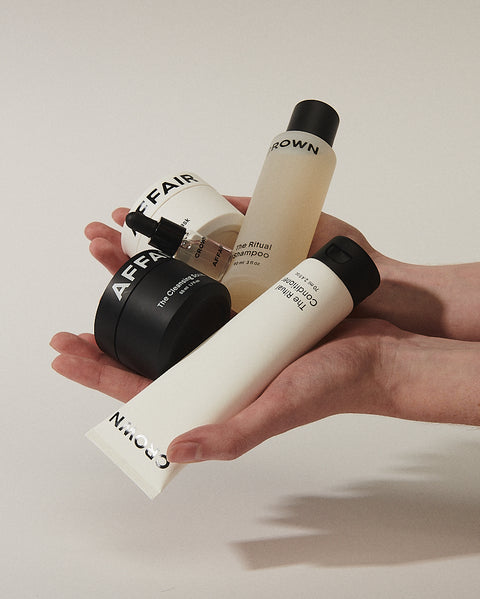 By Crown Affair
Everybody agrees: Everything is better in mini. With our Holiday '22 collection, we're introducing our most-popular formulas in adorable, travel-ready mini sizes, so you can take Crown Affair with you wherever you go, or give the perfect gift this season. Here's the (mini) breakdown: 
Includes: The Mini Cleansing Scrub, The Mini Renewal Mask
Give your hair the treatment it deserves by swapping out your regular shampoo and conditioner for The Cleansing Scrub and The Renewal Mask once a week. The Cleansing Scrub is a gently purifying exfoliant for your scalp, and Bolivian pink salt gently removes buildup for a comfortable, balanced feeling. The Renewal Mask is a nourishing hair mask that hydrates without weighing strands down. Tsubaki Seed Oil hydrates, adding flexibility, strength, and moisture. Both formulas, when used together, leave hair thoroughly cleansed, moisturized and refreshed, as well as volumized and bouncy at the root.


The Mini Wash Day Ritual ($48)
Includes: The Mini Ritual Shampoo, The Mini Ritual Conditioner, The Mini Oil
Wash day begins with The Ritual Shampoo—brush out your strands to loosen debris and buildup at the root, then go in with our lightweight, yet powerfully cleansing formula that uses naturally-derived, coconut-based surfactants. Follow with The Ritual Conditioner, which deeply moisturizes from within to strengthen, soften, and hydrate hair. After the shower, finish with The Oil, our lightweight serum, for hair that's smooth, shiny, and thoroughly hydrated all the way through.
The Complete Mini Ritual ($90)
Includes: The Mini Shampoo, The Mini Conditioner, The Mini Oil, The Mini Renewal Mask, The Mini Cleansing Scrub
For lighter wash days, The Ritual Shampoo and Conditioner are your go-to for a gentle, everyday cleanse and moisturized strands. Weekly, they can be swapped out for The Renewal Mask and The Cleansing Scrub, our exfoliating scalp scrub and deeply nourishing hair mask treatment. Finish it all off with The Oil, a lightweight hair serum that locks in hydration and adds shine and softness as your hair dries.