Top of Mind
07.24.23
Good People: Doria Santlofer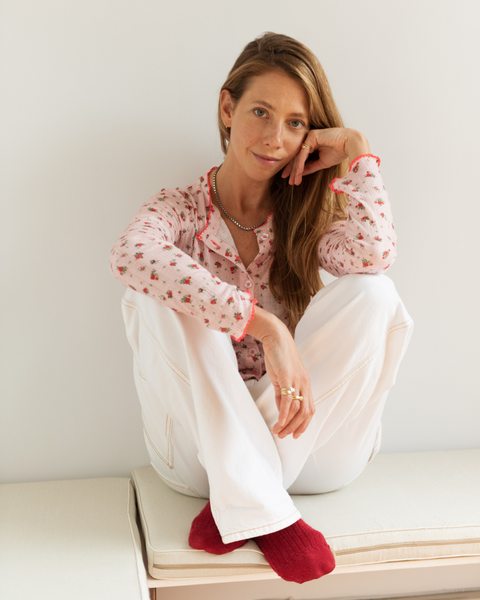 By Crown Affair
We sat down with New York native stylist and co-founder of independent fashion brand, Rosette NYC, in her Brooklyn apartment. Greeted by her adorable one-year-old, she tells us about juggling two careers, becoming a mother, dealing with (and eventually overcoming) hair loss, and embracing her natural self.
- Tell us about yourself—where did you grow up, where are you living now, and what shaped your early life?
I grew up in Manhattan, in the middle of the Chelsea flower market. Everyday before school I'd leave the house and walk through a forest of flowers and plants to get to the subway. My dad is an artist/writer and my parents surrounded us with friends in the arts. My childhood was shaped by seeing art in galleries, eating in restaurants and running around the city exploring it all. I'm so grateful to have grown up in NYC before cell phones.
- What do you currently do for work? Have you always done that?
I'm a stylist, so I do the wardrobe and fashion direction for advertising and magazine shoots. I'm freelance, which means that every day is different depending on the project I'm working on. I started off by working in magazines, I was in the fashion department at New York magazine.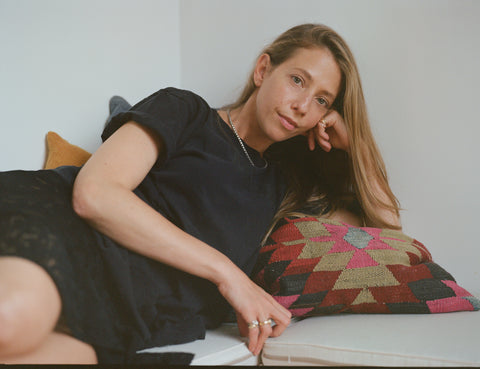 - How did Rosette come to be?
During the early days of the pandemic, I lived around the corner from Susan Korn, my dear friend and Rosette partner. We had so much more time to daydream and brainstorm when things were slow and we started talking about what we really wanted to wear. We both love feminine pieces that feel reminiscent of the clothes we loved from childhood. We figured why not just do it! Rosette really was born from a pure place and I think that sentiment must shine through because the brand's evolution has been so natural and fun. I'm so proud of what we're doing and so excited that people are responding so well.
- What does a typical day look like for you? Do you have any rituals you follow? Why do you do them, if so?
I wear many hats these days, but a typical day always begins with my son waking me up too early. We almost always spend a quiet morning at home, then it's emails for both whatever styling job I'm working on as well as Susan and I discussing Rosette. A lot of the best chats with Susan come between the hours of 7am-9am, before we both start our "day jobs" (Susan is the owner/designer of Susan Alexandra). Then, depending on what stage I'm in of a styling job, I'll either be working on a moodboard, shopping for wardrobe, or, if it's time to shoot, going to set.

If I'm not on set, my morning rituals are very constant—up around 6:30, matcha for me while I make my son breakfast. Playing music. My rituals right now are mostly centered around creating routines for my son, keeping the structure of his days fairly constant. My personal rituals are small: Tea in the morning to wake up, a long stretch and face washing regime in the evening before bed. If I've been on set, I lay with my legs up the wall for 20 minutes or so at the end of a day to relax and get the blood flowing.
- What has your relationship to your hair been? Past, present, how has it changed over time?
I've always had long hair, but during my pregnancy it grew so much and I loved it! I've always been very low maintenance about my hair (fairly wash and go) but now, more than ever, my time to myself is limited so my hair sort of does what it does. I find that it does what it does better when it's long.

After I gave birth, everyone warned me of hair loss, but I really didn't expect it to be as jarring as it was. I remember coming out of the shower holding handfuls of hair and crying to my boyfriend. I really didn't want to get a "mom cut" so I took lots of supplements and collagen powder and eventually it grew back. Now that it's feeling like my hair again, I'm so grateful for it!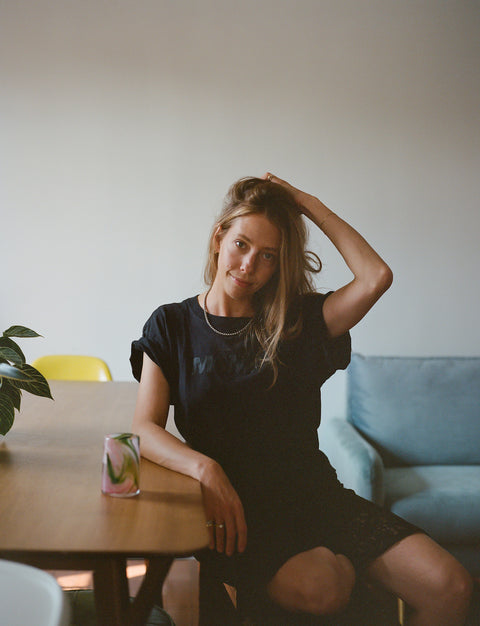 - Any advice you'd give others with a similar hair type to yours?
My hair is quite fine and can be dry, so I think it looks best with some humidity. Otherwise I give it lots of moisture by using a daily light conditioner, a weekly deep conditioner and plenty of oil. Since it can get quite flat, I like to twist it up when it's 80% dry to give it more wave and texture.
- What is your current haircare ritual? Feel free to give us a rundown—how often you cleanse, what you do in between washes, what products you use and why, etc.
I know you're not supposed to shampoo everyday, but I don't feel clean or awake until I wash my hair. That probably adds to its dryness, but I'll never stop. I'm very into the Monday Moisture products—they're cheap and leave my hair feeling healthy.

I can't live without the Crown Affair Towel, Comb or Oil. The Comb detangles my long hair without any ripping, I think it's been a huge help for less breakage. I only use a blow dryer in the winter if I have to leave home when my hair is still wet, but otherwise I let it air dry and try to create waves by twisting it up after showering. I try to only use fabric hair ties to avoid breakage and I sleep on a beautiful satin pillowcase made by the brand Upstate.
- What kinds of things do you do to care for yourself, inside and out?
Cliché, but now that I'm a mom all I truly care about is sleep. I'm early to bed most nights and sleep is truly one of my main pleasures in life. I love hot yoga and Pilates and I squeeze them in as often as I can. This might not be typical "self care," but spending time with my friends is so important to me, it keeps me sane. Also walking! I'm a native New Yorker so it's in my blood, but walking everywhere keeps me feeling good especially on the days that I can't exercise. I also take a lot of vitamins and supplements (my new favorite is Glutathione) and, like everyone, I try to drink lots of water.
- Do you have a personal philosophy about hair or beauty in general? How does it tie back to your work?
I think that when you're comfortable in your skin, that is the sexist thing imaginable. That was part of the ethos behind Rosette and is certainly something I come back to in my styling. My beauty philosophy for now is that natural is best. I haven't done fillers or Botox or any of that yet and, as I age, I sort of feel myself leaning further away from it. That said, I reserve the right to change my mind, and I certainly have zero judgment for whatever people choose to do to make themselves feel good, but right now for me I just want to feel healthy and leave nature to do what it will.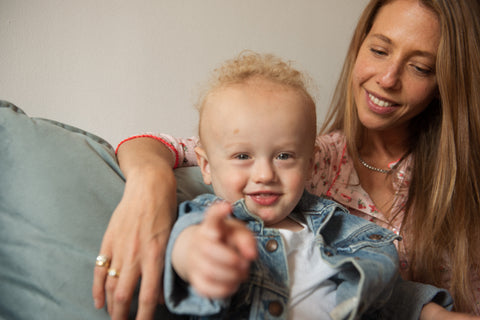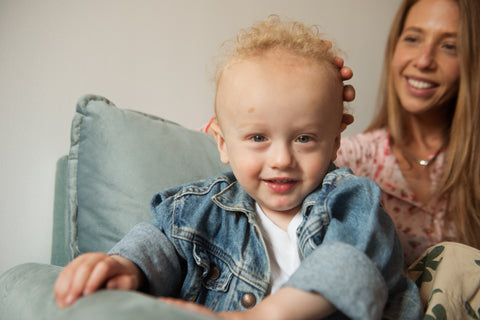 - What things make you happiest? What do you do to incorporate more of those things in your life?
My son's smell, his soft skin and hair, his giggle, watching him change and grow…these are my truest forms of happiness. When I'm home laughing with him and his dad, that feels like all I need! I try to spend as much time as humanly possible with him, he is growing so quickly and I don't want to miss a thing. I also love going out to dinner, but right now I'm more in a phase of going to restaurants that I know I love versus trying the new place. I love a delicious bowl of pasta and a glass of wine. Exercise makes me happy and I'm making an effort to really prioritize it. I love long baths and getting dressed slowly, but I rarely have time to do that. Being on set and being creative and collaborative makes me very happy and I love going to work 90% of the time. I love the beautiful, natural process that Susan and I have created with Rosette, it feels so effortless since we have no one but ourselves to answer to.
- INTERVIEWED BY:
Anna Jube, Crown Affair Brand Manager. Photographed by David Cortes.