Top of Mind
05.16.22
Good People: Kim Johnson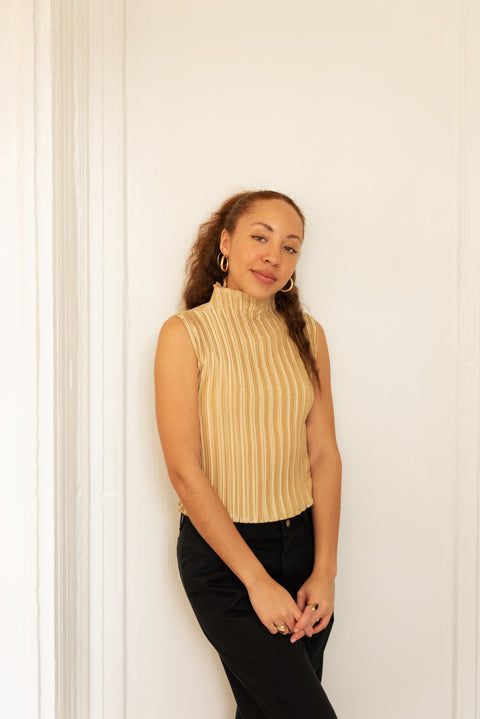 By Crown Affair
Welcome to Good People, an interview series featuring those who inspire us and keep us forever excited for the future. This month that person is Kim Johnson, Head of Community at Geneva. We spent an afternoon at home with Kim, drinking tea and watching the sun fill her apartment with light, talking about the importance of community—including how it's changed—and how she finds peace, self-assurance, and gratification in her everyday. Read on for the interview and lots of inspiration:
- Tell us about yourself and what you do.
I'm the Head of Community at Geneva. We're a chat app for communities, clubs, all kinds of social groups (we have all kinds of groups from K-pop fan clubs and book clubs to brand ambassador programs and on-the-ground activist networks). I joined the team here about a year and a half ago, a few months before we formally launched the app to the public, so I've gotten to see it pretty much from birth which has been a really fun partnership with the team.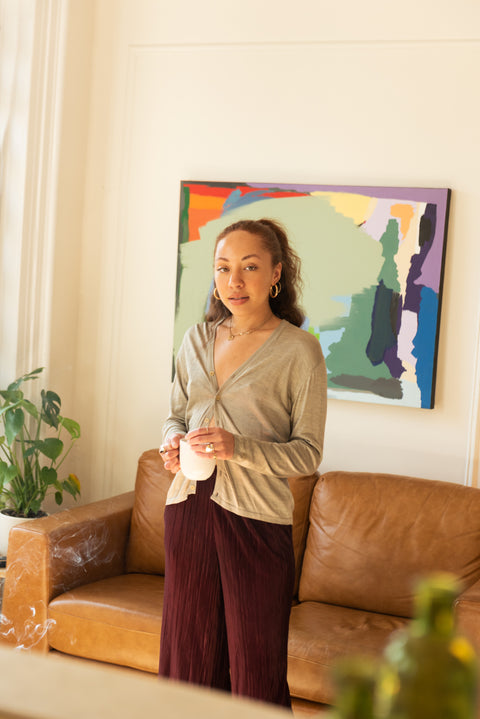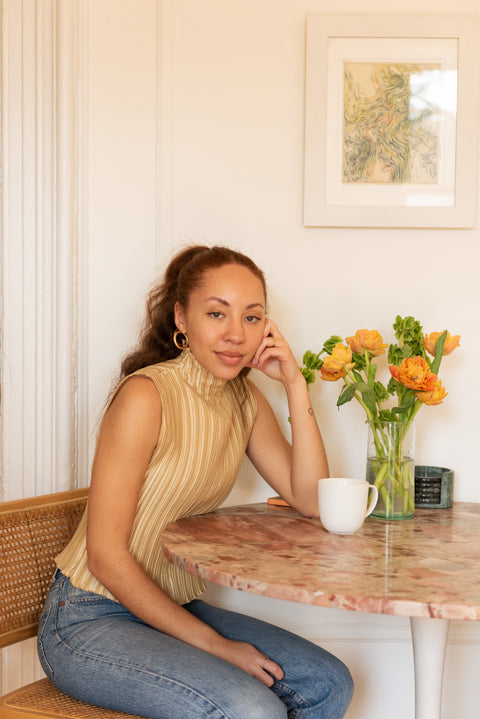 - What do you like about working on "community" and why do you think it's important in today's world? 
Such a loaded question given how much the term community is used today and how commodified it has become. The thing that excites me about this space and the opportunity to work in it always ends up coming back to people at the end of the day. I feel really lucky that I work in a space where I get to see real, meaningful communities everyday—whether they be around becoming a new mom, organizing young people to stop street harassment, or centralizing mental health resources for black and brown people, I'm really proud of the kinds of communities we have on Geneva. More than anything I think that they are the future of community and I feel really lucky to watch them grow.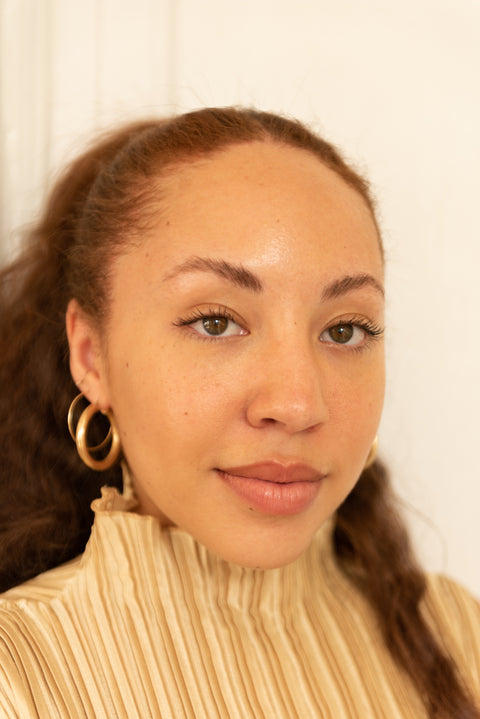 - What was your relationship to your hair growing up and has it changed over time? 
My relationship to my hair has definitely evolved a lot. I used to feel incredibly self-conscious as a kid about my hair. I was extremely shy and being a black redhead tends to be something that people comment on especially when you're young so I always felt like it brought me unwanted attention. Like most black girls, I had my wash day routine with my mom where I would sit at her feet for hours while she braided my hair every weekend and every time I would complain. About how different it was and about how painful it was to detangle, all of these things that I think many black girls who grow up in white environments experience. My mom used patiently to tell me over and over, 'When you get older you will love your hair.' I'm grateful for that persistency and certainty because she was definitely right.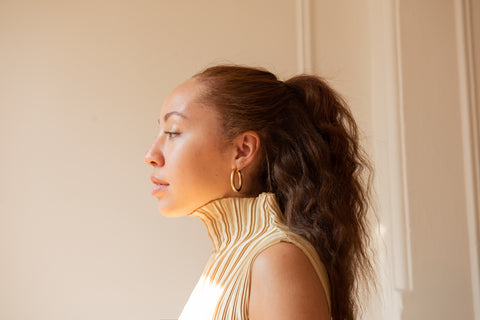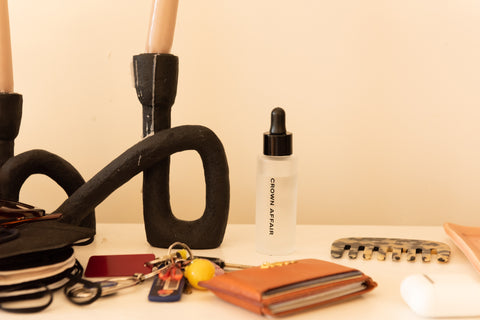 - Give us the rundown on your current haircare routine.
My routine changes a bit based on what hair situation I'm in. But the most stable/involved part of my routine is Sunday washday. I've been using Olaplex products to wash my hair and as soon as I get out wrap my hair in Crown Affair's The Towel which immediately makes me feel five times wealthier than I am (like I literally put my jewelry back on just in case someone FaceTimes me because the gold jewelry and hair towel look is a very chic one, I think).
I do things around the house for about half an hour just to let my hair dry a bit before I hop back into my routine. Lately I've been wearing my hair straight so I'll do a bit of The Crown Affair Oil before detangling, adding in some heat protectant, and blowdrying with the Dyson. I also use this Tymo Hair Straightening Comb that I saw on TikTok and promptly ordered within seven minutes.
Throughout the week I don't use a ton of product or tools in my hair. I might add some oil to the ends here and there or EcoStyler gel on my edges if I'm wearing my hair in a pony, but otherwise keep it simple. My hair gets overwhelmed very quickly by too much product. All that being said my most consistent item in my haircare routine is probably my silk scarf at night. A true committed relationship.
- Is there a particular style, cut, or anything specific about your hair that makes you feel most like yourself? 
Everyone who knows me knows I'm a slick, tight bun girl. Or half ponytail. That's definitely when I feel my most me. I have plans to switch it up and try some new looks this summer, but I'm generally a creature of habit so I could stick with those looks forever and still feel cute!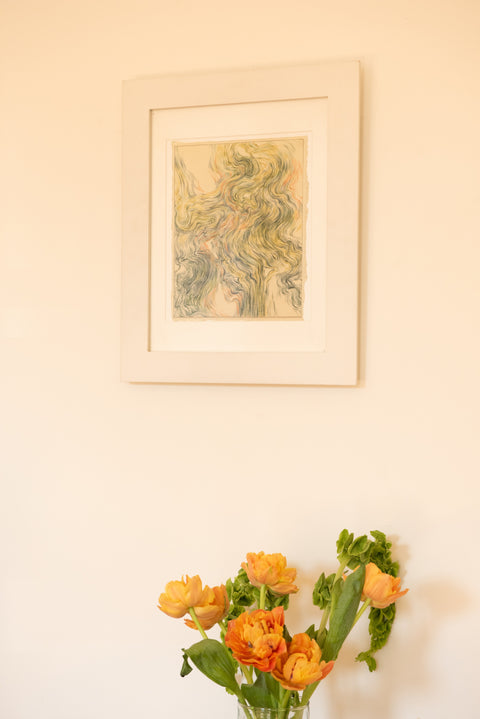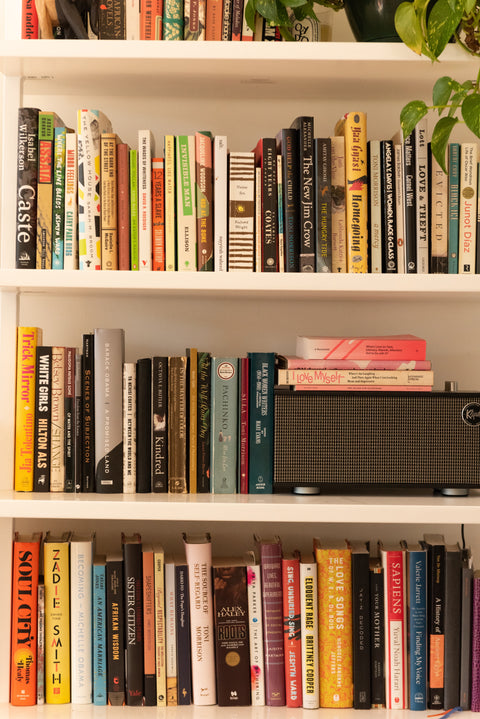 - What are some of your favorite rituals? How often do you do them?
The past year has really shown me how essential a slow and consistent morning routine is for me. I feel like I'm probably not alone in the fact that during the ups and downs of the pandemic it felt like my body was stagnant but my mind was constantly racing. So for me my morning routing helps me realign those things — move my body and slow down my mind. My morning rituals usually consist of…
As soon as I wake up I journal. Basically every single day of the week although sometimes I miss a Saturday or Sunday morning. I do morning pages, three pages of free writing, which has become a really meditative practice for me (I try not to have any distractions while I journal—no phone, no music, etc).
Every morning, right before I journal I make tea. Which in and of itself has become a meditative ritual for me. I always make Chai with oat milk. Again, I'm prepping for my morning so no phone or distractions. It's become a super essential part of my day.
Lately, I've been trying to workout or move my body at least four or five times a week, which has been really gratifying. I do this after journaling. Usually pilates or yoga or HIIT if I'm feeling it before turning on a podcast, taking a shower, and starting my day.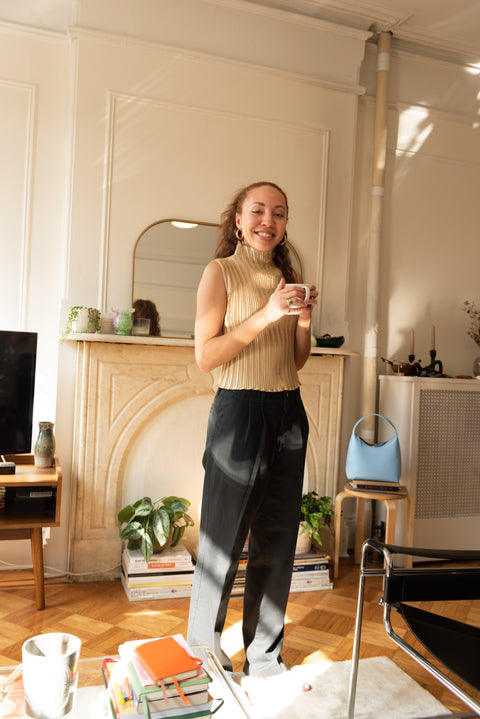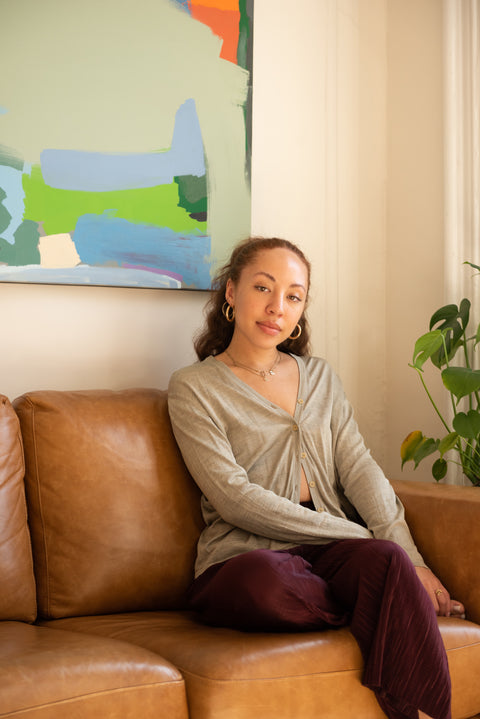 - How would you define self-assurance? Are there things you practice or do that help boost your own confidence?
Hmm, if I'm being truly honest I think confidence is just something that I haven't struggled with as an adult. I think growing up extremely introverted meant that I spent a lot of time being comfortable just being with myself and found a lot of joy in being alone and I still do. And I think for me that is the root of my confidence. The fact that finding joy in just being with myself is something that fills me up.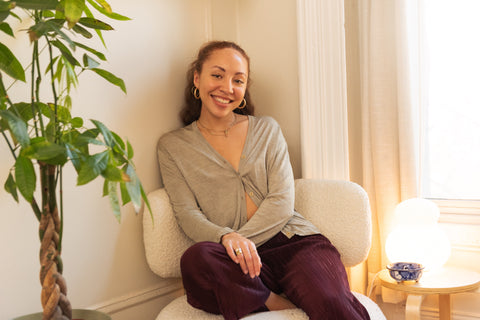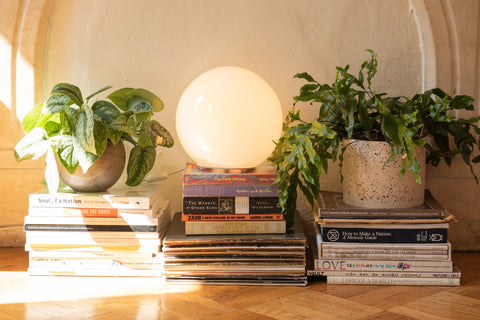 - What things make you happiest—the most at peace?
Right now my morning routine is one of the things in my life that makes me happiest. It's when I feel the most grounded and inspired. But also being around my girlfriends. Spending time with my girls—laughing, talking shit, usually with a drink in hand is always a feeling of home for me.
Photographed in Brooklyn by David Cortes.