Top of Mind
12.06.22
Introducing Crown Affair x Ren Ceramics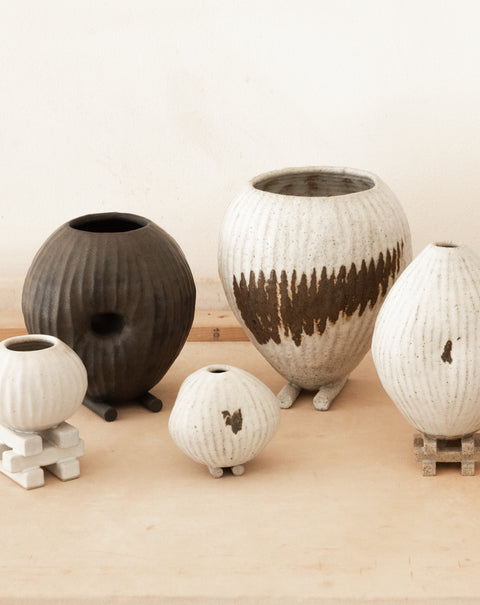 By Crown Affair
We collaborated with Ojai-based ceramicist, Ren von Hasseln, to produce eight different variations of modernist clay vases that are truly one-of-a-kind. Each designed and hand crafted by Ren, they can be used as beautiful vessels for flowers, to store Crown Affair brushes and combs, or to simply showcase in your home. Ren is a self-taught ceramicist with a background in both architecture and molecular biology, but eventually found her true calling in clay. Our founder speaks on why and how this partnership came to be:


"I deeply admire Ren for her creative approach and visual sensibility. Her sculptures, to me, feel like tiny, playful creatures with their own personalities. I have one in the entryway of my home and it always brings a smile to my face. The technique she uses is so organic and reminds me of the beauty in hair as a texture. The time it also takes for her to create these works speaks to the ethos of Crown Affair—great things take time and care. When you welcome anything into your life, it should bring you joy. That's what these vases do for me—and we hope they will for you, too." -Dianna 
The Crown Affair x Ren Ceramics limited-edition collaboration is live on our site now. They're a truly special gift this holiday season, and there are only two renditions of each available (excluding The Large Bouquet Vase)—so shop while you can.