Top of Mind
02.02.22
Meet The Leave-In Conditioner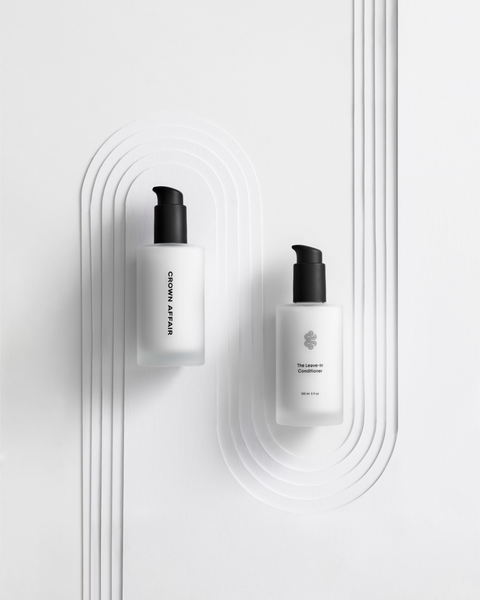 By Crown Affair
In the past, there were moisturizing products, and there were styling products. Anything typically "good for your hair" often made it less manageable; things that offered a visual promise of some kind often weren't very healthy for your hair (or any part of you). Since the beginning, we've set out to end the mutual exclusivity between those categories—could the products that promote healthy hair also make it look its best, universally speaking? We believe so.
At our core, we create products that do the job right without overstepping their boundaries. And we've formulated something from scratch that truly straddles both sides of the spectrum. Enter: The Leave-In Conditioner. 
For the head of hair in pursuit of a better air dry comes this hybrid of nourishment and subtle styling. Extraordinarily versatile and great for all hair types, but especially those with texture, The Leave-In Conditioner is a lightweight, layer-able nourishing cream, meant to hydrate your hair post-shower. It quickly soaks in, smooths strands, and leaves them refined and textured without heaviness or stickiness. In some ways, it's the ultimate do-it-all formula.
The Leave-In takes the best parts of our signature Renewal Mask (deep, thorough hydration) and The Ritual Conditioner, and adds ease of use—no shower required—plus a naturally defining effect. We bottled it in frosted glass and added a pump dispenser, so it's easy to control how much you use (as much or as little as needed for your hair type) to smooth each strand and restore your hair to its best natural state. 
Because of its ability to heal and protect hair, The Leave-In Conditioner simultaneously preserves length, locks in moisture for long-term hydration, and leaves you with less frizz and less breakage; better manageability, strength and growth; fully well-rounded hair health. And it smells amazing: our signature scent of bergamot, yuzu, and lemongrass.
But there's more. When in doubt, use The Leave-In Conditioner: Just took a dip in the ocean? Great for soothing crisp, salty strands. Going for a drive with the top down? Use in damp hair prior, to protect from the roughness of the wind. Need a little styling cream? Pump onto the tips of your fingers and work through the ends of your hair. Headed to the beach or the pool? Apply to damp hair beforehand to nourish, hydrate, and prevent damage. Stuck in an East Coast winter? Moisturize daily, layering beneath The Oil and after masking in the shower.
The Leave-In works wonders in more ways than one—no matter your hair type.