Top of Mind
02.04.21
Rituals with... Kate Matthews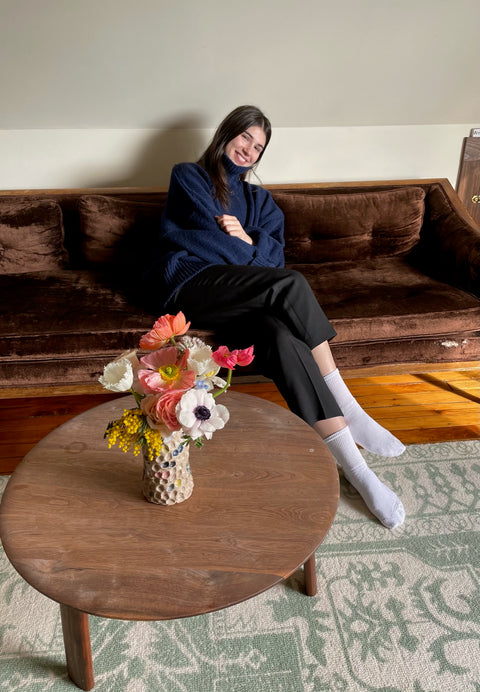 By Crown Affair
Meet Kate Matthews, the ceramicist behind @okaygoodceramics and someone who inspires us to create often. Today she shares her philosophy about femininity, her 3x a week wash method, and how she stays grounded in gratitude.
- Where do you live?
Brooklyn, New York
- What do you do?
I'm a Project Manager in the fashion industry and a Ceramic Artist.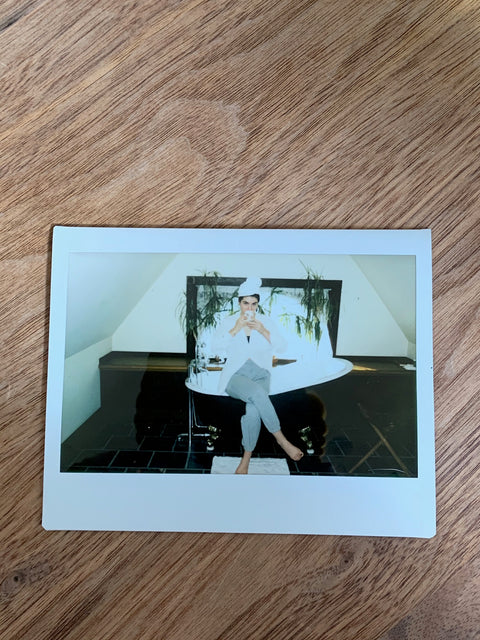 - How would you describe your hair?
My hair is on the thin side, and I love to grow it long!
- How does your hair make you feel?
My hair makes me feel feminine and confident after years of trying to find what cut and color I like best. I lean towards wearing more masculine and gender neutral clothing, so having long hair to play with feels like a nice balance to my personal style.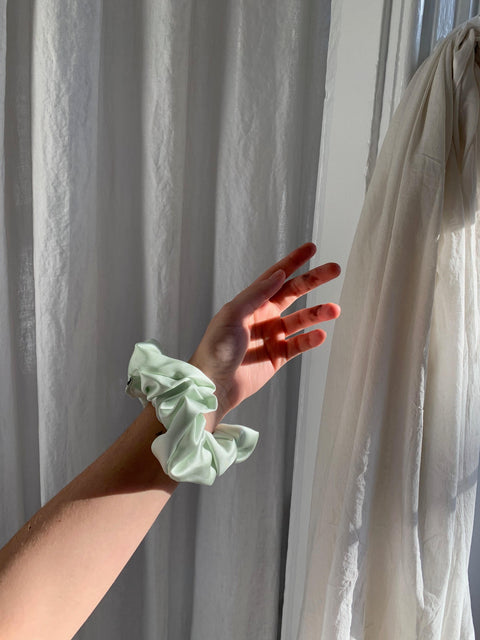 - Have you always felt this way about your hair or has it changed over time?
I've learned that I like my hair long. Over years of the same pattern of chopping it all off and growing it back out, I've finally embraced that having long hair makes me feel the most like myself. Finding a great hair stylist (shout out to Erickson at Bumble & Bumble) who helped me find a cut that matches my thin hair type and texture. It changed my perspective on my hair completely.
- What is your current haircare routine?
Low maintenance. I wouldn't describe myself as a low maintenance person by any means, but hair care is where I like to keep it simple. I've always been a wash-my-hair-at-night-and-let-it-air-dry kind of gal (I do this 3 times a week). I go to sleep with wet hair, which allows me to skip the morning hair dryer situation. It helps if I start out the night in my CA hair towel so my pillow doesn't get soaking wet.
I'm a big fan of the. messy bun and reach for my CA silk scrunchie most days to keep my hair out of my face while working in the studio. Otherwise, I leave it down with a bit of texture spray for some added volume.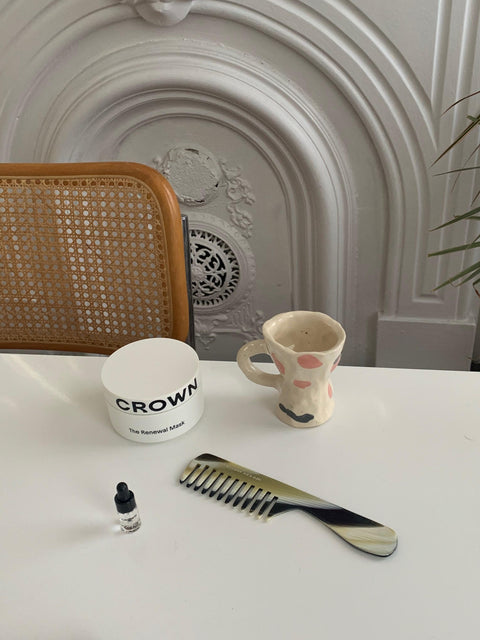 - What daily rituals (outside of haircare) do you lean into the most?
Working my 9-5 and having the privilege to run my passion project, Okay Good Ceramics, quickly takes up most of my day, so I never put too much pressure on "rituals". I find myself appreciating the small moments to connect with myself and my family before my day truly begins. The morning ritual of a quick stretch after getting out of bed, and taking my pup for a walk around the neighborhood before leaving for work gives me the greatest sense of gratitude.
- How have your rituals changed since stay-at-home began?
Like a lot of people during the pandemic, I've found my relationship with food has changed substantially. One of the reasons I moved to New York was for the restaurants, but now spending so much more time in my apartment, I finally had the opportunity to really experiment in the kitchen for the first time in my life. This chance to actually open my cookbooks (that I honestly had purchased for the cover art) and show myself that I enjoy cooking just as much as I enjoy eating was a fun surprise that quickly developed into a weekly ritual. I aim to dedicate time to cook or bake at least twice a week; I still love to order take out.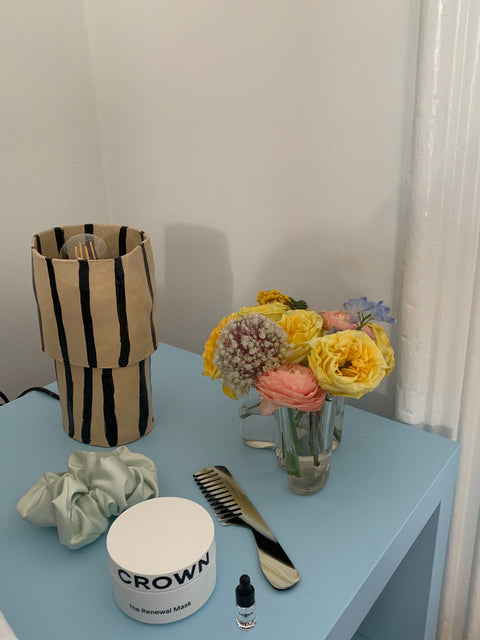 - How did you get started in the world of ceramics?
I was a business major in college, and the business building was right across from the art building, which always had people walking in and out with tools and projects. I was inspired by everyone's hard work and creativity, so I enrolled in Art 101 to earn the foundational credit needed to take my first ceramics class.
I had the clear intention to focus on ceramics out of all the other art department class offerings because I loved this physical, sometimes functional piece of art that could be imperfect and still beautiful. 
After college I took a weekly class with Natasha Alphonse, (who's own work is beyond breathtaking) and her instruction and generosity really allowed my skills and style to evolve into what it is now.
- Is there a story behind the name "Okay Good Ceramics"?
After spending so much time learning from talented artists I had a hard time thinking my work qualified as anything close to "art"; I always just referred to my ceramic work as an amateur hobby.

The name "Okay Good" stemmed from insecurities that my work is at best "okay". I've grown to love and appreciate my ability to make myself these weird and wonky art objects in a new way thanks to the support of an amazing community.

I'm forever grateful to have had the privilege to take those art classes and work on Okay Good Ceramics today. Anyone who enjoys wonky pottery should come check out @okaygoodceramics for daily ceramic posts!