Top of Mind
10.11.21
Rituals With... Tonya Papanikolov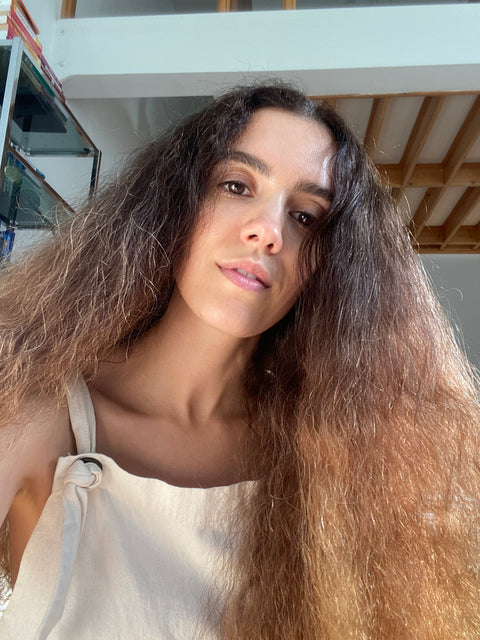 By Crown Affair
Meet Tonya Papanikolov, a Holistic Nutritionist and the Founder & CEO of Rainbo, a mushroom wellness brand. We sat down with Tonya to discuss her loving relationship with her hair and how that has evolved over time. As a Kundalini yoga practitioner, it's enlightening to learn how Tonya's mindful daily rituals provide her with balance—in life and entrepreneurship—and help to ground her in the present moment. We can't wait for you to be inspired by this multifaceted woman, too.
"Bringing more self-awareness into how we care for ourselves and the energy and frequency we bring to each day, our relationships, our businesses, our communities is so important"
- Where are you based and what do you do?
I'm currently based in Toronto, Canada. 
I'm a Holistic Nutritionist and the Founder and CEO of Rainbo, a mushroom wellness brand and line of medicinal mushroom products. I live and breathe Rainbo and it keeps my life super full, but am also a Kundalini yoga practitioner. A consistent breath, yoga, and meditation practice provide balance to the active, doing parts of entrepreneurship and help ground me, connect me, keep me present and in the flow.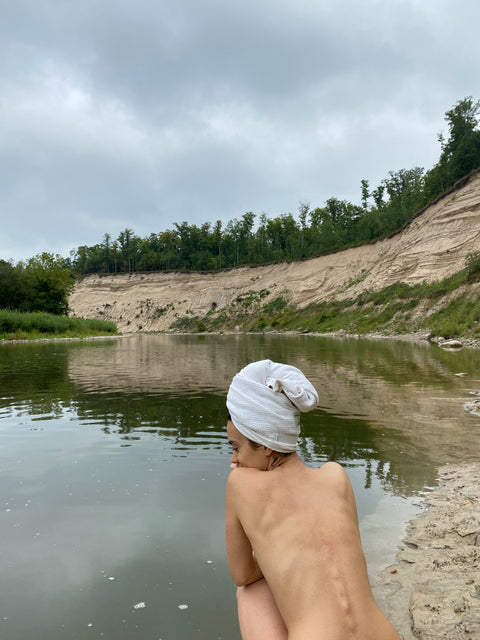 - Choose a thing, quote, piece of art—anything that feels right—that you think best describes you.
Group X, No. 1, Altarpiece, 1915, Hilma af Klint
"'The future enters into us, in order to transform itself in us, long before it happens." —Rainer Maria Rilke

"Be out of sync with your times for just one day, and you will see how much eternity you contain within you." —Rainer Maria Rilke
- Tell us about your hair: How would you describe it and your relationship with it?
My hair is big, bold, and voluminous. It curls, waves, frizzes, and does its own thing. I have no choice but to let it! I surrendered to this long ago. 


My hair feels like a blanket of protective armour and is an extension of me and my aura.
I usually wear it down. I really love my hair and always have. All the other curly haired folks in my family have straightened their hair and I never really understood why, nor did I want to put in any effort to do that.

Curly hair comes with challenges. It's naturally dry and it tangles and mattes like none other. I often spend an hour plus brushing and detangling it—brushing/washing my hair is a process. But I still wouldn't trade it for anything.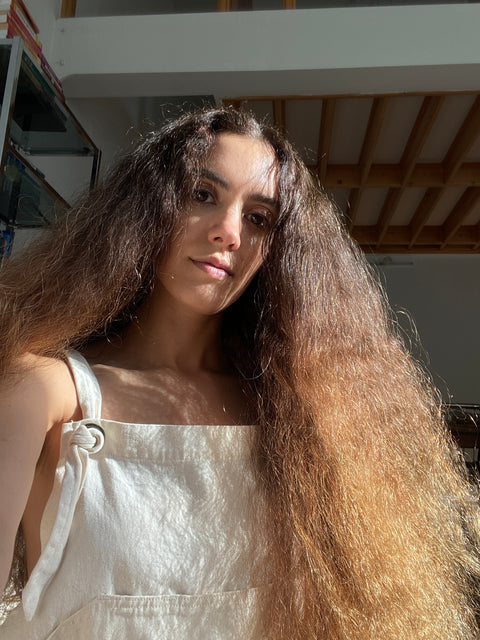 - Have you always felt this way about your hair or has it changed over time?
I've always felt good, secure, and accepting of my hair, and my mom and sister helped with that. They always encouraged me to keep it curly, long, and not to apply too much heat to it that would damage it. I've always opted for the lowest maintenance hair care possible and never really cared to fuss over it all that much. 

When I was younger I dreamt of having bangs, or a shaggy, short hair cut or bob. I tried both out and they were nothing short of train wrecks lol. But I tried it and that gave me the experience I needed. Grass is greener, as they say (but it never really is).
As I reflect, I realize I have so many memorable hair stories. When I was in my early 20s and working in fashion (my first and last corporate job), my boss once told me that if I wanted to be taken seriously in life that I should straighten my hair. I couldn't help but laugh at the absurdity of such a remark! 
On the other hand, my hair has also been a conversation starter, a friend maker and has connected me with so many strangers—cars honking with fellow curly haired people yelling out the window cheering my hair on! Those moments are really special, thankfully are frequent, and they remind me that the community of curly-haired people is strong, we gotta cheer each other on and show love. If you have curly hair, try giving another person with curly hair a compliment, it goes a long way.
- Walk us through your current hair care ritual.
-I wash my hair 1-2 times a week.
-Always brush my hair with The Brush -No. 001 before I shower or it's wet (for less breakage, which I learned from Crown Affair)
Natural shampoo
-Deep conditioner to hydrate (I also do a mask every few weeks)
Gentle comb through with conditioner in it
-The Towel to dry—switching from drying my hair with regular bath towels to The Towel has been great for my curls/controlling frizz
-The Oil to seal in moisture 
-Then I either let it down to air dry, braid it, or throw it up into a bun or ponytail
-Don't really do anything else until my next hair shower when I brush it out again.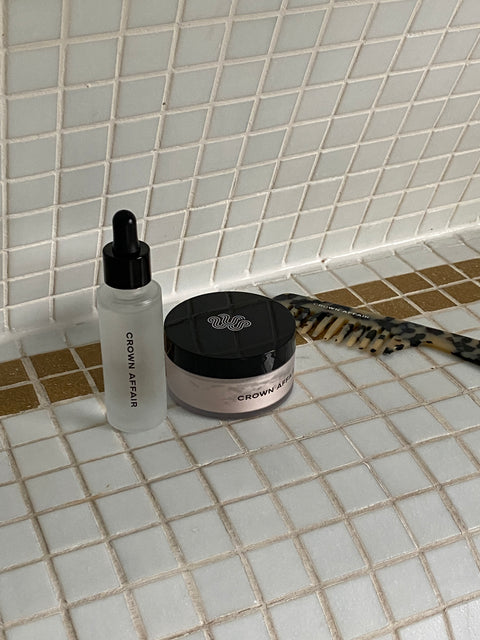 - What other daily rituals do you lean into most?
The practices I lean into most are those that support my mind, that keep me positive, neutral and clear, that support my stress and ensure I don't move into anxiety—it's so important for the times we are living through.

-Drinking 3L of water daily
-Rainbo Mushrooms in my morning tonic
-5 minutes of left nostril breathing (to activate parasympathetic system) upon waking and/or before bed
-Gratitude practice
-30 minutes of exercise daily: yoga, pilates, walking or running
-A daily walk (I try for 10,000 steps)
-31 minute meditation practice daily 
-Consistent meals to keep my blood sugar balanced—we forget how important this is!
-Kissing, touch, and intimacy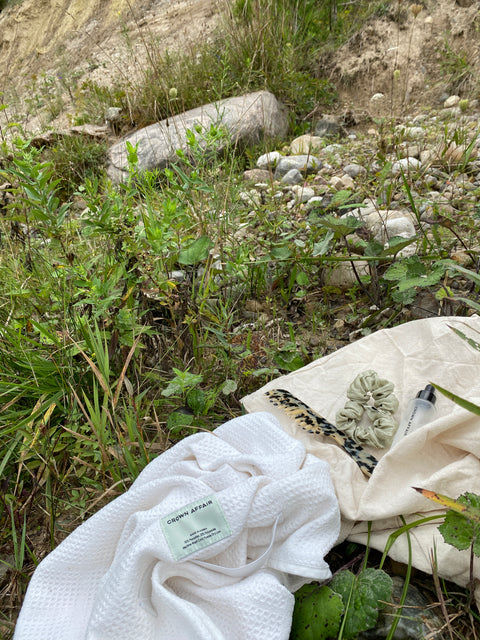 - Any final thoughts you want to leave with us?
I'm a big proponent of rituals, routines, and habits, and ensuring that they stay positive and supportive. And also acknowledging that they shift over time.
Supportive habits can change your life and alter your destiny. Bringing more self-awareness into how we care for ourselves and the energy and frequency we bring to each day, our relationships, our businesses, our communities is so important—it all starts with our internal world and has lasting ripple effects into our external worlds.