Top of Mind
06.12.20
Violet Grey Approved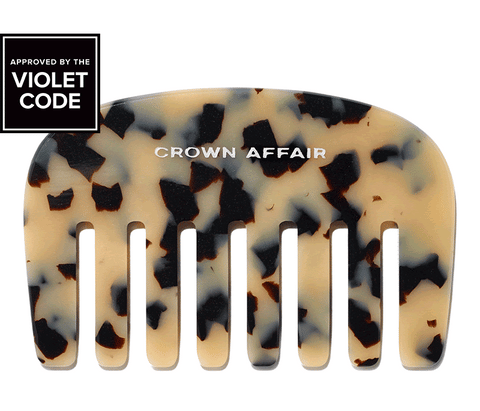 By Crown Affair
We're thrilled to announce our first ever collaboration: three limited edition versions of our signature Comb No. 001, now exclusively available at Violet Grey. Since its inception, Violet Grey has championed quality, efficacy, and investing in care for our bodies and mind. We are thrilled to join them and appear on their site alongside so many brands we admire. 
There's something about seeing that "Approved by the Violet Code" stamp that always gives us confidence when we shop. Knowing each product is scrutinized for every detail, from the aesthetics to the materials used to the usage, tells us when something is approved by VG, it has truly passed the test. Needless to say, we're thrilled we passed.
The Comb No. 001, $36, exclusively at violetgrey.com.
Everything we make is designed with your hair's health in mind. The Comb features wide teeth for detangling wet or dry hair without causing breakage, while rounded tips make it perfect for a DIY scalp massage. Massaging your scalp not only has great hair benefits; it also contributes to your overall well-being by reducing stress, relieving tension, and stimulating your scalp.
The Comb No. 001, $36, exclusively at violetgrey.com.
Each comb is uniquely handmade in Switzerland from 100% plant-based acetate, and is meant to be put on display as a beautiful reminder to take care. 
So much has changed in the world since we launched four months ago, but we remain as confident as ever in the power of ritual and self-care. Click here to visit Violet Grey to order one for yourself, or send one to a friend who could use a little reminder of their own.
The Comb No. 001, $36, exclusively at violetgrey.com.