Top of Mind
05.23.22
Complete Your Ritual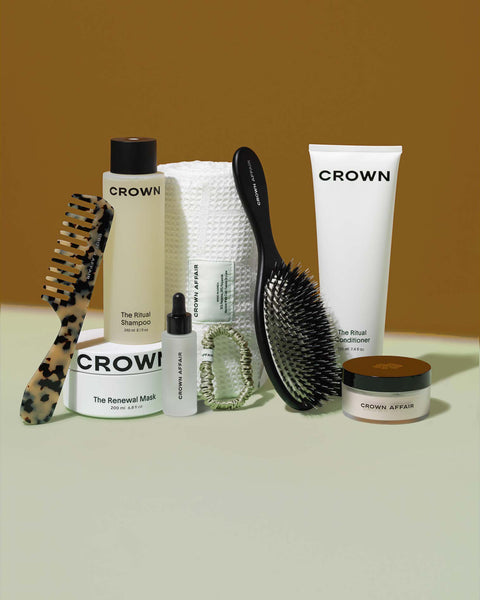 By Crown Affair
Cleanse, treat, ritual, repeat: The Complete Ritual set is everything you need for a nourishing, mindful practice. It starts before washday, gets you through a full shower routine, incorporates weekly treatment care and keeps you going through in-between days. Here's the breakdown.
Pre-Shower
Brushing before washing makes for a more thorough cleanse in-shower. So begin the ritual by brushing dry hair using The Brush No. 001 (combination boar and nylon bristles).
In-Shower
In the shower, work just enough of The Ritual Shampoo to cover your scalp through your roots (no need to wash the ends—rinsing from the top will get them clean).
Treat
Finish in-shower washes with The Ritual Conditioner for lightweight, everyday hydration. Swap in The Renewal Mask when you feel like you need it to nourish, deeply hydrate, and lock moisture in so it lasts.
Ritual
Wrap and tuck The Towel around damp hair, leaving it to absorb moisture. Then gently detangle damp strands with The Comb No. 002, finish with a few drops of The Oil, and let dry (no rush here).
Repeat
Maintain the ritual on in-between days—refreshing with The Dry Shampoo when you need it, and sweeping hair into The Scrunchie No. 001 whenever, wherever.