Top of Mind
02.03.22
Good People: Akili King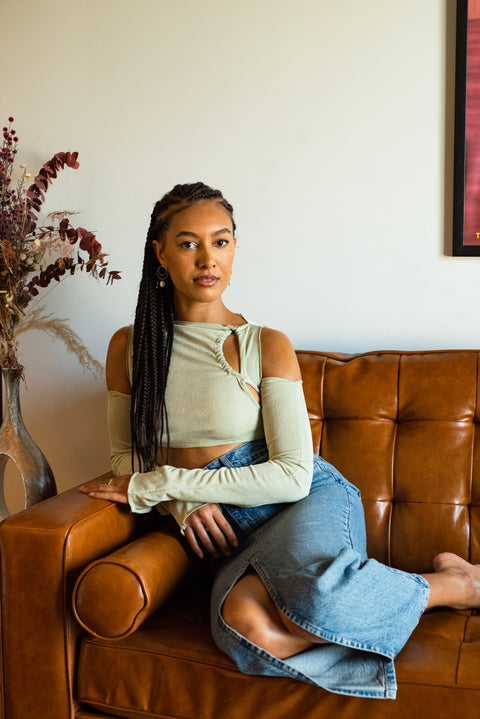 By Crown Affair
Welcome to Good People, an interview series featuring those who inspire us and keep us forever excited for the future. This month that person is the Brooklyn-based writer Akili King, whose career in beauty has grown exponentially in a very short few years with her Vogue column 'The Texture Diaries' and pieces in publications across the industry. We caught up with Akili in her neighborhood to hear her story and to chat about poetry, pole dancing, meditation, and—of course—hair. We had a lot of fun, so read on for the interview and we hope you'll enjoy it as much as we did: 
- Tell us about yourself.
Hello! I'm Akili King. I'm the writer and creator of the Vogue column "Texture Diaries," which I still write on the side. I've written for i-D, Neu Neu, Fashion Fair, and now I'm a beauty editor at Rose Inc.
- Did you always know you wanted to be a writer or did you fall into it?
Writing is something I always loved to do. As soon as I learned how to write my name I was writing it everywhere: sticky notes all over the house—"I was here." I just loved putting pen to paper. Later I'd write songs on weekends, or poems, and I used to write short stories and make my own illustrations [to go with them]. So I was always obsessed with writing, but I don't think I felt like it could be a career until I got to college—I didn't know what the path looked like. 
In college I majored in Journalism and Creative Writing at NYU at Gallatin. From there I had a bunch of internships, including at The Fader, which is a music magazine, and then I just kept going. After college I was freelance writing, and I got my job at Vogue about a year after graduating. I just followed my intuition with what I loved and kept going. I think when you stick to that and have faith in the universe, things fall into place.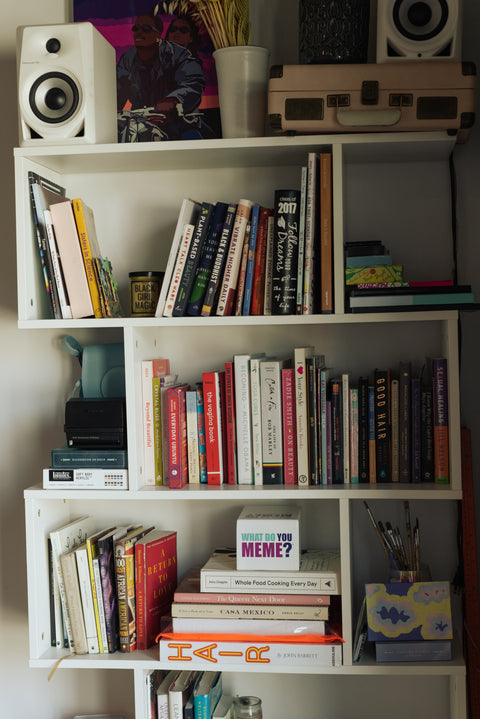 - What was it you were primarily interested in when you first started as a beauty writer?
I'd say it was a mix of hair, and bringing wellness—I'm a big lover of wellness and fitness—into the beauty space. But hair is a huge passion of mine because growing up, I think I struggled to love my natural hair. I would straighten it growing up just to fit in, or to feel better, or feel like I belonged. There wasn't a lot of information about how to take care of natural hair at the time, so when I got to school, that's when I started seeing a lot of YouTube videos with women of color celebrating their natural hair. That started my journey toward loving and accepting [my hair]. Then when I got into the world of beauty, I realized how important it is to have representation for different hair types, and that's where my experience and my passion merged. I just wanted to help other women feel seen and recognized, and not feel so alone in loving their hair. It was a big part of what I read about and what I loved most to write about, too.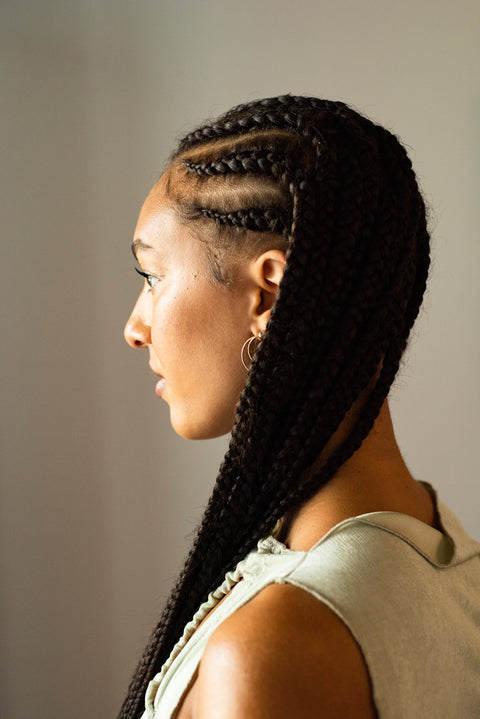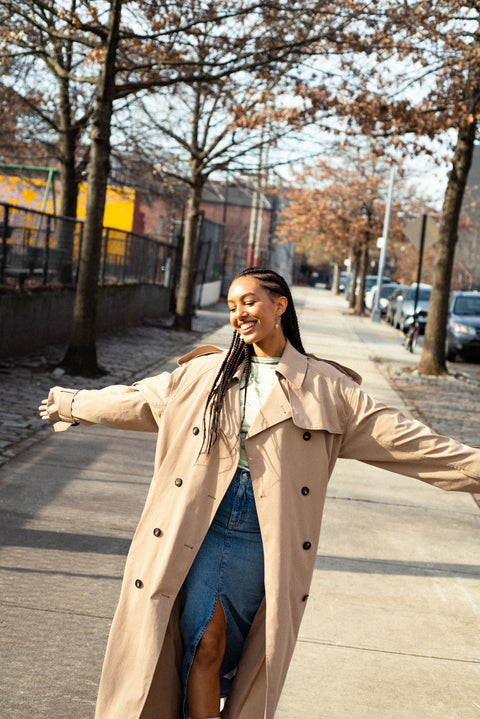 - How would you describe your hair?
My hair is curly and can be very dry. It's low porosity so I try to keep it very hydrated. Steaming my hair once a week has helped a lot! I try to always ask myself what my hair needs. You can watch a lot of videos but at the end of the day, not everything's going to work for you that works for someone else. I think it's all about educating yourself but also being OK with experimenting—trial and error.
- Your relationship to your hair now—how has it changed from when you were younger?
The whole journey has been learning to love and accept my natural hair. Then finding products that work, and figuring out the regimens that work. Being in quarantine was the next phase of my journey. I realized there's this myth we're told that Black hair is unruly, and hard to manage, we have to have all these steps to figure it out. But having that time at home made me realize less is more, actually. I don't have to dread wash day anymore. I've found ways to make it a self care, spa day experience. I look forward to it. Whereas before I used to put it off because I had this idea planted in my head that it's this stressful battle. Now it's like 'no, this is me taking care of myself.' I got rid of the unnecessary steps. So that's how it's evolved. I've learned to love it, and I've learned to enjoy the process at the same time. 
- Tell us—from the beginning—what your haircare ritual is right now.
I wash my hair once a week, so on wash day, that's when my routine is the longest. I use a deep treatment from Olaplex in my hair and let it sit for ten to thirty minutes. Sometimes I'll just do a quick thing, or maybe I'll eat breakfast, or watch something, answer some emails. Then I'll get in the shower, rinse it out, and shampoo and condition with Carol's Daughter Goddess Strength because it's really hydrating. Wash that out. 
And then, I always love a leave-in. Before I had braids I'd do all this stuff and then put in The Leave-In Conditioner, two to three pumps on each side, to seal the moisture in. My hair requires a lot of moisture. If I want a more defined look, I'll add some gel and finger coil my curls. Right now I'm using Aveda's Flaxseed and Aloe Gel. Usually in the winter I'll diffuse [it dry], just cause it's cold. [Laughs] So for that I'll put in a little heat protectant—I use Kim Kimble's heat protectant and then diffuse on a low setting with the Dyson Hair Dryer. 
If I want to do a slicked bun, I do a middle part low bun or I'll do a high bun. I'll take some of The Leave-In Conditioner or a gel, put it on, then brush it back. I feel like The Brush No. 001 is hard enough to really slick my hair down. So I always use it, and sometimes I'll use it on my boyfriend. [Laughs] 
Between washes I refresh with Eden Body Works Papaya Foam. That's the step that helped me realize: this is actually easy. Only once a week do I have a bunch of steps, and I make it kind of a fun ritual. Between is just about maintaining it—sleeping with a silk scarf at night, or a silk pillowcase.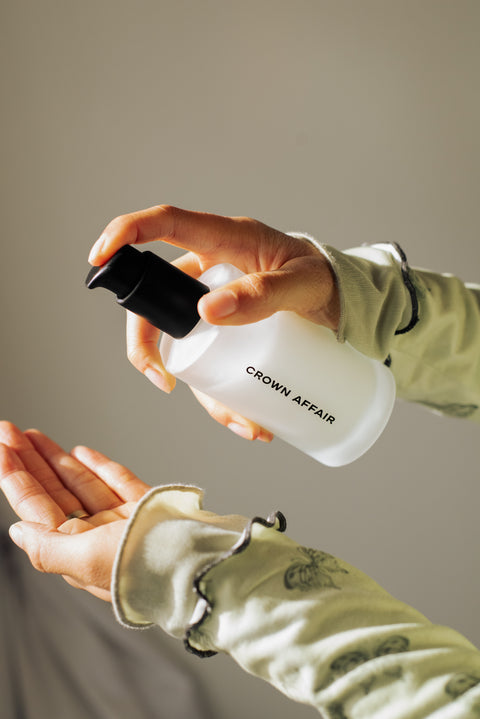 - What do you like about The Leave-In Conditioner?
I love the size. And I love that it's lightweight—it's not heavy, but it's still super hydrating. A lot of leave-ins can weigh the hair down. I like to find the balance of hydration, but I'm still maintaining my volume. So this is really good. And the smell is amazing. I feel like it's a neutral scent too—not too flowery, or musky either—it's somewhere in the middle, which I like. What's in it?
- It's bergamot, yuzu, and lemongrass.
Ohh, yeah. I was going to say, I feel the citrus. I'm a huge citrus person. Citrus is a mood-boosting scent. I like that it's elevating my mood at the same time.
- Do you have a personal philosophy about beauty and hair? Or one or the other?
Less is more. And then also, beauty comes from the inside. I really try to do a lot for my mind and spirit. Meditation, yoga, even pole [dancing]. Moving my body is really important to my confidence, and when you feel confident it shines on the outside. I also just try to fill my mind with positivity, whether it's the books I read or the shows I watch. Meditation, positive affirmations, journaling, even therapy… all those things have only made me feel more beautiful. In releasing trauma, or the stress of the week, all of that actually contributes to the way we appear. That's not why I'm doing it, it's just the cherry on top. I'm doing it for my peace and happiness and being present, but then you actually see the results in your skin, or even in the way you see yourself. Because sometimes we can have a false perception of ourselves. All those tools help me stay connected to my inner child. 
- Is there something you do with your hair that feels most like yourself?
I love that. I don't think I've ever asked myself that. It's interesting because different styles bring out a different side of me, but they're all true sides to me. I love the feeling of a fresh curly haircut. I go to Spiral XYZ salon, which is a salon dedicated to curls. Everytime I leave there I feel lighter—energetically, but physically too. They've even done Reiki on me during a shampoo session. Their philosophy kind of mirrors my approach to beauty, like the inside-out thing. I feel most like myself after a good curly cut, because you're kind of letting go of the dead weight. It's a metaphor for where you are presently, and for getting rid of the past. 
I also love braids because you wake up and your hair's just done. [Laughs] That's a nice feeling. I don't want to say my style changes when I have braids, but I definitely take different risks.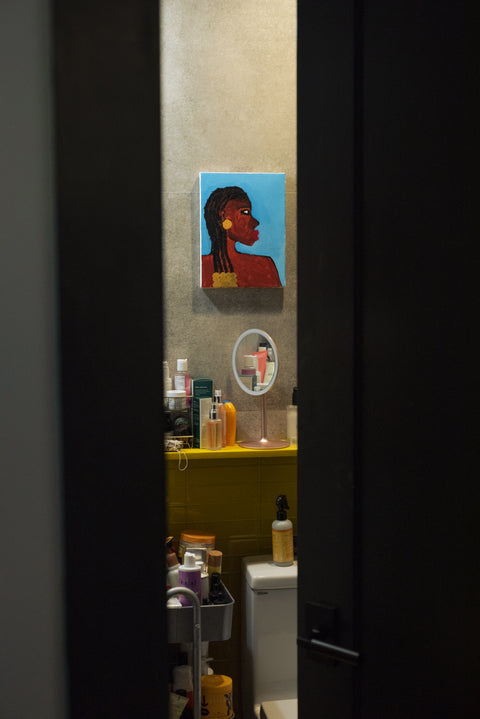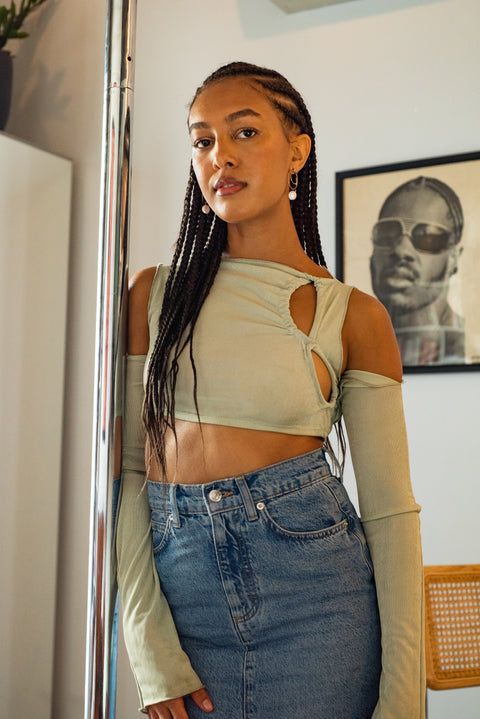 - Do you have any advice for those with a similar hair type to yours?
Again I'd say less is more. I think there's a lot of information out there—YouTube, Instagram, so many amazing influencers—and haircare brands dedicated to natural hair. It can be overstimulating and overwhelming, but my advice is to not be afraid to have that trial and error period. Because, like I said, you might think someone has the exact same hair type as you, and they might, but what they're doing might not work for you. So don't be afraid to try different things, but don't feel defeated if certain things aren't working for you. It took me a long time to find that perfect routine I have now. I'm happy I didn't give up, because I'm in a place where I look forward to it. It's a joyful, peaceful experience to wash my hair each week now because I know it works every time. Before it was kind of dreadful: 'OK, we'll see if it works this time!' There's going to be that trial and error period. But it's worth it. And have fun with that period too, because I think the beauty of Black hair is that you can get braids, you can change it up anytime. If it's causing you stress, maybe it's worth exploring a different style or a different ritual. Enjoy the journey and the process. You might find a new style you didn't realize was for you.
- What are some of your go-to rituals and why do you do them?
Definitely meditating. Well, that's something I'm trying to do more. I have a dedicated space and it motivates me to do that. I'm a very scent-focused person, so I love a good candle, I love sage, I love palo santo, I love good incense. Whatever I feel like I'm lacking, there's a scent for every need, in a way. That's a big ritual for me. If I'm stressed I'll light my stress relief incense and make chamomile tea. 
Journaling is another huge one. I'm trying to read more, but I've been journaling since first grade, and I've kept all my journals since then. I even like to write my prayers. Most people pray in their head, but I put mine on paper. I feel like I can get more specific. With meditation or prayer, writing it helps me get my real intention down. 
Playing records, also. And pole is a ritual for me. I train at least twice a week, and then I teach two classes.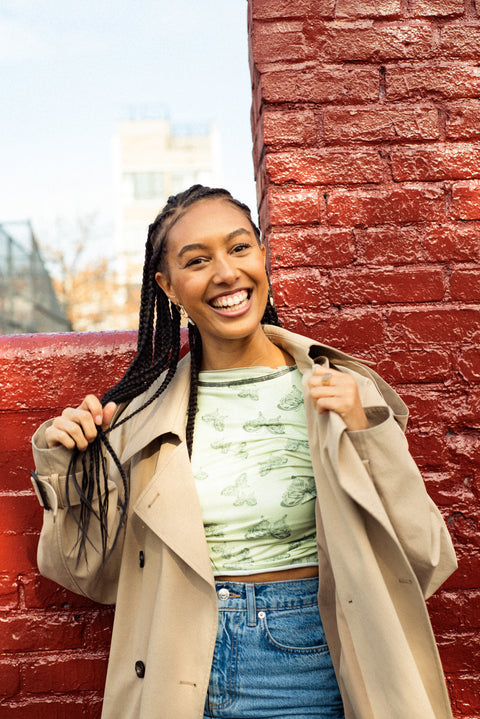 - Do you have goals for the future? What do you see yourself doing?
That question is funny because I feel like the things I've achieved already I didn't think I could—or didn't think I could this soon. It's like imposter syndrome. You've already maybe risen above what you thought was possible for yourself. I'm trying to enjoy the present and soak up the moment, because it's really easy for me to go, 'OK what's next, I'm not doing enough, I need to prove myself.' For the first time in my life I'm at a place where I just want to enjoy the present. That said, I wrote a self-published poetry book, and it would be cool to do another one in a few years. Maybe compile all the articles from my column with Vogue into a "Texture Diaries" book one day. Those are long term goals I'm excited about. Right now I'm trying to enjoy the in between.