Top of Mind
02.11.21
Good People: Melanie Masarin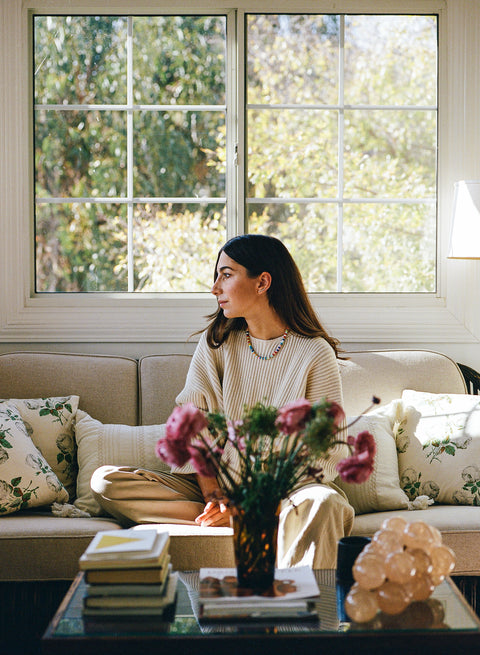 By Crown Affair
Born in France and currently living in LA, where she launched one of our favorite discoveries of the last year: the non-alcoholic aperitif and perfect solution for the sober-curious (or just plain curious), Ghia. She's built a whimsical and elegant world around her that we've fallen hard for. Melanie strikes the perfect cord as a successful founder and CEO and spontaneous traveler who can whip up a delicious dish in a matter of minutes. Her secret? Not taking meetings before 10 AM, and preferentially staying barefoot. Discover her world below...
- Where are you from and where do you live now?
I am originally from France, but am currently living in Los Angeles, California. 
- How would you describe what you do?
I'm the Founder + CEO of Ghia, a non-alcoholic aperitif that was born in 2020 with the purpose of changing the way we drink, gather and think.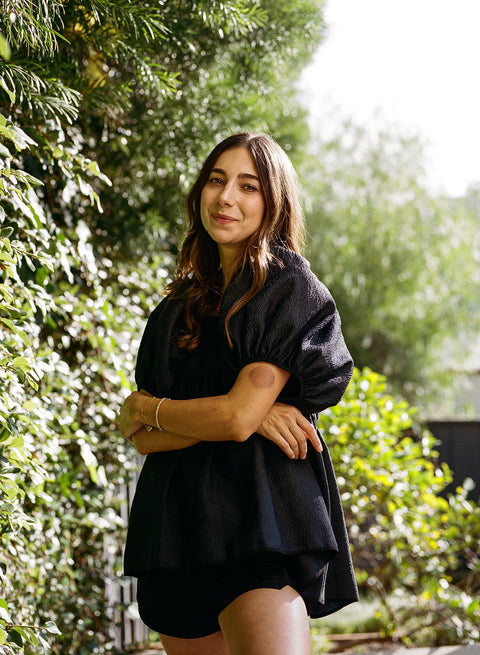 - What does ritual mean to you?
They're the moments that, no matter how busy the week is, are non-negotiable for me to make room for. My days go by so fast and my mind runs a hundred miles per hour, so in the moments that I pause and do a ritual, I can finally enjoy being at a stop.
- Do you have any morning or evening rituals?
Every morning I wake up really early and watch the sunrise from bed before getting up or, rarely, I hit snooze. I'll make a canarino (a hot lemon with water), before popping into my garden to check on my plants - barefoot is a must. 
If I'm in LA, I'll try to work out - tennis or Pilates. Then no matter which city I'm in, I'll venture out for an iced coffee before my main morning ritual: "thinking time." "Thinking time" is time reserved for exactly that - thinking, giving clear feedback to the team so they can hit the ground running with clear direction when they get in, or digging into growth-related challenges before getting caught in the fires of day-to-day operations. 
I find that I think best and am my most creative in the mornings, so because of that, I prefer to not take meetings before 10am. I can't get away with it everyday but on the days that I do, I do my best work.
This kind of ritual is protective of my thoughts and gives me the space I need to think freely before jumping into meetings. I highly recommend trying it!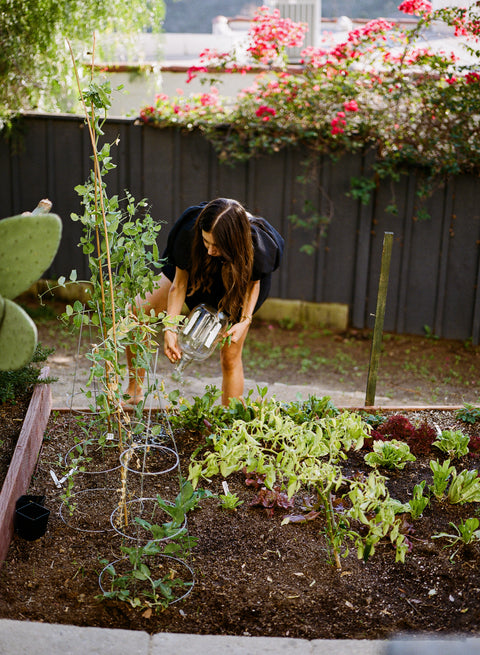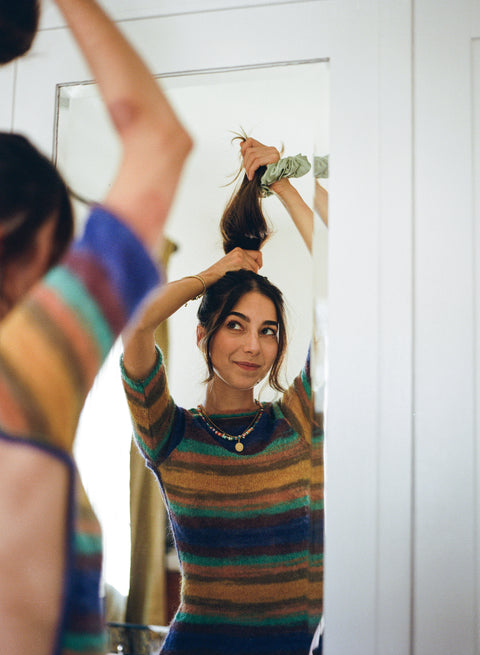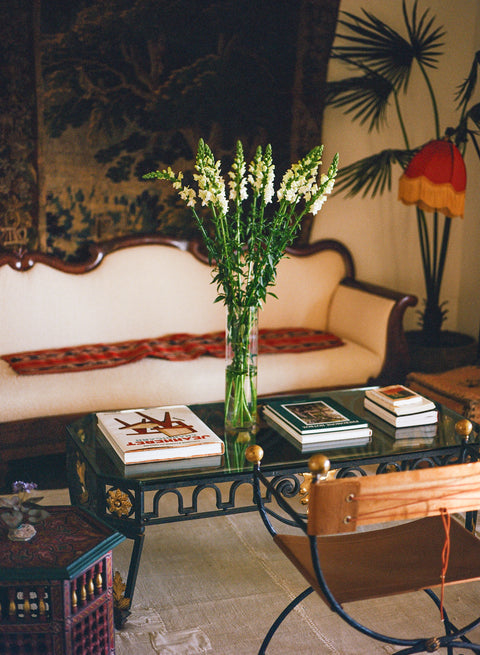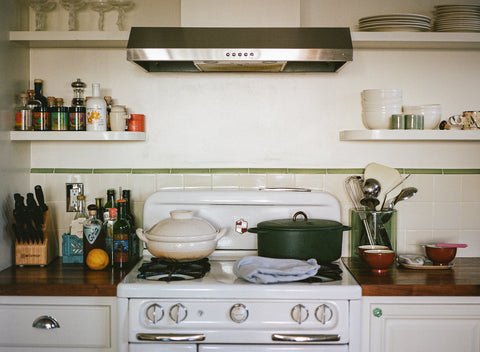 - You're known to whip up a fabulous dish with ease on the daily— why do you love to create and cook in the kitchen?
Cooking always brings me peace. I'm definitely a cerebral creative - it's a nice way of saying I'm not very handy - I can't draw, I can't build anything, etc. The kitchen is the place where I can create with my hands and find my flow. I'm not a great chef, but I'm also not intimidated by recipes and I love to cook for hungry friends. So much of my early life was spent in the kitchen with my grandmother, who just adored me. I think as a result, food became my language of love—and the kitchen, my safe place. 
- How would you describe your hair? And from whom do you get your hair?
My relationship with my hair is complicated. I'm the only one in my family with thick, curly and unruly hair. I hate how high maintenance it is.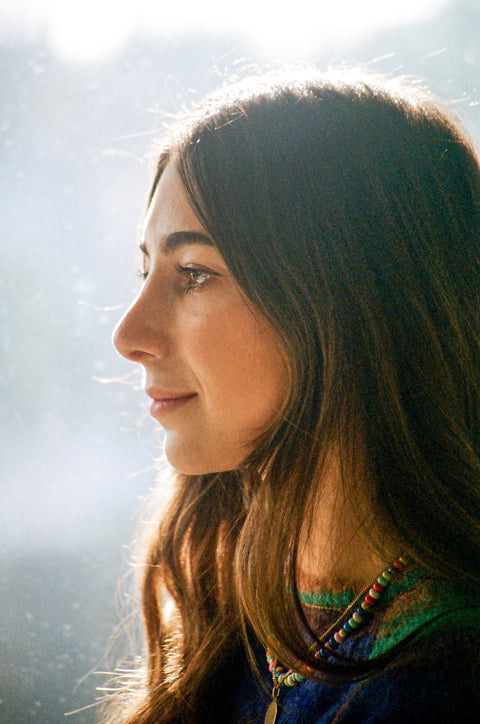 - How does your hair make you feel?
Depending on how it looks, I'd say my hair has the power to make me feel either extremely confident or self conscious, which I feel like most people can relate to. I'm not big on makeup and prefer a natural look, but few things make me feel better than having my hair blown out.
- What are your current haircare and beauty rituals?
I'm all about having few rituals but doing them consistently - I use natural sunscreen every day, always wash my face before going to bed, and use P50 and Creme Millesime from Biologique Recherche in the evening. As far as my hair is concerned, I am much less disciplined—but I'm learning. I detangle it in the shower when I rinse my conditioner out and use a little bit of The Oil before putting it up into The Towel. I use a protective spray if I am flat-ironing it and, most importantly, I try not to over wash it. My hair is quite dry so I stick to washing it every 4 days unless I go running (which happens about twice a year).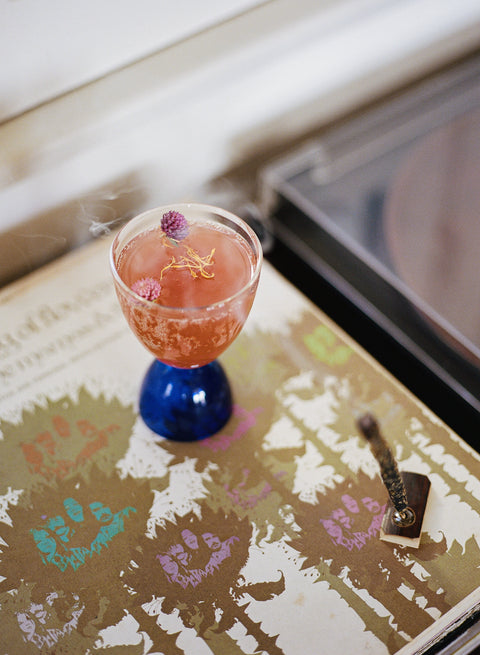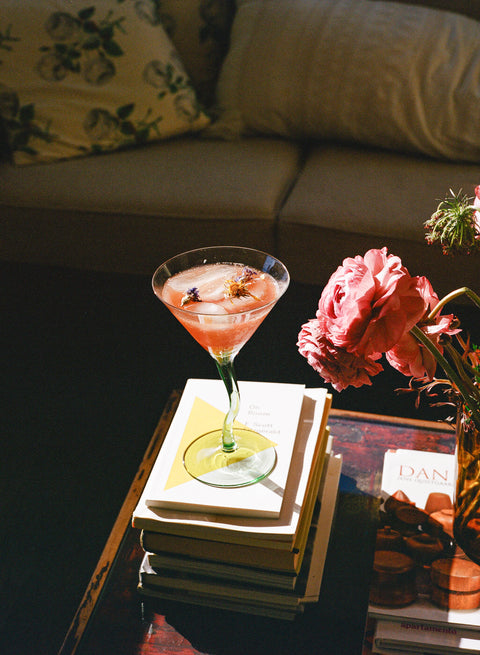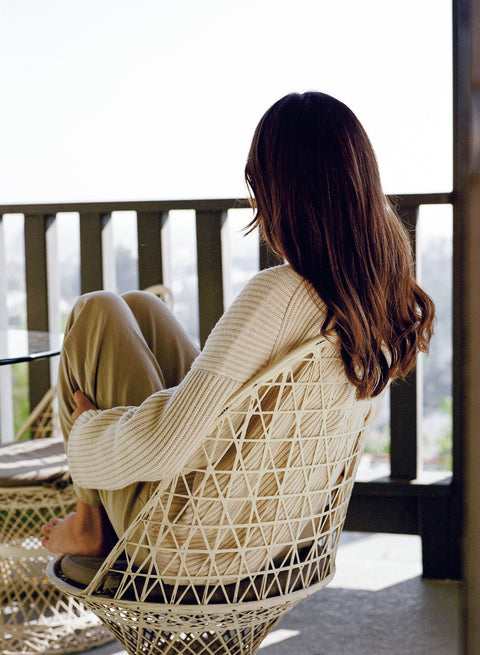 - What would you say has been your most major hair moment or memory thus far?
I've had the same hair length since I was 10, but the most defining moment in my hair life was discovering dry cuts—a game changer for textured hair. I go to Dhiran Mistry at David Mallet in NY and with his guidance I *almost* let my hair air dry a few times a month.
- Where do you find inspiration? For Ghia, cooking, life— anything !
Traveling is probably my number one source of inspiration (not so much during quarantine). I like eating my way through a city and discovering its architecture - the nests people make for themselves tell you so much about a culture. It's those details or soundbites from trips or local adventures that inspire me - the little moments of the everyday. I build worlds around those in my head and eventually bring them back to life in a way. My camera roll is pretty intense.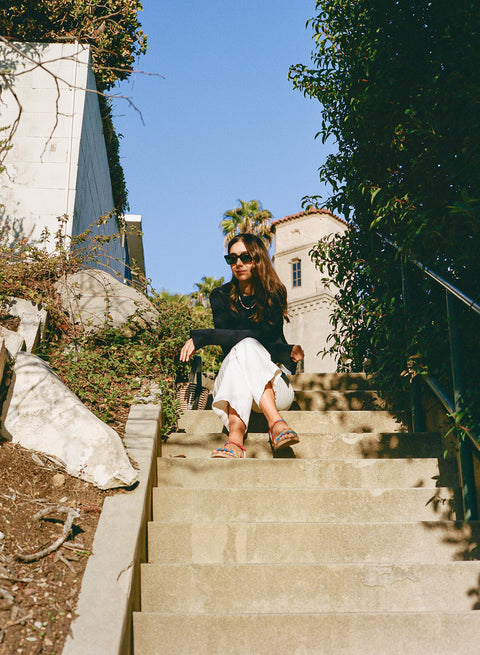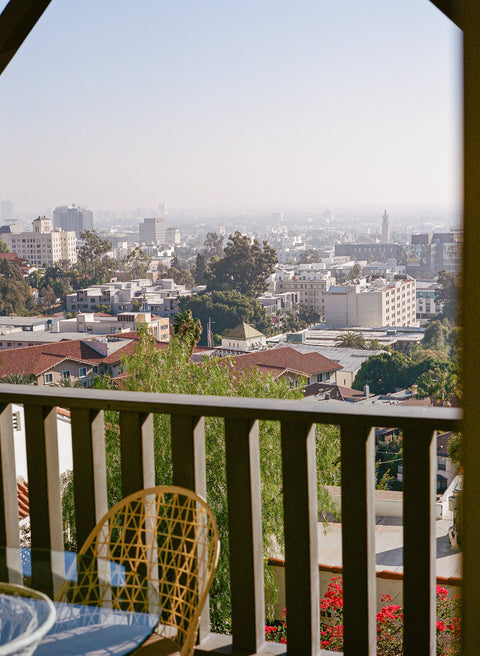 - Favorite quotes or words you live by?
How you spend your days is how you spend your life. It's very important to me to make the extraordinary out of the mundane and I try to make every day count.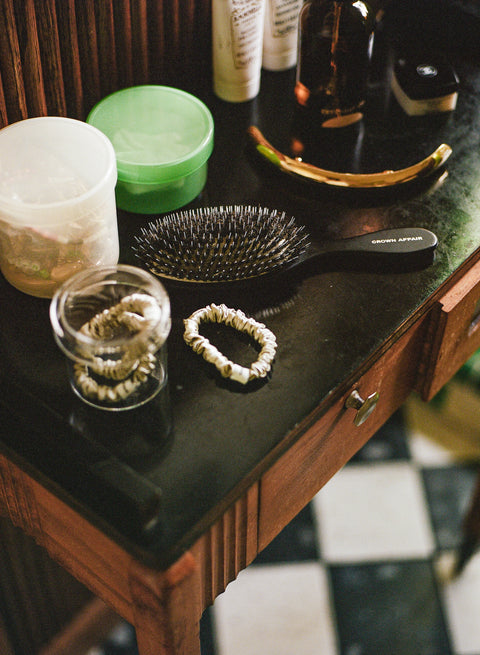 - Favorite artists?
There are so many! I love very neutral interiors but when it comes to art, I like pretty colorful pieces. Sculptures above all else! I'm currently saving up for a weed from Tony Matelli. I also still have dreams about a totem pole by Francesca diMattio I saw at Frieze in LA a couple years ago. I also really love Nicolas Party, who became very popular in the past few years. And if we're dreaming big, well I'd love to someday own a piece from Sally Mann's Immediate Family series or a sunset by Etel Adnan.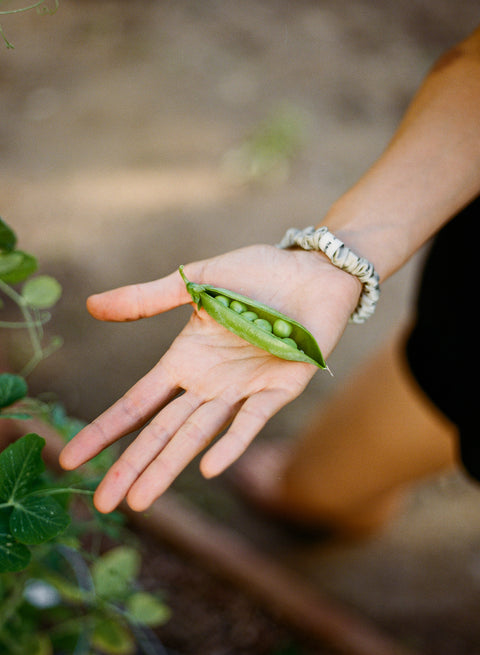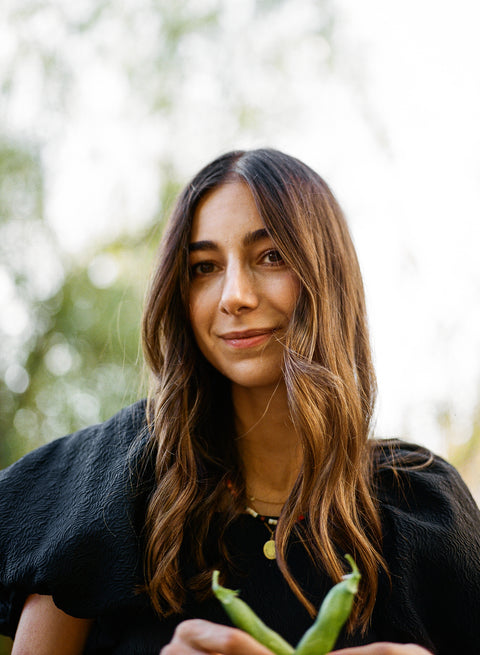 - Favorite writers or books?
I don't have a favorite author but I read a wide range of things. It's not very original, but Shoedog by Phil Knight is a memoir I reference over and over again when things get hard at work. I'm also incredibly excited for Joan Didion's "Let Me Tell You What I Mean" which comes out in a few months—I love her writing.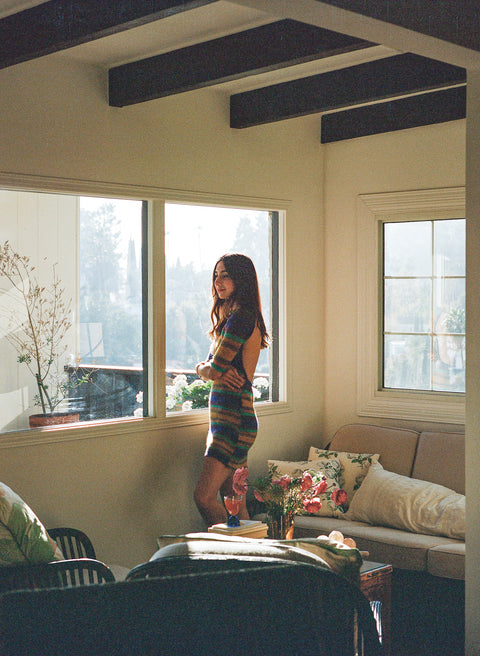 - Activities or hobbies?
Anything barefoot - cooking, walking on the beach, gardening. More seriously, I recently started playing tennis and it has been incredibly relieving for my quarantine and startup anxiety, and it made me so grateful for my body and my ability to learn new things.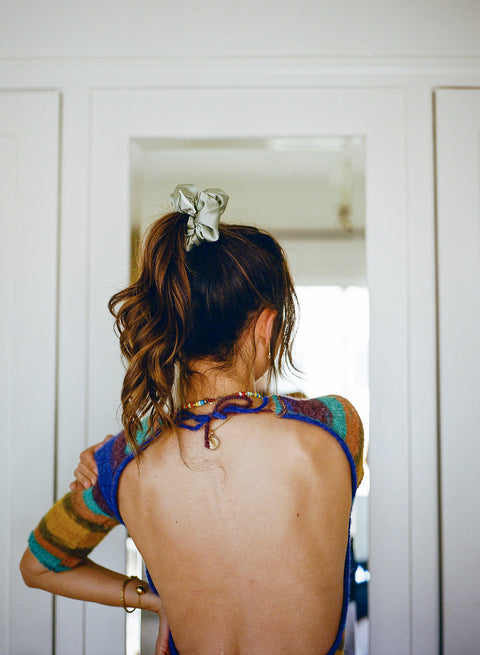 - Favorite Ghia recipe?
I keep it simple (and bitter). 1 part Ghia, 1 part soda, whatever sprig of greens I have on hand—thyme is a fav.
- What would you tell your 18-year old self, knowing what you know today?
Trust your creative process and enjoy every minute of it.