Top of Mind
12.07.22
Good People: Ren von Hasseln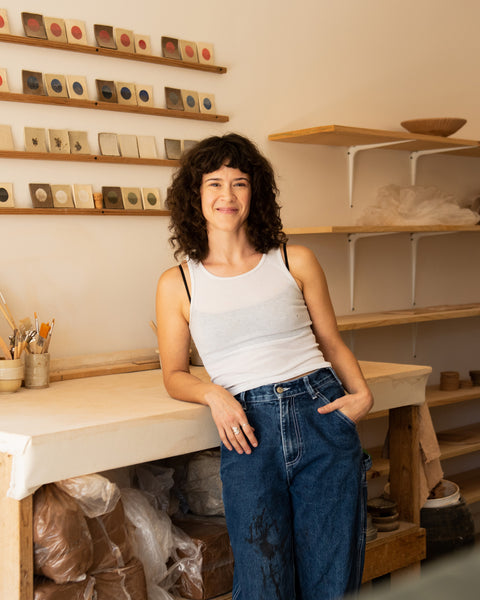 By Crown Affair
Welcome to Good People, an interview series featuring those who inspire us and keep us forever excited for the future. This month we're beyond excited to introduce Ren von Hasseln, the artist behind Ren Ceramics and the creator of our 8-piece collaboration. We deeply admire Ren's incredible thoughtfulness and careful approach to her work and are in love with everything she makes, so we spent a day at her home in Ojai, chatting through her process, drinking strong coffee, and hanging out with her sweet 17-year cat, Petey. Read below for the full interview.  
- Tell us where you grew up, and what led you to where you are now.
I grew up in Maine, and first came to California for a graduate program in molecular biology that I'm technically still on a leave of absence from! I loved being a student in the sciences, but rethought a career as a research scientist as I was slowly realizing that I wanted more creativity in my life, so I eventually gravitated to architecture. I switched gears and got my Masters of Architecture at SCI-Arc, in downtown LA. 
During architecture school, my partner Kyle and I started a 3D printing business, and ended up staying in east LA running it for the better part of 10 years, first as an independent small business and then as a division of a larger 3D printing company. 
Having a background in architecture, though, I had an itch to have a big impact on my own space. Ojai was the first hit that was affordable (-ish, at least 4 years ago, for a fixer-upper) and appealing. What's funny is that I knew nothing about it at the time—the first night I ever spent in Ojai was my first night in our new house!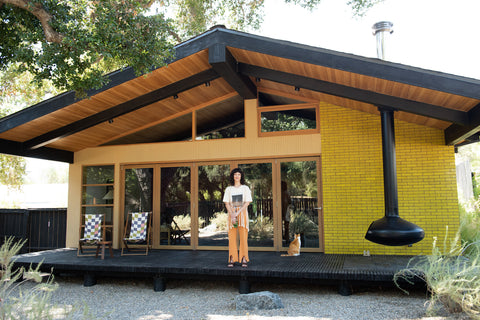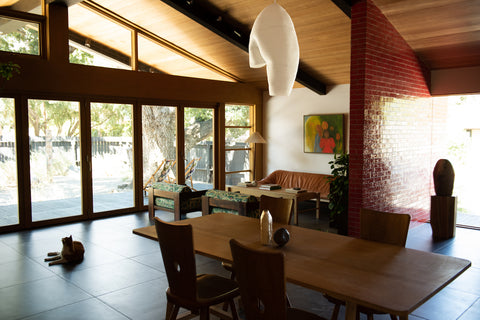 - What do you like about living where you live?
There's an ease to the size and pace of it that removes so much friction from daily existence—you can walk to get pretty much everything you need, and when you get there, no one will be in a hurry. That used to bug me, coming from LA, but now I love it!
Being close to the mountains has also become so important to me. We can walk out our front door and straight up into the foothills of the Los Padres National Forest—and we do, most evenings. And being able to see them from our deck, watch the light change on them, brings me so much daily happiness.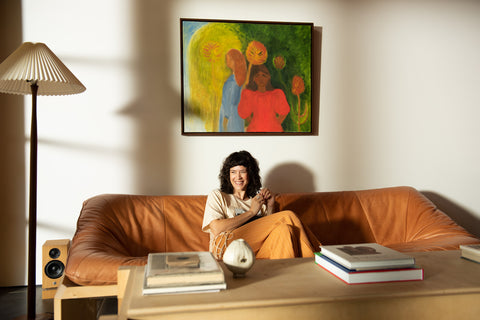 - Want to share a bit about your career as a ceramicist, how it began, and what you think it might look like in the future?
I tinkered and dabbled for a few years before I began trying to build my ceramics brand in earnest, but I would say that it felt almost immediately that I had found something in clay that could be a life pursuit. I think I was drawn to hand building over the wheel partially because it reminded me of architectural fabrication processes. On the other hand, though, Ceramics lets me test ideas in weeks rather than years, with my own hands rather than managing many teams of people. And the tactility and dimensionality of the medium grabbed me from the start and has not let me go!
Moving to Ojai in 2018 and buying this house was both an escape plan from corporate life for me, and a plot to start my ceramics career. I started out making mainly functional vases, but more recently—for the past year or so—I've focused on larger scale pieces like planters and massive vessels. I've also started making closed forms that are purely sculptural, which feels like a new direction for my work that I'm excited about. At the moment nearly all of my pieces are constrained by the size of my kiln. As I'm building I am simultaneously measuring to see how much more height I can get away with! I would love to create larger pieces, so I think a bigger kiln is in my future at some point. I would also love to create more work that pushes closer to fine art. Oh, and I also need to learn more about glazes!  Ceramics is the sort of discipline that really can take you a lifetime to explore.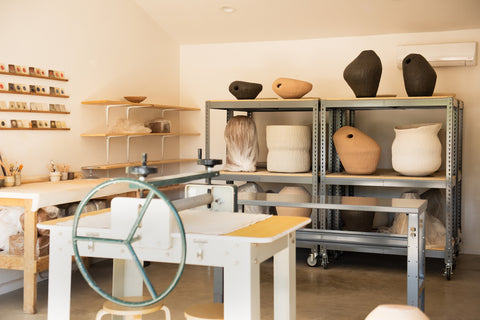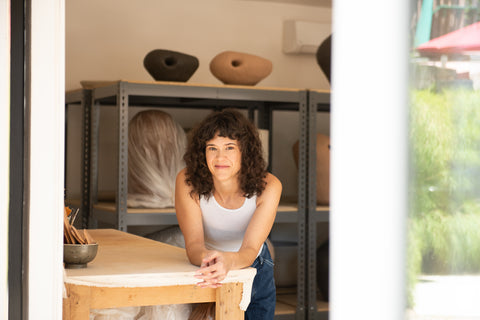 - Tell us about the pieces you made for Crown Affair. Do you have a favorite—why?
I set out to make a mini collection of sorts for Crown Affair, that would showcase my favorite typologies of my smaller pieces. The bodies of the vessels are all coil built, and the linear vertical texture that has become important to me in my work is a result of the joining process I use, pressing and smoothing with my thumb, to join coils that are stacked on top of each other. I like that what becomes an important aesthetic element isn't purely ornamental, it's a genuine registration of the process. 
In some cases after I build the vessel, I deform it from its symmetrical shape, or add a perforation. And then each one has to get feet, pegs, sleds or a weird jenga contraption base of some sort! In my studio I have a bunch of prototypes I can test with a vessel to see what type of footing suits it best—that's a fun process, it really changes the character of the pot to give it different feet!
My favorite piece is probably The Medium Accent Vase—it's one of the most sculptural, and it was really fun to build. I love creating perforated forms like this, and it's something that I've carried on into my larger work.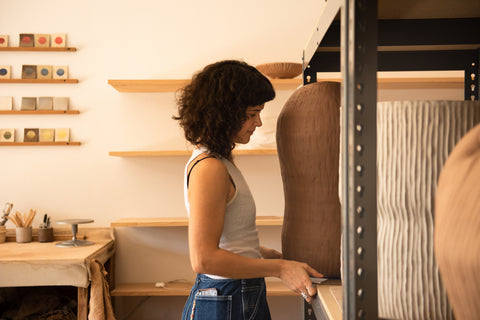 - What does a typical day look like for you, and what are your rituals?
I'm usually in the studio by 8:30am or so, with coffee in hand. I typically work until 6ish, taking breaks for meals and more coffee of course! During the day I listen to podcasts and audio books, unless I'm actively making design decisions, which I can't do if there are any distractions. 
When I leave the studio for the day, Kyle and I go for an evening hike, often up into the Los Padres National Forest, or just a neighborhood walk around Ojai. This is one of my most important habits. It's so important for me to get out into the air and move around for an hour, but also just seeing the light at that time of day is something that has become a meaningful part of life for me. It's also, for years, been one of the primary default vehicles that Kyle and I have used to hash out decisions, mull things over and have tough conversations. It's basically how we planned our graduate thesis, ran our business, and sort out our relationship! 
I also aim to have a daily mindfulness practice, although I have to admit that I am off the wagon at this particular moment. I have found meditation to be a powerful tool, though, in training myself to observe my emotions. I'm someone who has always felt my emotions to be pretty all consuming, like they 'are me' when I'm feeling them, and mindfulness gives me some chance at recognizing an emotion and inserting a pause before I choose to react—or not react.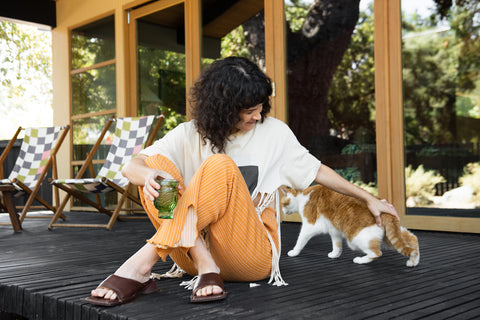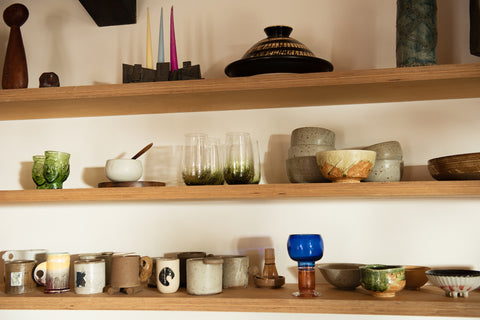 - What has your relationship to your hair been? Past, present, how has it changed over time?
It's taken me a long time to embrace the hair I have. Now it feels good to be able to say that I genuinely love the texture of my hair, but for most of my past I put considerable effort into either changing or concealing its texture. Either because I couldn't see it as beautiful or, as I struggled to be taken seriously in the corporate world, because it didn't seem 'serious' or 'polished'. 
It seems really sad to me, looking back, that I so fully internalized beauty norms intrinsically centered on whiteness and control of women's bodies without realizing it. I thought they were my own aesthetic choices rather than conditioning, and as a result I spent years and years trying to homogenize my appearance accordingly. On this level it feels almost existentially freeing to rock my puffy waves!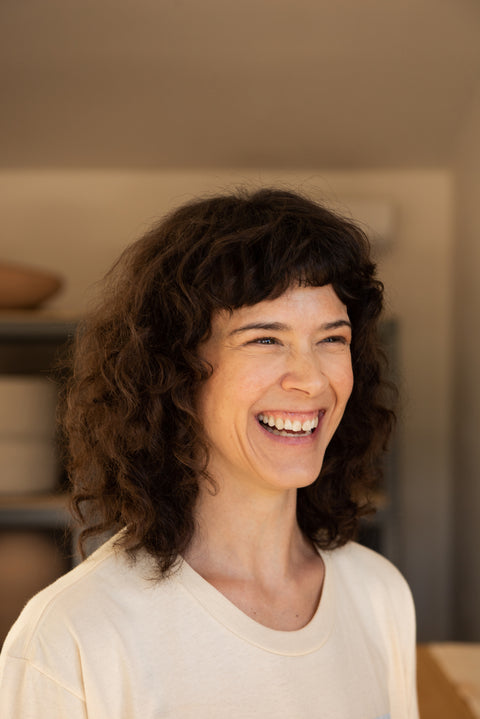 - Any advice you'd give others with a similar hair type to yours?
If you're into it, let the volume loose! For me, it has often felt like a tug of war between control and volume. When I've tried to define my waves more, and control frizz, my hair is also weighed down. Lately, I've accepted a bit more unpredictability, less definition, and it's allowed me to embrace the full volume of my hair.
- What is your current haircare ritual/routine?
I typically rinse and condition my hair at least once a day. But I've started using shampoo more intermittently, which has made my hair feel a bit lighter and softer than when I shampooed daily.

I've also recently started using Crown Affair's Leave-In Conditioner, which feels like such a luxurious addition to my routine because the bottle itself is a lovely design object to interact with. It feels special, and it has the best scent, too.

I air dry my hair and typically don't use any styling products, unless I'm visiting a very humid place. In that case I might run a small amount of Davines Love curl cream through my hair with my fingers while still in the shower, when it's fairly wet, to give it just a bit of definition.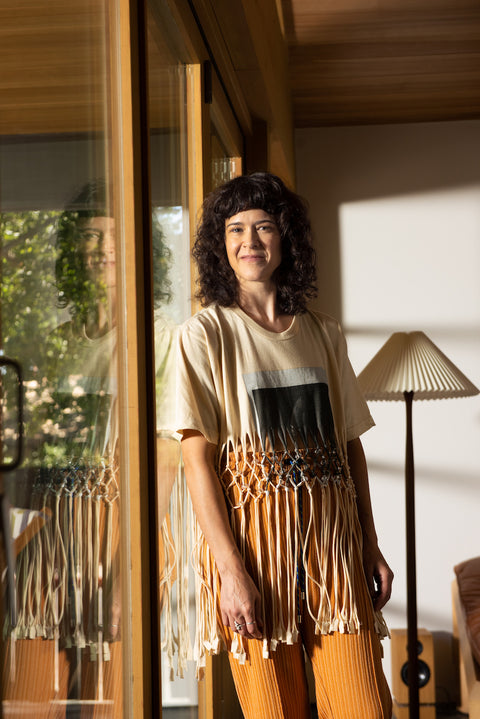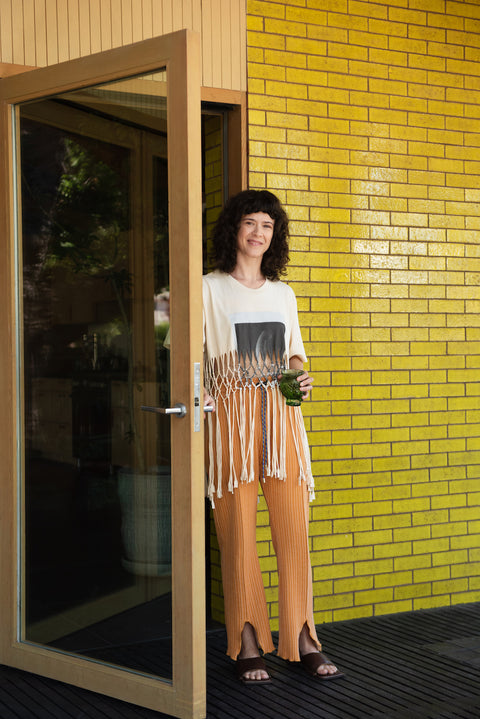 - Do you have a personal philosophy about hair or beauty in general?
Beauty has actually become a topic I've started to think a lot about recently. Women are deeply conditioned to connect self worth with beauty, and with youth. Especially as I get older, I've been really trying to actively deprogram myself around those concepts. When I look at myself—and others—I've been actively trying to internally say 'it's just a body' and have kind a mental shrug, rather than a judgment. 
That's not to say that I am not still invested in hair and beauty, and I don't think you have to disavow those things in order to be serious about the project of deprogramming. The distinction I would draw is that I'm trying to detach myself from the kind of exclusionary beauty standard that is defined by gate keepers who have power in society. I remain very into personal style and expression. These outward facing signals help me feel more like who I am as I move through the world.
- What kinds of things do you do to care for yourself?
One of the most generous things I can do for myself is be thoughtful in making commitments. That goes for professional life as well as personal. I know I do much better when I have buffers around time that's structured. If I have too long a stretch without time that's truly mine, I get a kind of existential claustrophobic feeling. Of course, especially on the professional side, sometimes maintaining this pace just isn't possible. But I do find that sometimes the deciding factor in whether or not it's 'impossible' is my willingness to say no, or to potentially disappoint someone. That's something that I'm definitely working on. Weighing my needs appropriately against the perceived needs of others.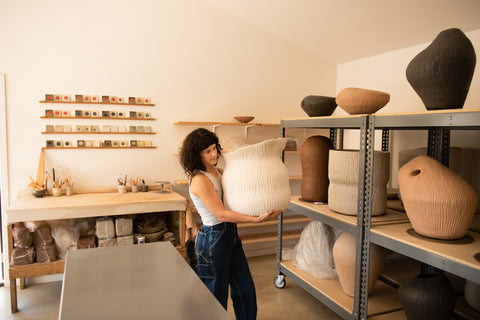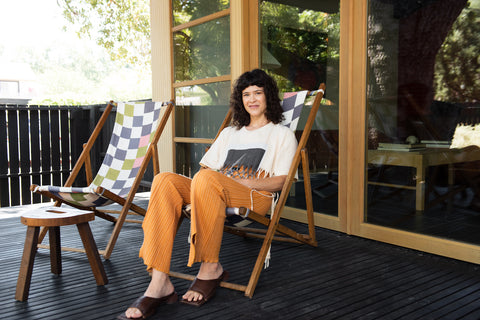 - What things make you happiest? What do you do to incorporate more of those things in your life?
Oh, what a good question! This feels like the kind of thing that it would be good to keep asking yourself periodically. 
Small sights and sounds of nature make me ridiculously happy. The light warming or changing, a dark sky, leaves rustling…in the context of my mindfulness practice, with the goal of incorporating it more into my life, I have been trying to use these as an excuse for a tiny moment of mindfulness. 
My cat makes me unreasonably, sloppily happy. Anyone who knows me knows this answer has to include him. There just isn't anything that gives me a bigger spike of joy than Petey flopping down against me for a nap. 
Spending really good time with friends is also really high up there. There's not much more gratifying to me than sitting down and finding out what's going on with someone I love. The best is intense, intimate conversations. But I also love really silly nights like costume dance parties. I'm also madly in love with my friends' kids, and time with them is so, so special. It's like magic to be let into their little hearts and brains. Your question about how I incorporate more of this joy into my life is very applicable, because most of these loved people don't live in the same city as I do, so capturing this time with them does take intentionality and planning. 
Design is definitely a huge category that encompasses so many things that bring me joy. I seek out and am fed by other artists' work, and its important for me to have a lot of that input in my life. I've been trying to do more studio visits with artists I admire—you learn so much from seeing someone's processes and workflow. Well designed spaces also make me very happy. I love seeing surprising and successful choices an architect or designer has made, that's such an expansive feeling of wonder at what people are capable of. Designing my own home was a huge goal of mine, and it still makes me intensely content to just be in this space that I got to have such a big impact on. And of course ceramics. It's such a heady and wonderful feeling when you realize you're making something that excites you. It still feels unbelievable that I've had the privilege of being able to engineer my entire career around this thing I truly love.
- Interviewed By
Anna Jube—Crown Affair Brand Manger—in Ojai, California.

Text has been edited for clarity.