Top of Mind
08.15.22
Wear It Up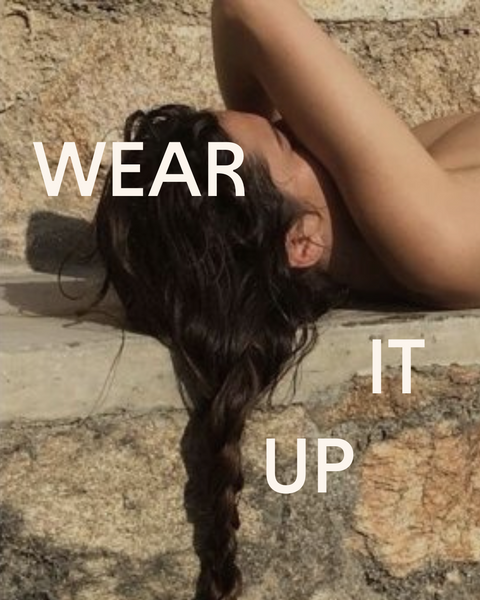 By Crown Affair
In this heat, we can all agree—we're wearing our hair up. Anything to get it off of our shoulders in an effort to keep cool. Whether you already have a go-to summer hairstyle, or are still looking for one, we thought we'd share our team's favorites for some creative inspiration: 
Hannah, Digital Marketing Manager 
I usually do a slicked back high bun with a part down the middle. I use The Brush No. 003 to get my hair really flat and slick and then I tie it with The Scrunchie No. 001 in our new black color. My hair is really thick so I like when it's pulled up or out of my face in the hot months! Plus I like to drive with the windows down so it's easy and functional.
Lexi, Social Media Manager 
A pony in The Scrunchie No. 002 is my go-to! It's so nice to get my hair off my neck with a pony but the scrunchie still makes it look polished and fun!
Stella, Junior Copywriter
I twist all of my hair into The Clips, that way nothing is touching my shoulders at all. It's the perfect way to cool off while still looking cute, and I love to spice it up with some chunky earrings for more of a statement.
Anna, Senior Editorial Manager
On the hottest NYC days, I keep it simple: apply The Oil to the ends of my strands, part it down the middle and braid each side. I love this because it doesn't pull at my strands at all, and it still keeps the hair completely off my neck—plus I can throw a hat on if I need some sun protection.
Mitzi, Senior Product Development Manager 
Summer in New York is so hot, so I often twist my hair back into a tight bun with one of The Clips. The bonus of sweating is that my hair gets damp enough to set with nice waves while pulled back—then I can take it down and pull the top half back, or toss on a headband.