Top of Mind
10.06.20
Introducing The Brush Collection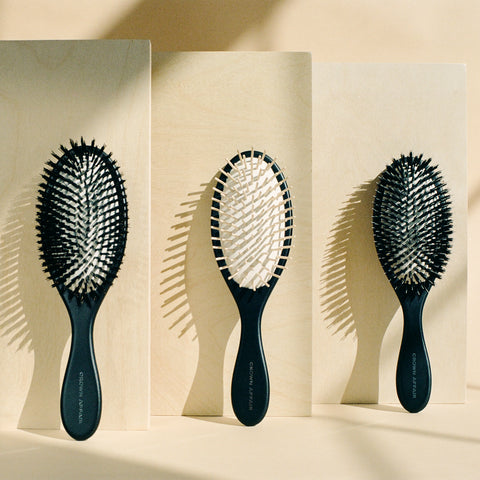 By Crown Affair
If you've followed our journey thus far, you'll know brushing has had a lot to do with it. Dianna swears by it, our community indulges in it, and our team cherishes it as a daily ritual. For us, brushing is a ritual not only for our hair, but for our minds and bodies. And with our new Brush Collection, we're excited to expand those benefits for more hair types and uses. Discover our new collection below, and, as always, take care.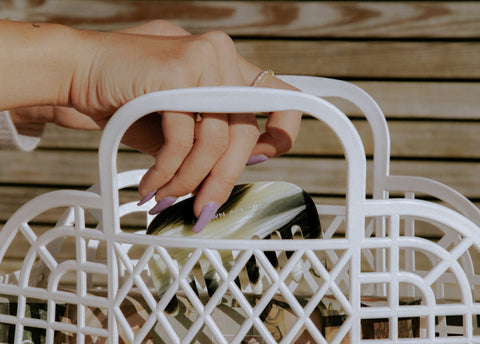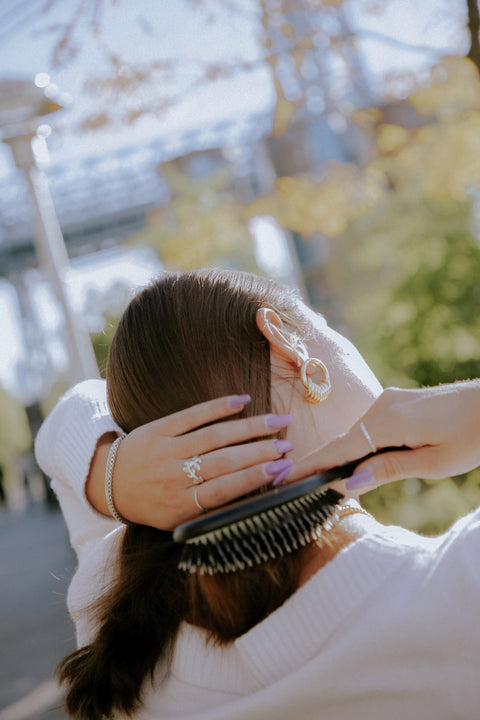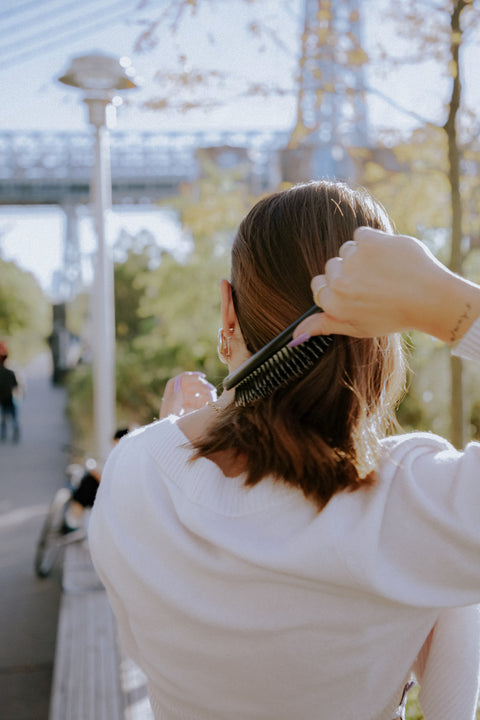 - WHERE DO YOU LIVE?
I live in Williamsburg, right by Domino Park.
- WHAT DO YOU DO?
This question is always tough – I do too many things! I work most of my time with my OG work squad here at Crown Affair, focusing on content and community. I also work at MyHare, a body care and waxing brand handling all content and partnerships. And finally, I have my own holistic nutrition practice, TakeCare Nutrition.
- HOW WOULD YOU DESCRIBE YOUR HAIR?
I tend to describe my hair as sleepy. It's lazy, disobedient, slow-to-grow and generally uninterested. In hair terms one might describe it as on the thinner side and wavy.
- HOW DOES YOUR HAIR MAKE YOU FEEL?
My hair has the ability to either make my day fantastic or ruin it entirely. Honestly, my hair makes me feel vulnerable. I'm constantly bending to its will, allowing it to determine the trajectory of my whole day.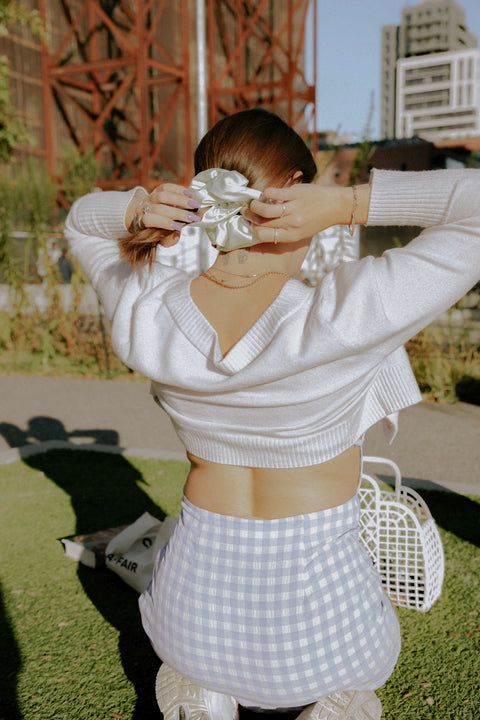 - HAVE YOU ALWAYS FELT THIS WAY ABOUT YOUR HAIR OR HAS IT CHANGED OVER TIME?
Yes, I have always battled with my hair. Although, lately that view has been changing, I don't want to speak too soon. I'm always worried I'll jinx myself if I say my hair is doing well – maybe tomorrow it won't be so hot. As I've tried to grow my hair, I've been feeling better about my hair and learning its small intricacies. But again, you never know about tomorrow or a week from now.
- WHAT IS YOUR CURRENT HAIRCARE ROUTINE?
On a wash day, my routine includes a brush-through, wash (once a week with The Renewal Mask), towel for a few minutes, and finish with air dry.
Otherwise, I make sure to brush my hair morning and night with combing throughout the day. I've become a bit of a brushing-fanatic as I try to grow my hair, and usually my hair doesn't need any extra products if I brush it enough.
- WHAT DAILY RITUALS (OUTSIDE OF HAIRCARE) DO YOU LEAN INTO MOST?
I've become an avid list-maker. Maybe this is more of a work-hack then it is a ritual, but it genuinely makes my day calmer and adds value to my life. I gain a lot of joy and peace when I know exactly what I have going on. I don't like feeling lost or confused at all, and my lists help me achieve a satisfied and in-control feeling.
I also make sure to walk my dog a ton throughout the day. Especially in the morning, these walks get me energized and ready for my day.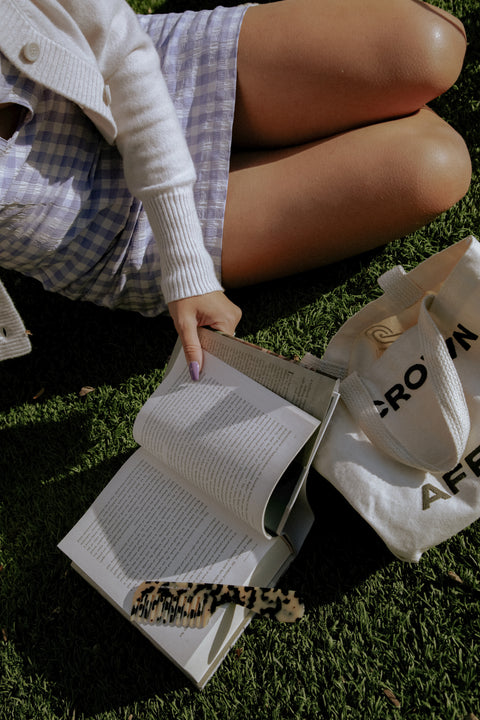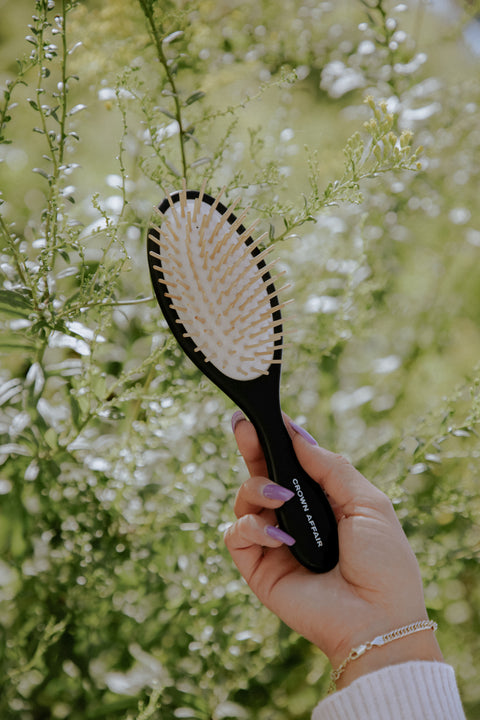 - HOW HAVE YOUR RITUALS CHANGED SINCE STAY-AT-HOME BEGAN?
Prior to this time, I honestly didn't have any rituals. I lived a very loose, seed-of-my-pants kind of life. I got things done, but didn't really know how. Stay-at-home was an opportunity for me to make decisions in my work, at home, and in my relationships that required whole-hearted self-awareness. From there, I realized my need for awareness in all aspects, hence my list-making coming in so handy. That's only one example of the things that give me a deeper dive into my own life. Others include daily writing, meditation, and long runs.
- Anything else you want to chat about before we let you go?
I'd love to take some time to inform people on my nutrition practice, TakeCare. I started TakeCare because I've struggled with food and body my whole life, and have never had the knowledge or the guidance to overcome those issues. I take a 360 approach, look at your life and your goals, to make sure you feel seen and heard. I'm here to help whoever needs a little push in the right direction. 🙂